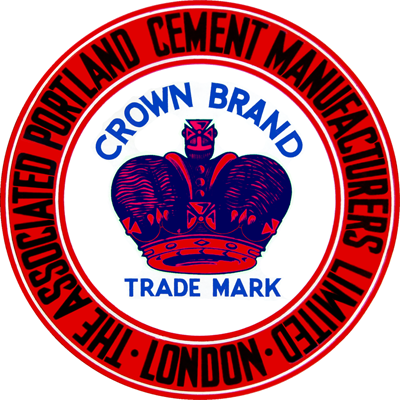 Post-1900 Crown Brand.
Location:
Grid reference: TQ74956897
x=574950
y=168970
51°23'34"N; 0°30'53"E
Civil Parish: Frindsbury Extra, Kent
Clinker manufacture operational: 11/1907-1932, 1936-1939, 1946-1963
Approximate total clinker production: 3.0 million tonnes. Prior to the formation of Crown & Quarry in 1907, the seven Frindsbury plants had made about 2.8 million tonnes.
Raw materials:
Upper Chalk (Seaford Chalk Formation: 85-88 Ma) from around 574600,169700: the quarry reached the south-east side of the churchyard by 1939, and after the war, first the south-west side then the north-east side of the churchyard were quarried away.
Medway Alluvial Clay
Ownership: APCM (Blue Circle)
The plant was the successor of the Frindsbury group of seven adjacent plants (from north to south, Phoenix, Globe, Bridge, Crown, Quarry, Beehive and Beaver). See also a general history of the Frindsbury cement plants. Their combined capacity (t/year) was as follows: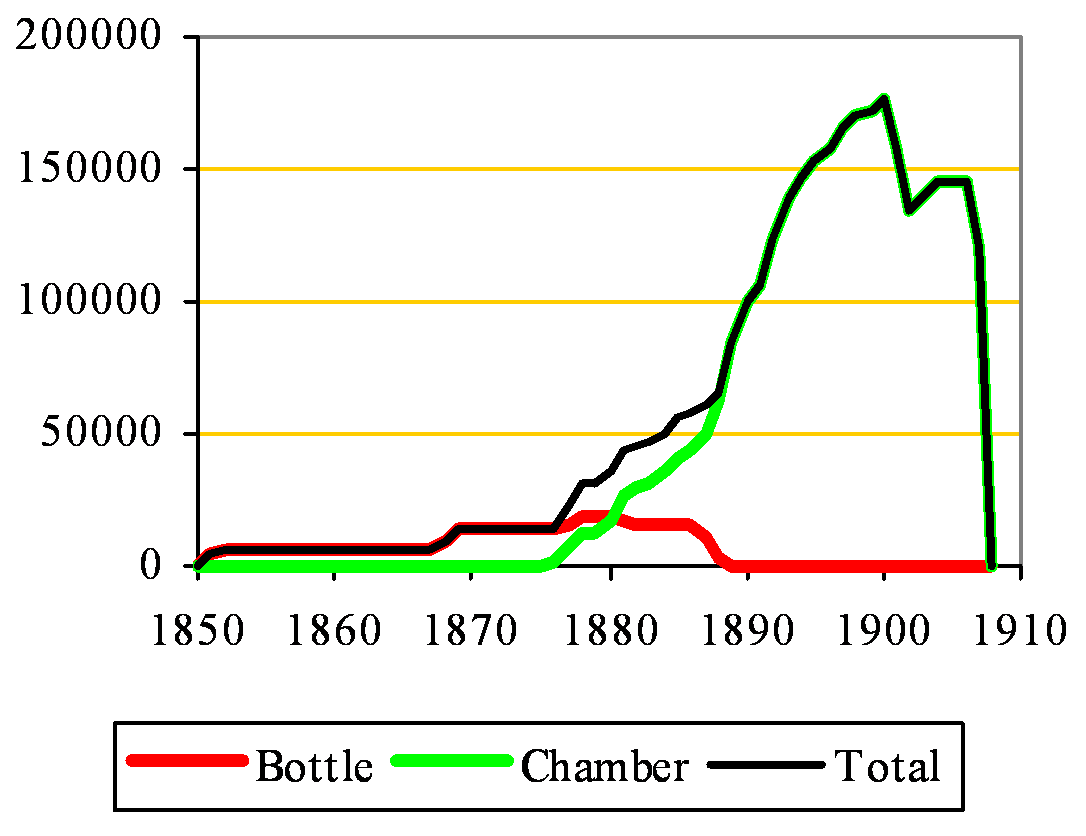 The site was cramped and short of raw materials as the chalk of the Frindsbury peninsula was rapidly removed, leaving existing settlements, and the parish church, precariously perched on chalk pinnacles. APCM having acquired the entire group therefore cut back and rationalized the operations of the site as "Crown and Quarry", although it is symptomatic of the management paralysis of the combine at this time that the rationalization was delayed until 1907.
Of the seven plants, Phoenix and the already-closed Bridge and Globe plants were left derelict until the leases were sold in the late 1930s. By the amalgamation of the remaining Crown, Quarry, Beehive and Beaver plants, it had initially 88 chamber kilns with a capacity of 2555 t/week. The Crown kilns were removed around 1912, leaving 59 kilns with a capacity of 1714 t/week. This was for a projected rotary kiln which was shelved due to WWI. From this time on, the chamber kilns were used intermittently as make-up capacity. They were last used in 1925 when, to make room for the installation of the first rotary kiln, the Quarry chamber kilns were removed, leaving only the 34 kilns of Beehive and Beaver; these also were shut down and progressively removed. The rebuilt plant was provided with extra clinker grinding capacity that could be fed directly by crane from barges, allowing the plant to grind clinker from the plants above the bridge - mainly Burham, and later Martin Earles. During WWII, the plant was requisitioned for fertiliser manufacture. The early plants' site had no rail link, although the quarries were connected with standard gauge rail. In 1929, the quarry track was connected to the main line at Strood dock, but water transport remained predominant throughout the later life of the plant. The whole Frindsbury plants site has been completely redeveloped, the more recent plant area being occupied by the incongruously-named Laser Quay trading estate. The quarries have also mostly been built over, but the more northerly ones around the parish church are still waste land.
Rawmills
A washmill and screener mill located on the quay were used, milling chalk and clay together.
Two rotary kilns were installed:
Kiln A1
Supplier: Vickers
Operated: 26/03/1926-1932, 1938-1939, 1947-08/03/1963
Process: Wet
Location: hot end 574937,168995: cold end 574958,168938: hot end enclosed.
Dimensions: 198'6"× 9'0"B / 7'0"CD (metric 60.50 × 2.743 / 2.134)
Rotation (viewed from firing end): anticlockwise
Slope: ?°
Speed: ?
Drive: ?
Kiln profile: 0×1791: 914×1791: 3962×2743: 11582×2743: 14021×2134: 60503×2134: Tyres at 1753, 15164, 28880, 42596, 56312
Cooler: rotary 59'0"× 5'5" (metric 17.98 × 1.651) beneath kiln
Cooler profile: 0×2261: 4572×1651: 17983×1651: Tyres at 3353, 14326
Fuel: Coal
Coal Mill: ?
Typical Output: 142 t/d
Typical Heat Consumption: 7.55 MJ/kg
Kiln A2
Supplier: ex Magheramorne A2 (FLS) reassembled by Head Wrightson with a Vickers Armstrong Desiccator added
Operated: 18/07/1936-1939, 1946-06/03/1963
Process: Wet
Location: hot end 574943,169000: cold end 574965,168941: hot end enclosed.
Dimensions: 205'6"× 9'1¼"B / 7'10⅝"C / 12'0"D (metric 62.64 × 2.775 / 2.405 / 3.658)
Rotation (viewed from firing end): anticlockwise
Slope: ?°
Speed: ?
Drive: ?
Kiln profile: 0×1905: 1524×2403: 2743×2403: 3708×2775: 10846×2775: 13056×2403: 49327×2403: 52299×3658: 58395×3658: 61684×1600: 62636×1600: Tyres at 2235, 14478, 28905, 45822, 60401
Cooler: rotary 63'8½"× 6'4" (metric 19.42 × 1.930) beneath kiln (ex Wouldham (Essex) Kiln)
Cooler profile: 0×1930: 19418×1930: Tyres at 4420, 17221
Fuel: Coal
Coal Mill: ?
Typical Output: 215 t/d
Typical Heat Consumption: 7.20 MJ/kg
Sources: Cook, p 69: Jackson, pp 222, 277: Preston, pp 169, 174, 200: Pugh, p 263
© Dylan Moore 2011: commenced 14/06/2011: last edit 02/03/2017.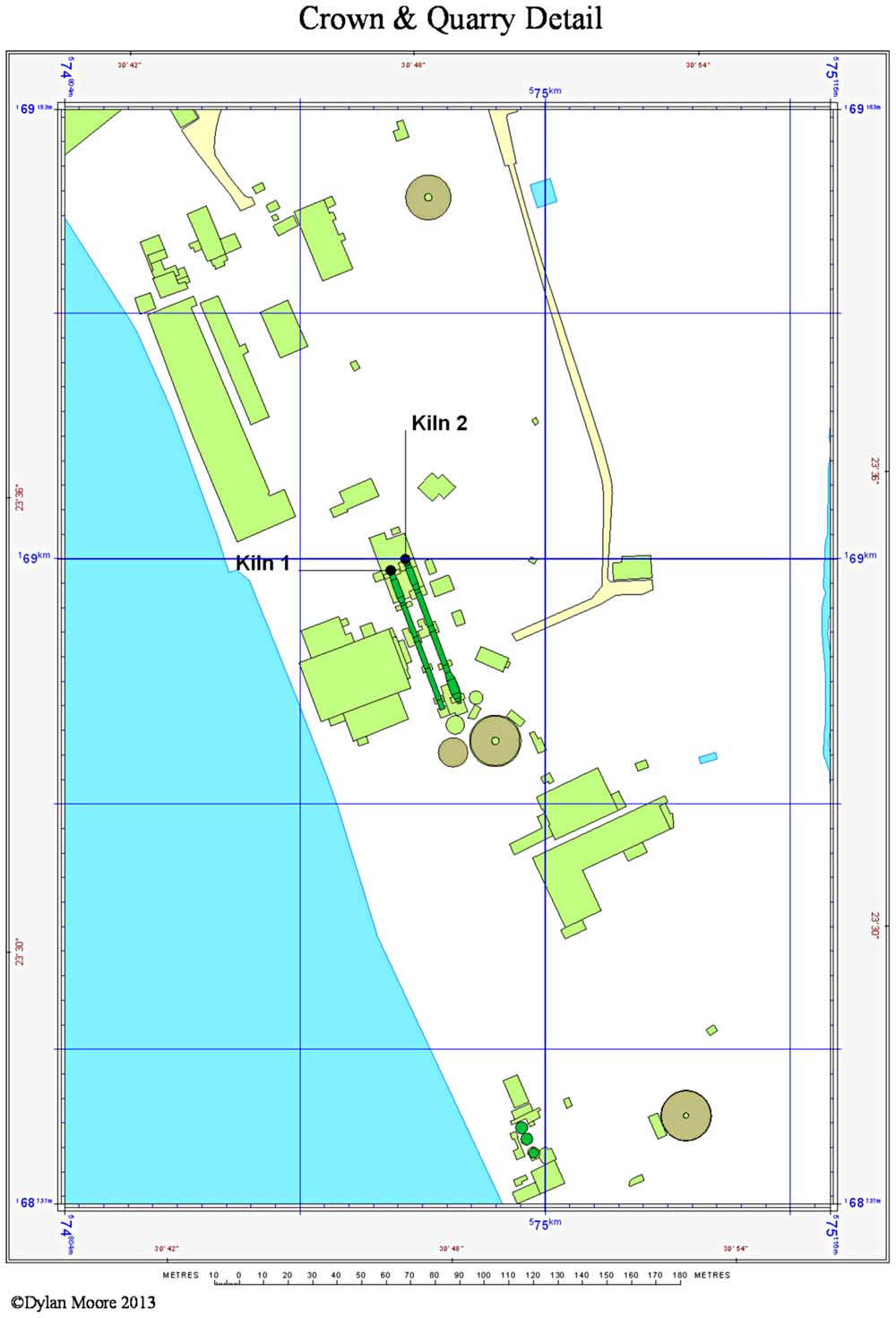 Approximate capacity: tonnes per year