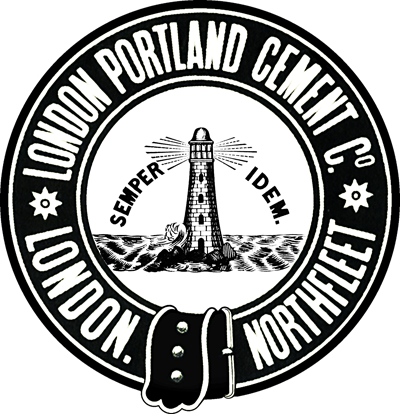 London Portland Cement Co. Ltd. Lighthouse Brand.
Location:
Grid reference: TQ62467460
x=562460
y=174600
51°26'50"N; 0°20'17"E
Civil Parish: Northfleet, Kent
Clinker manufacture operational: 1868-1908
Approximate total clinker production: 870,000 tonnes
Raw materials:
Ownership:
1868-1876 J. C. Gostling and Co. Ltd
1876-1900 London Portland Cement Co. Ltd
1900-1908 APCM (Blue Circle)
There were seven bottle kilns (around 200 t/week) until these were replaced by 38 chamber kilns (output 1000 t/week) during 1889-1891. There was no rail link, and all product was despatched by barge. The chamber kilns were located on what was later the site of the cold ends of Northfleet kilns A5 and A6, and the whole site disappeared beneath the buildings and paving of that plant.
No rotary kilns were installed.
Sources: Eve, p 19: Francis, p 167: Jackson, p 285
© Dylan Moore 2011: commenced 25/01/2011: last edit 02/09/2016.