The Beginnings of Portland Cement
Portland cement is one of many materials that can be made by making a finely-ground mixture of limestone and clay, and burning the mixture at over 1000°C. The properties of the product obtained differ widely depending on the composition of the mixture and the temperature of burning.
This site is concerned with the production of Portland cement clinker and the products that are made from it. The essential processes of a cement plant have remained constant throughout the centuries.
The original "invention" or "discovery" of Portland cement sets the standard for all subsequent cement industry history, in that it is cocooned in a web of disinformation, misunderstanding and lies. In this work, the term Portland cement is applied only in the modern sense. "Portland cement as we know it" can be simply defined as a calcareous cement containing (intentionally!) significant amounts of alite ("tricalcium silicate"). This mineral is only produced when the bulk chemistry contains sufficient calcium oxide to form it, and when a sufficiently high burning temperature (>1300°C) is employed. Earlier calcareous cements were burned at lower temperatures, and their main strength-giving components were belite ("dicalcium silicate") and various calcium aluminates. Many different cements in this category were produced from the late eighteenth century onward, responding to the needs of industrialising economies.
A product named Portland cement was patented by Joseph Aspdin in 1824 (although there are other contenders for first use of the term). Joseph Aspdin, like his father before him, was born in Leeds, and lived all his life in Yorkshire.
For my French audience: Yorkshire est en Angleterre!! Joseph Aspdin N'ÉTAIT PAS ÉCOSSAIS!! Seriously though, they do know this, so why do they continue to say that he was Scottish? I can only suppose that it is very important to them that he should not have been English. Here, as elsewhere, the objective truth is of secondary importance.
The consensus of opinion is that this product was not a "true" Portland cement, and the latter was first made commercially by his son, William, in 1842. It would appear that William Aspdin felt that if he had patented his new product under a new name, the patent would have been readily infringed with impunity by his competitors, and he therefore chose to pretend that his cement was covered by his father's patent, and retained the earlier product's name. At the same time, he took great pains to hide the details of his process from espionage, and even from his own employees. He invented an elaborate and fictitious track record for his product.
Because of the "smoke and mirrors" surrounding the early product, and the lack in those days of any legal requirement to describe a product correctly, it is often difficult to determine when firms first made "true" Portland cement. Early entrants into the industry were fooled by the prevailing disinformation into thinking that Portland cement must be fairly easy to make (and this mistake is still made today!), and they ended up with over-simplified processes making products that were at best of marginal quality, and often did not meet the true definition of the product at all. Earlier products, including Joseph Aspdin's, are not treated here.
Using these definitions, the first plant making the product was William Aspdin's at Rotherhithe from 1842. The product's arrival in the London area caused a sufficient sensation – largely as a result of Aspdin's hyperbolic advertising – that the main Roman cement manufacturer (J. B. White) immediately set about copying it and it was produced at Swanscombe from 1845 (see I C Johnson's description of this process). Aspdin moved operations to Northfleet (what came to be called Robins Works) in 1846. The first few plants established appear to have been:
However, at this time, even heavy industrial construction was still dominated by brick masonry, and earlier types of cement were already well-established in this market. In particular, Roman Cement (made by calcining septarian nodules) dominated the market, and most Portland cement manufacturers also made this in quantity. Portland cement was commonly regarded with suspicion, partly because the extravagance of Aspdin's early claims soon became apparent, and partly because the tricky pitfalls that await the beginner manufacturer must have made the product seem unreliable.
In France, as early as 1817, Louis Vicat had developed a product similar to that later made by Joseph Aspdin, but with a much more scientific approach. He introduced the term "hydraulique" for cements that set under water. Throughout the nineteenth century, much of the theory of cements was developed in France rather than Britain, and today the use of the term "Portland" is avoided there. It is therefore ironic that it was in France that Portland cement first found its true market: harbour works were under way in 1840-1860 at many places around the French coast, and notably at Cherbourg, Dieppe and Brest, and great use was made of concrete, using Portland cement imported from England. Although its manufacture in France began in 1853 in the Pas de Calais, England remained the main source during the 1850s and 1860s.
The plant of Dupont and Demarle at Boulogne, like so many early English plants, had originally (1848) made a "Roman" Cement, using septaria from the local Kimmeridge Clay. From 1853, they made what they called "natural Portland cement", using Chalk Marl, blended, dried, ground and briquetted before burning. It was the "mother-plant" of the Société des Ciments Français et des Ciments Portland de Boulogne-sur-Mer et de Devres and remained a large operation until it was destroyed in 1941, after which it was not revived.
This export market allowed the English plants to expand production and mature their technology, and the home market for the product began to take off from 1860 onward, rapidly overtaking that of the earlier products. Exports all around the globe remained a major part of the industry's business until the 1890s, when it suddenly became apparent that foreigners and colonials could make Portland cement as well.
In Lesley's book, p 42, an American importer is quoted:
"In 1876 or 1877 German cements began to appear, Dyckerhoff, Alsen and Star, and it was soon discovered that they were of better quality than the English cements, being finer ground and of greater tensile strength. There followed a gradual discrimination in their favor. When English manufacturers were informed of the superiority of German cements, they ridiculed the statement and declined to entertain the suggestion that they should institute similar improvements in their own manufacture, saying with characteristic English manner that they were following exactly the same methods employed for the past thirty years and they could see no reason for changing. The result was that the English cements ultimately were entirely supplanted in this country by German and Belgian brands, the former because of superior quality, the latter because of low price."
This outsider's view pretty accurately summarises the situation for much of the subsequent history.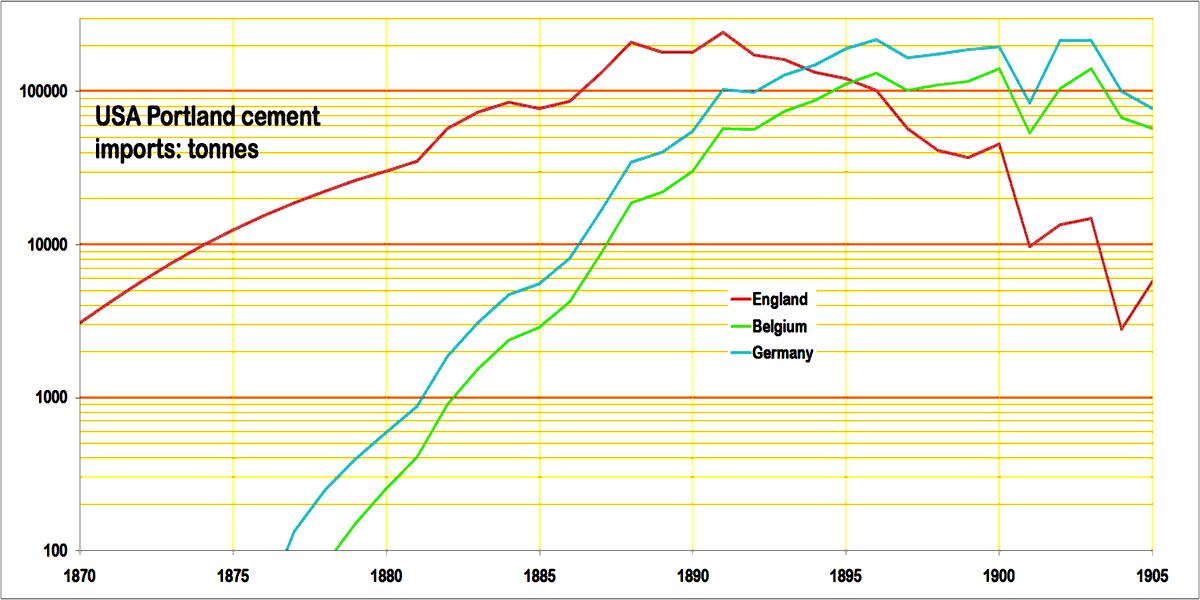 The process of catching up with foreign competition dominates the time period (1895-2016) covered by this site.