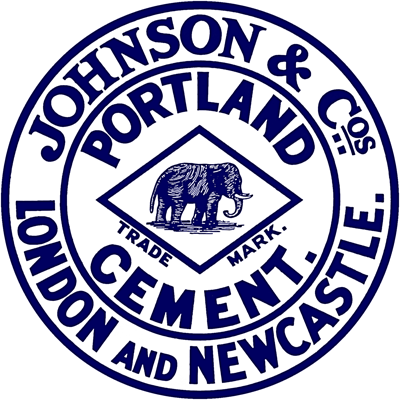 I. C. Johnson's Elephant brand.
Location:
Grid reference: NZ26436389
x=426431
y=563887
54°58'7"N; 1°35'13"W
Civil Parish: Gateshead, County Durham
Clinker manufacture operational: 1852-1908: 1911-1914: 1918-1924
Approximate total clinker production: 1.50 million tonnes
Raw materials:
Chalk ballast, alkali waste, soap works waste, Upper Chalk (Seaford Chalk Formation: 85-88 Ma) from Stone, Kent (see Johnsons)
Tyne Alluvium from Redheugh (NZ)423800,562000
Ownership:
1852-1856 Aspdin, Ord and Co.
1856-1911 I. C. Johnson and Co. Ltd
1911-1924 BPCM (Blue Circle)
This plant, although it never installed rotary kilns, is particularly important because of its association with both William Aspdin and I. C. Johnson. It was the first plant to make Portland cement from chalk outside the London area, and was founded by William Aspdin in 1852. The plant's magnificent Italianate river frontage is depicted with considerable poetic license in an engraving at Gateshead Public Library. Although it was for a long time the furthest-north plant, the shipping of cement to London was a key part of its business plan.
The original site was in fact rather cramped, with 80 m of riverbank and 1.2 Ha of land behind it. Significantly, a soap works was next door, and there were several "ballast hills" within 0.5 km. The original plant had six small wet process bottle kilns (100 t/week). This expanded rapidly to 15 (240 t/week) by 1854. Aspdin in December 1852 obtained a patent for using Leblanc process black-ash waste (mainly calcium sulfide) as his primary raw material. He claimed to be using this in quantity, and a newspaper article implied that it was the sole raw calcareous material used in 1853-4, but this is unlikely technically; he probably did use waste calcium carbonate from sodium hydroxide manufacture and since there was abundant chalk ballast available, even this was probably a minor addition to the mix. As usual, anything written by Aspdin is suspect. The plant shut down in May 1855 following Aspdin's bankruptcy, but was soon acquired by Johnson and re-opened in October 1856.
By the late 1860s, chalk ballast had run out and Johnson started bringing fresh chalk from the Thames, using the quarry at Stone, Kent where Johnson's Greenhithe plant was later constructed: this continued until closure. In around 1869, Johnson began his experiments with chamber kilns, and evidently had converted his six smaller kilns to chamber-format by the time he obtained his patent in May 1872. During 1873-1874, the other nine kilns were converted, and in 1878 the smaller block was removed and eight slightly larger chamber kilns were added, giving a total capacity of 310 t/week. In 1881, a further four full-sized kilns were added, raising capacity to 440 t/week. In 1885, the neighbouring area to the south-east was acquired, and three more sets of kilns were installed: five in 1885, six in 1886 and eight in 1887. This brought the capacity finally to 960 t/week. The first decade of the 20th century saw the onset of cut-throat competition in the north. With the installation of rotary kilns at the larger Johnsons plant on the Thames, with much lower costs, the plant was used intermittently, and the kilns were shut down altogether from 1908 to 1911, the plant grinding Johnsons clinker.
Hudson Earle, in a conversation with C H Watson on 21/10/1908, was told that APCM was trying to force all the Tynesiders out of business by dumping. O. K. Trechmann told him the Gateshead plant was "very ramshackle".
The plant lost its chalk supply during WWI, and the wartime re-alignment of the coal trade on rail transport caused a dramatic rise in raw materials costs on re-opening. Closure followed the short early-1920s boom. The plant had no rail, and used mainly water transport. The grand river frontage building remained in use by a roofing felt manufacturer until it was finally demolished in the 1970s. The other structures decayed until WWII, after which the site began to be cleared and redeveloped. Interestingly, the water-side part of the site, north of South Shore Road, is now occupied by Lafarge Aggregates.
No rotary kilns were installed.
Sources: Francis, pp 121, 151: Jackson, p 280
© Dylan Moore 2011: commenced 16/02/2011: last edit 02/09/16.
Gateshead in 1907: the original Italianate building on the wharf is the most northerly block in the map. The side wings accommodated offices, engine houses and cement mills, while the central area was used to store packed cement.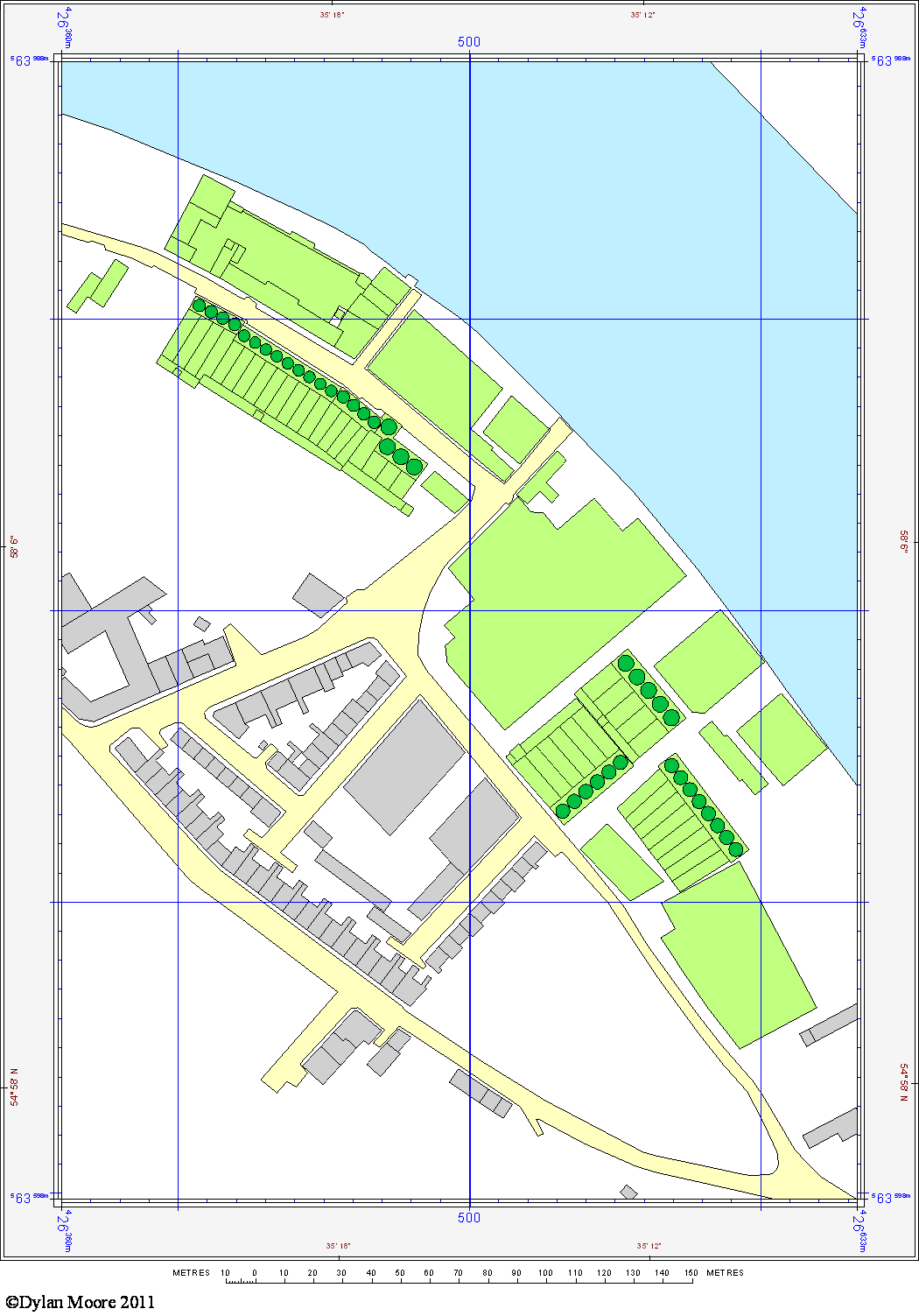 Approximate capacity: tonnes per year