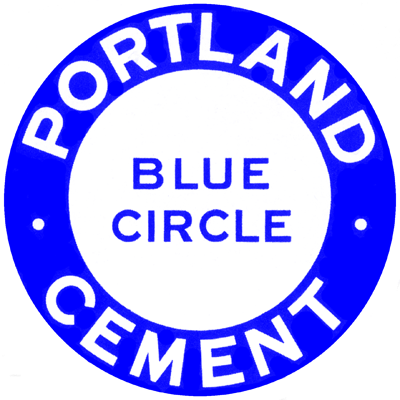 The Blue Circle Brand as used in the 1920s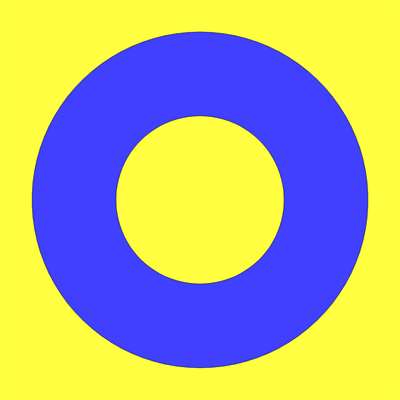 Minimal Blue Circle used world-wide from the late 1960s
The Blue Circle Group was the largest British cement company during most of the period covered here.
The group had its origins in the pre-Portland cement activities of John Bazley White & Sons at Swanscombe. Portland cement was first made there by I. C. Johnson in 1845, a few years after it had been introduced in the London area by William Aspdin. The Swanscombe plant became the largest British Portland cement plant shortly afterwards, and White's remained the largest company throughout the nineteenth century.
In 1900, White's became the main promoter of the formation of APCM, marking the start of what was to become the Blue Circle group. In 1911, BPCM was formed as a subsidiary, and the two companies, with 80% of British capacity, although traded separately on the Stock Exchange, operated in concert, gloomily referred to by outsiders as "the Combine". The old brand names of the many parent companies continued in use, often in competition with each other.
After WWI, it was decided to phase out most of the old brands and local selling organisations, and the Cement Marketing Company (CMC) was launched to sell the product of both APCM and BPCM, under the common brand name "Blue Circle". From then on, the combined companies became informally known as the "Blue Circle Group", and this was made official in 1956.
The group became a single company in 1965 when BPCM was merged into APCM, APCM continuing as the official company name until 1978, when it was re-named Blue Circle Industries PLC. The company was bought by Lafarge in 2001, although the Blue Circle brand name was retained, and subsequently passed on to CRH when it acquired part of Lafarge's holdings in 2015.
Having been formed by two amalgamations of many companies early in the 20th century, the group continued to expand by acquisition of single-plant companies, as well as absorbing two groups - Red Triangle in 1931 and Alpha in 1938, the last acquisition being the Aberthaw & Bristol Channel Cement Company in 1983. Acquisitions were managed so that the company's size was maintained at the level tolerated by the government's competition authorities - usually around 60-65% of UK capacity. More significant was the building of a portfolio of cement plants in other countries which grew to exceed the capacity of the UK plants. Blue Circle was for some time the world's largest non-nationalised cement company.