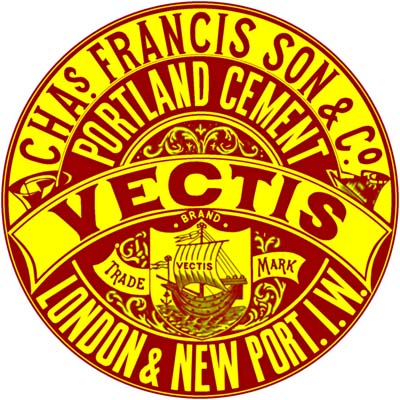 Charles Francis' Vectis Brand.
Location:
Grid reference: SZ50519166
x=450510
y=091655
50°43'20"N; 1°17'4"W
Civil Parish: Northwood, Isle of Wight
Clinker manufacture operational: 1852-1939
Approximate total clinker production: 2.0 million tonnes
Raw materials:
Upper Chalk: earlier from Portsdown: 461650,106400, Portchester, Hampshire (Spetisbury Chalk Member: 78-80 Ma) and 463600,106600, Cosham, Hampshire (Newhaven Chalk Formation: 82-85 Ma): later from Shide Quarry (Culver, Newhaven and Seaford Chalk Formations: 78-88 Ma) at 450600,88100, Arreton, Isle of Wight.
Alluvium from the Medina and the Solent: later Oligocene marl (Hamstead Formation: 28-31 Ma) was extracted from a pit at 450250,91750
Ownership:
1852-1863 Charles Francis and Sons
1863-1900 Charles Francis, Son and Co. Ltd
1900-1939 APCM (Blue Circle)
Otherwise known as Dodnor Works or West Medina Works. The plant commenced about 1840 for manufacture of Roman cement, probably also making Frost's "British cement", the location being chosen, as with many other early plants, because of the availability of a tidal mill, the dam of which is at the south end of the site. Septaria for Roman cement were dredged from the Medina and from reefs off the coast of the Isle of Purbeck. Portland cement production began in 1852 or a little earlier. There were 18 wet process bottle kilns in 1866, not all of which may have been used for Portland cement. In 1882 four more were built. Between 1888 and 1897, chamber kilns were built in sets of two (60 t/week), five (150), two (60) and five (155). In 1902 a further block of six (130 t/week) was added, and a Schneider kiln, burning surplus slurry dryings. By this time the bottle kilns were disused and were demolished after WWI. It became one of only two plants (the other being Arlesey) outside the Thames/Medway area comprising APCM in 1900. The rotary kiln was inserted between the second and fifth blocks of chamber kilns, and all but the last block were allowed to fall into ruin. The last block was only used for top-up capacity, being last used in 1926. The plant, which had supplied far-flung parts of Britain and the export market for which its water-only transportation was acceptable, became irrelevant as the industry established itself in the north and west, and raw material reserves were too slight to warrent a plant upgrade. WWII finally rendered it inoperable. The plant was on the Newport-Cowes railway, and used it for chalk haulage, but its cement distribution was almost exclusively by water, especially in its heyday, when it exported globally. The site became a depot for the Isle of Wight, taking in cement from Thames-side and Rodmell. The plant remained intact apart from the rotary kiln and has only recently been cleared for redevelopment.
Rawmills
The plant always used washmills. In its rotary kiln manifestation, clay was milled in a separate washmill, then the chalk was washed with clay slurry in a rough-mill screener-mill combination.
One rotary kiln was installed:
Kiln A1
Supplier: ?Ernest Newell or Krupp. The design of the kiln house and the drive pier are identical to those by Newell at Burham, but the plant does not appear on Newell's reference list, and there is a local suggestion that the kiln was "German". However, the latter may only refer to the calcinator.
Operated: 1913-1939
Process: Wet: a calcinator was added in 11/1934
Location: hot end 450530,91651: cold end 450491,91658 (later 450483,91659): unenclosed.
Dimensions:
1913-1934 130'0" × 8'0"B / 7'4½"CD (metric 39.62 × 2.438 / 2.248) or if Krupp, 40.00 × 2.450 / 2.250
1934-1939 lengthened to 155'4" (47.35 m)
Rotation (viewed from firing end): anti-clockwise.
Slope: ?
Speed: ?
Drive: ?
Kiln profile: 0×2438: 14021×2438: 15240×2248: 39624×2248 (later 47346×2248): tyres at 4877, 21336, 38100: turning gear at 23774
Cooler: rotary 40'0" × 6'3" (metric 12.19 × 1.905) beneath kiln
Fuel: Coal
Coal Mill: : indirect: ball mill
Exhaust: via dry drop-out chamber direct to stack: after the calcinator was installed, an electrostatic precipitator was added between the ID fan and the stack.
Typical Output: 1913-1934 103 t/d: 1934-1939 127 t/d
Typical Heat Consumption: 1913-1934 8.7 MJ/kg: 1934-1939 7.3 MJ/kg
Sources: Francis, pp 54-60, 168, 175-178: Jackson, p 301: Alan Dinnis, West Medina Cement Mill, Dodnor, Isle of Wight: a History, W. J. Nigh & Sons Ltd, 2016, ISBN 0950412635: there is a remarkable video at the East Anglian Film Archive showing the quarries and plant in operation shortly before closure.
© Dylan Moore 2011: last edit 16/07/2016.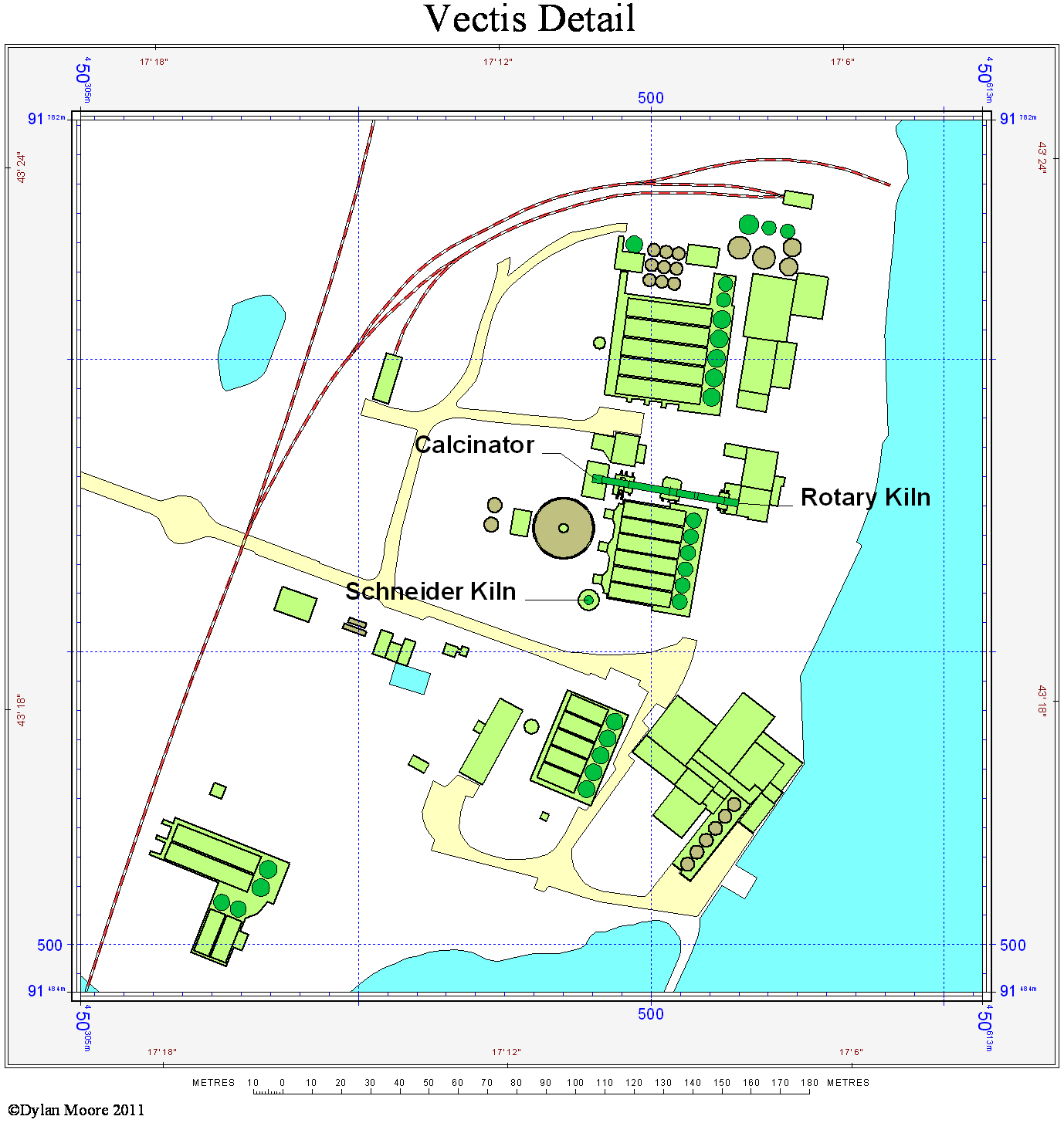 This is a composite map containing details from different eras that may not have co-existed.

Approximate capacity: tonnes per year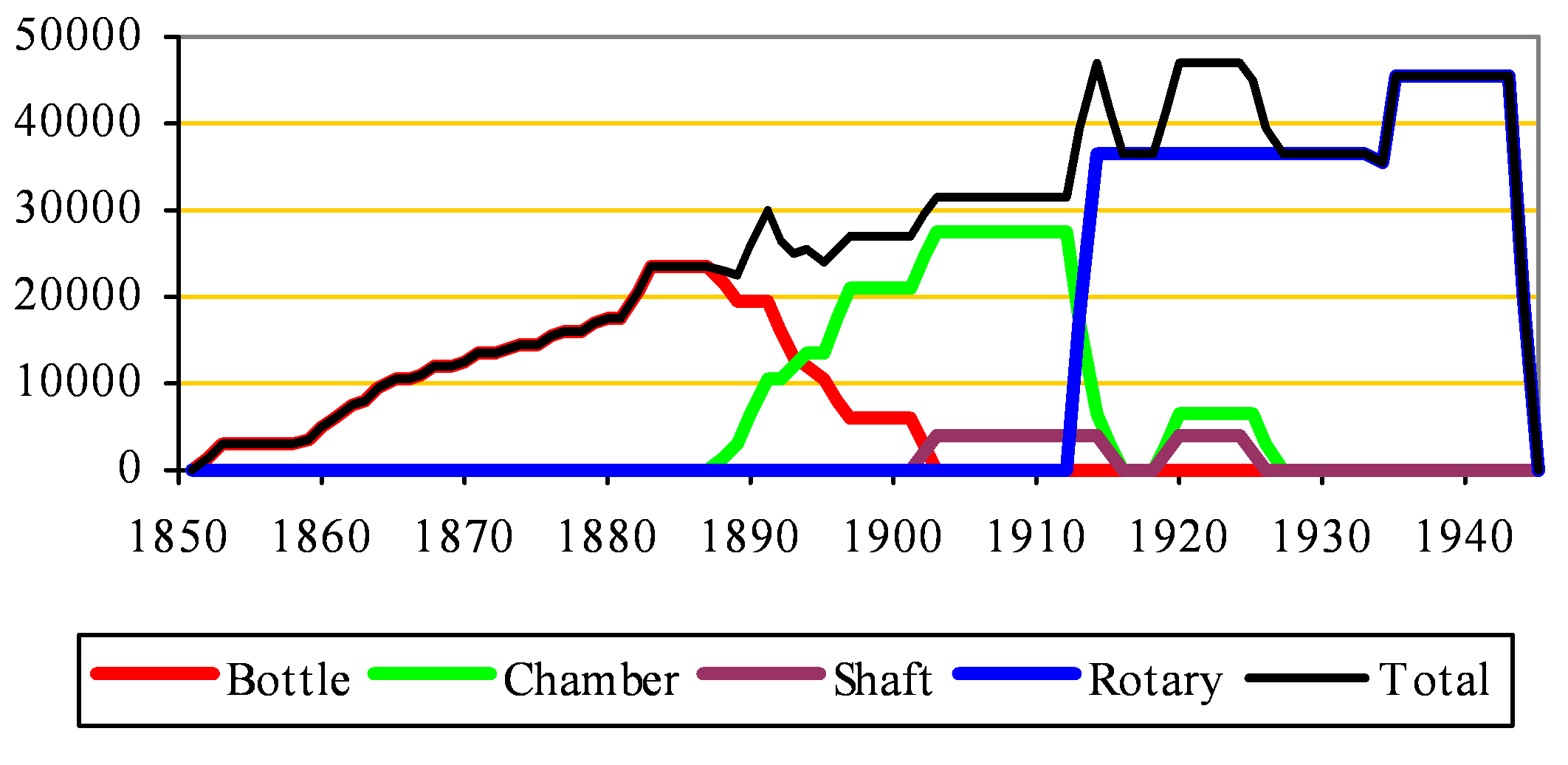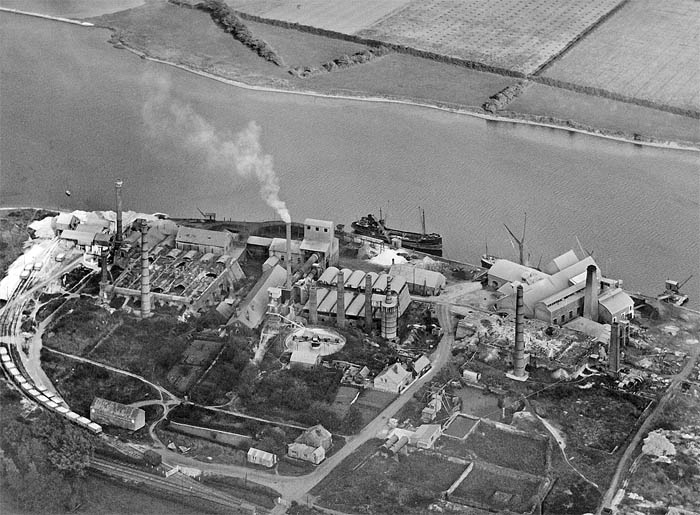 Picture: ©English Heritage - NMR Aerofilms Collection. Catalogue number 16855. A high-definition version can be obtained from English Heritage. This was taken in August 1926, viewed from the west. To the left, close to the waterfront are the washmills, with a train-load of chalk from Shide awaiting processing. A block of chamber kilns, abandoned and partially collapsed, is immediately to the right. In the centre is the rotary kiln (the cooler can be seen beneath), and a still-functional block of Batchelor kilns - the latter last operated around this time. At bottom right of the Batchelor kilns is the Schneider kiln. To the right is another chamber kiln block - almost completely flattened - and behind it the finish mill building and cement bins. Much of the area between the plant and the railway is occupied by disused slurry backs. The plant was considerably tidied up during the 1930s.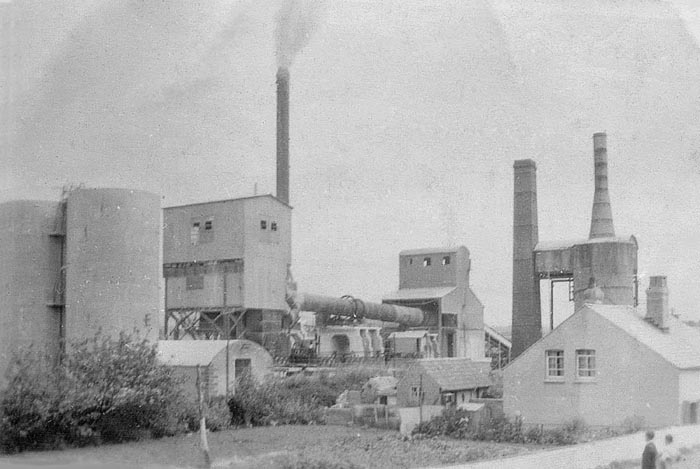 Picture kindly supplied by Alan Dinnis. This shows the plant after the calcinator had been installed in 1934. On the far left are two newly-constructed slurry blending silos. The kiln clearly shows features characteristic of Newell's installations. The housing of the calcinator is in front of the steel stack. To the right is the abandoned Schneider kiln. The chamber kiln bank between them, and two of its three square stacks, have been demolished.