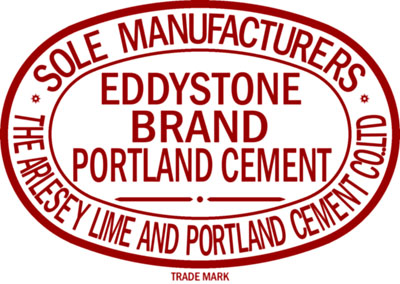 Arlesey Lime and Portland Cement Company Eddystone Brand.
Location:
Grid reference: TL18973510
x=518970
y=235100
52°0'6"N; 0°16'1"W
Civil Parish: Arlesey, Bedfordshire
Clinker manufacture operational: 1883-1932
Approximate total clinker production: 1.76 million tonnes
Raw materials:
At first Grey Chalk (Zig-zag Chalk Formation: 94-97 Ma) from quarry at 519700,234200 and Gault Clay (Gault Formation: 100-112 Ma) from 518500,234900.
From around 1893, on reaching the Chalk Marl (West Melbury Marly Chalk Formation: 97-100 Ma) beneath the Grey Chalk, the upper part was used with sweetener chalk from Knebworth (Lewes Nodular Chalk Formation: 88-90 Ma) 524700,220900 by rail (15 km): intervening Totternhoe Stone was used for lime.
Subsequently a Grey Chalk pit was opened at 519850,234850.
Ownership:
1883-1900 Arlesey Lime and Portland Cement Co. Ltd
The plant was built to the north of the pre-existing lime and brick plant, on the site of the worked-out brickfield. The 1886 Engineer article implies that Portland cement manufacture had been subject to "costly and fruitless attempts" at the site before the plant described was launched. A previous plant called the "Hydraulic Lime and Cement Works" was put up for sale in October 1875. This had two 25-ton wet process bottle kilns along with three wash backs and drying flats, evidently using chalk marl alone. Evidently only hydraulic lime had been produced. When the new plant started, chalk and gault clay were used, the clay being already available from the much more substantial brickworks next door. The plant as first designed exemplifies the great simplicity and compactness of the "off-the-peg" cement plant of the 1880s. Read the Engineer article.. The plant started up with a set of six Johnson chamber kilns, capacity 120 t/week. In 1887 four locally-designed double-deck chamber kilns were installed, giving 100 t/week. Installed in 1888 was one of the second-generation Ransome rotary kilns which, like the others, failed to operate successfully, although Stokes used it to pilot his own developments in the 1890s. Seven more chamber kilns (210 t/week) were added in 1891. A further block of six (190 t/week) and four Schneider kilns consuming excess slurry dryings (320 t/week) were installed around 1900. This made the total capacity 940 t/week. It became one of only two plants (the other being Vectis) outside the Thames/Medway area comprising APCM in 1900. The installation of the rotary kilns involved the removal of the first block of chamber kilns in 1903. The remaining static kilns continued in commission, although only intermittently used: they were last operated in 1926. All transportation was by road and the Great Northern Railway. Although the raw materials were excellent and the site was strategically good, negotiations to extend the land southward failed and the reserves of high carbonate chalk were insufficient to make an upgrade worth while, so the plant closed with the 1932 downturn. Most of the site is long cleared, and is now partly occupied by a readymix plant, but the second chamber kiln block still remains. Some foundations are still visible on the unoccupied ground towards the railway. The quarries are flooded.
Three rotary kilns were installed:
Kiln A1
Supplier: Ransome
Operated: installed 1888: modified to Stokes design around 1892 - never produced commercially
Process: Wet with separate drying tube
Location: hot end 518977,234998: cold end 518986,234997: totally enclosed. (This location is a "best guess" based upon likely map locations and the photograph.)
Dimensions: 28'0"× 5'0" (metric 8.53 × 1.524)
Rotation (viewed from firing end): anticlockwise
Slope: 1/14 (4.096°)
Speed: ?
Drive: via shaft from stean engine: power draw not known, but probably about 400 W.
Kiln profile: 0×1524: 8534×1524: rollers at 2134, 6401: turning gear at 6096.
Cooler: rotary 38'0"× 2'3" (metric 11.582 × 0.686) beneath firing floor.
Cooler profile: 0×686: 11582×686: tyres at 1829, 7925: turning gear at 2134.
Fuel: Producer gas
Typical Output: 16 t/d (calculated)
Typical Heat Consumption: 8.7 MJ/kg (calculated)
Kiln B1
Supplier: "Pollitt and Wigzell". This may just be a contractor. They made steam engines. The kilns were identical to those at Swanscombe and so were Fellner & Ziegler (considerably modified).
Operated: 1903-1932
Process: Wet
Location: hot end 518981,235110: cold end 519022,235108: totally enclosed.
Dimensions:
1903-1907 80' × 6'3½" (metric 24.38 × 1.918)
1908-1932 132'10" × 8'10¼"B / 6'3½"C / 7'10½"D (metric 40.49 × 2.699 / 1.918 / 2.400)
Rotation (viewed from firing end): clockwise
Slope: 1/13.8 (4.156°)
Speed: 0.86 rpm
Drive: 30 kW
Kiln profile:
1903-1907: 0×1734: 24384×2400: Tyres at 4064, 12192, 20320: turning gear at 16408.
1908-1932: 0×1734: 1156×1734: 4267×2699: 9820×2699: 12281×1918: 31902×1918: 33274×2400: 40488×2400: Tyres at 1689, 12891, 21120, 28512, 36436: turning gear at 17272.
Cooler: rotary 53'0"× 4'10½" (metric 16.15 × 1.486) below firing floor.
Cooler profile: 0×1486: 16154×1486: Tyres at 1524, 11278.
Fuel: Coal
Coal Mill: both kilns indirect fired using common coal milling system - Griffin mill?
Exhaust: direct to stack.
Typical Output: 1903-1907 40 t/d: 1908-1925 92 t/d: 1926-1932 103 t/d
Typical Heat Consumption: 1903-1907 9.3 MJ/kg: 1908-1925 8.25 MJ/kg: 1926-1932 8.20 MJ/kg
Kiln B2
Location: hot end 518981,235104: cold end 519022,235103: totally enclosed.
Identical in all other respects to B1.
Sources: Francis, pp 210, 234: Jackson, p 269: Pugh, p 15: "New Portland cement works at Arlesey", The Engineer, 62, October 8, 1886, pp 291-292.
Read the Engineer article.
© Dylan Moore 2011: commenced 12/03/2011: last edit 26/02/2017.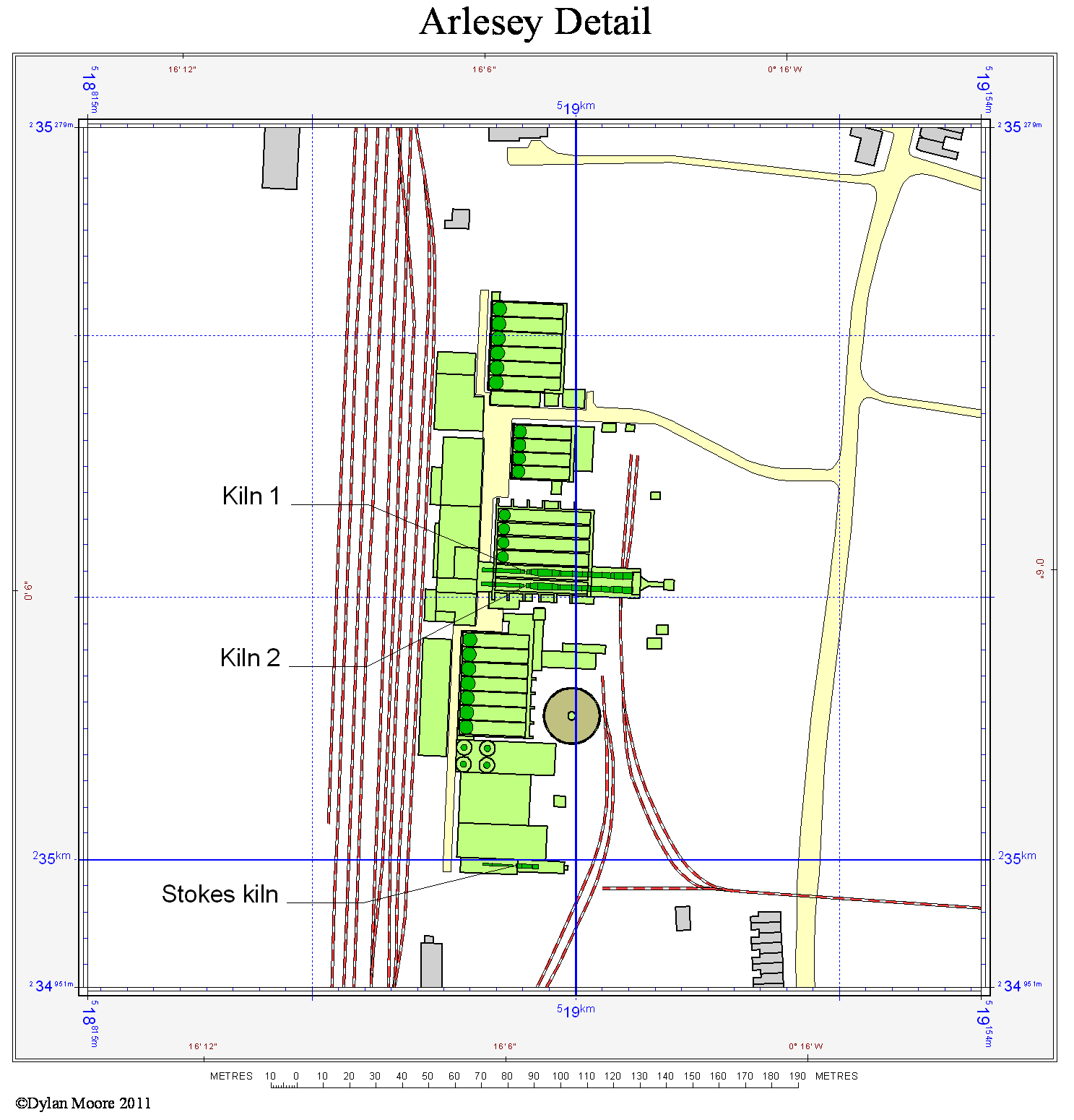 Approximate capacity: tonnes per year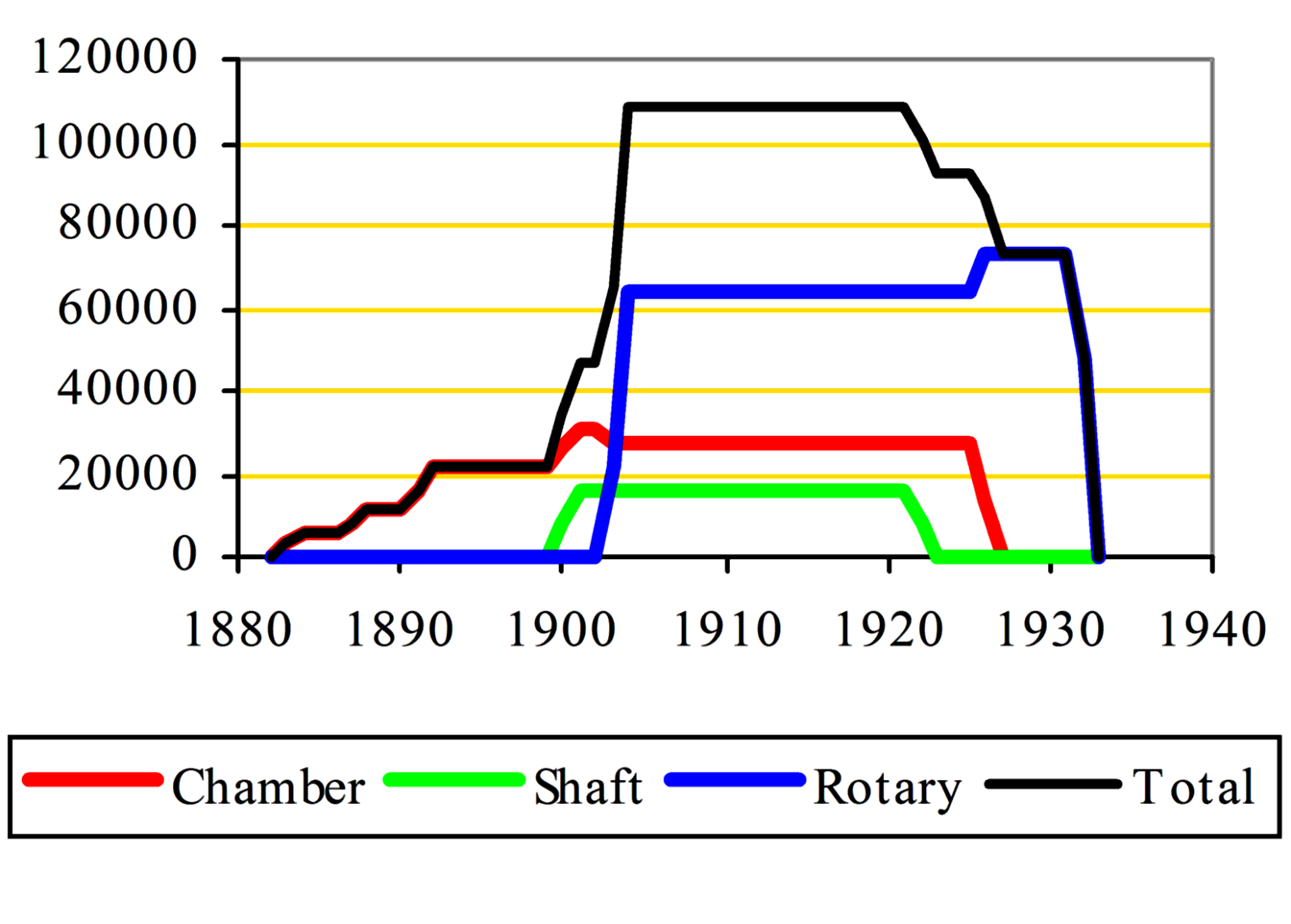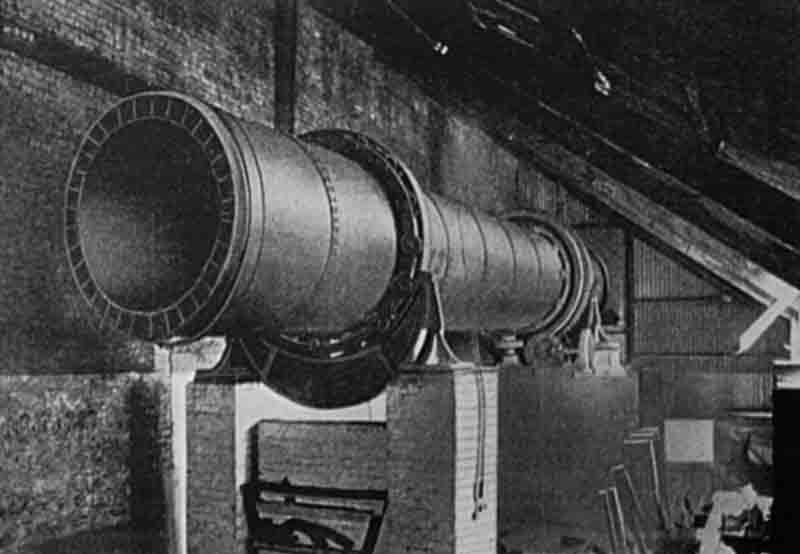 The Ransome kiln as modified by Stokes. Picture: Blue Circle archive. The photograph was taken in the 20th century long after it was abandoned and was modified for clarity. The hood and cooler below the kiln are gone. Behind the end wall was the slurry preheater.