Rotary coolers were installed on the vast majority of kilns in the first quarter of the twentieth century. They were installed either beneath the firing floor, as in the original Hurry & Seaman designs installed by Fellner & Ziegler, or beneath the kiln. The latter design had the advantage that floor space required for the kiln system could be reduced, but meant that the cooler had to pass through one or more of the kiln piers, requiring a more elaborate design of the latter.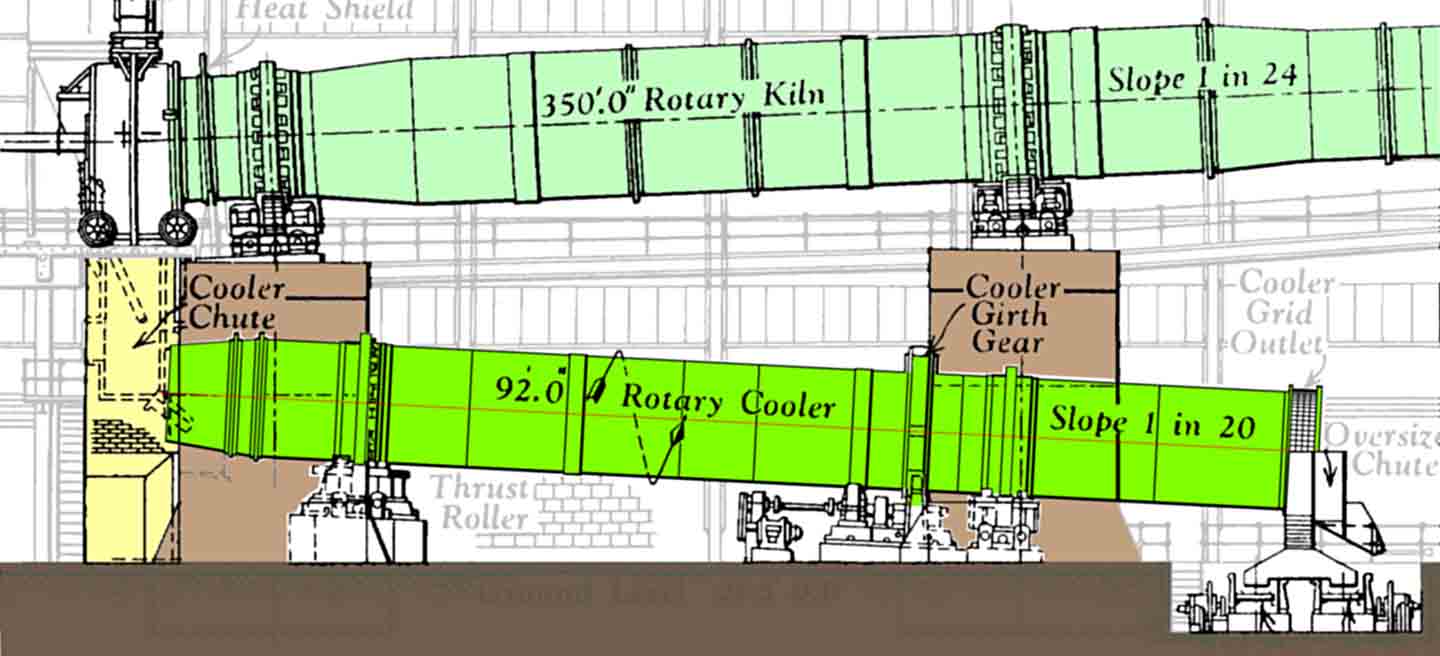 The largest British rotary cooler, by Vickers Armstrong as installed at Kent and Shoreham, 92' long and 9' in diameter. The design necessitated tall and massive kiln piers, but was easy to maintain and run.
One way of shortening the cooler so that the second kiln pier need not be pierced was the "double-back" or "concentric" cooler, produced by several manufacturers in the period 1905-1920. The later versions were frequently supplied with pressurisation air. Being very difficult to maintain, most of them were soon abandoned in favour of more conventional designs. The standard design coolers shown above were installed at Kent in 1949 to replace the original (1922) concentric coolers. On some smaller kilns, such as Wouldham 7 & 8, the concentric coolers were simply removed, and the kilns run with no cooling at all.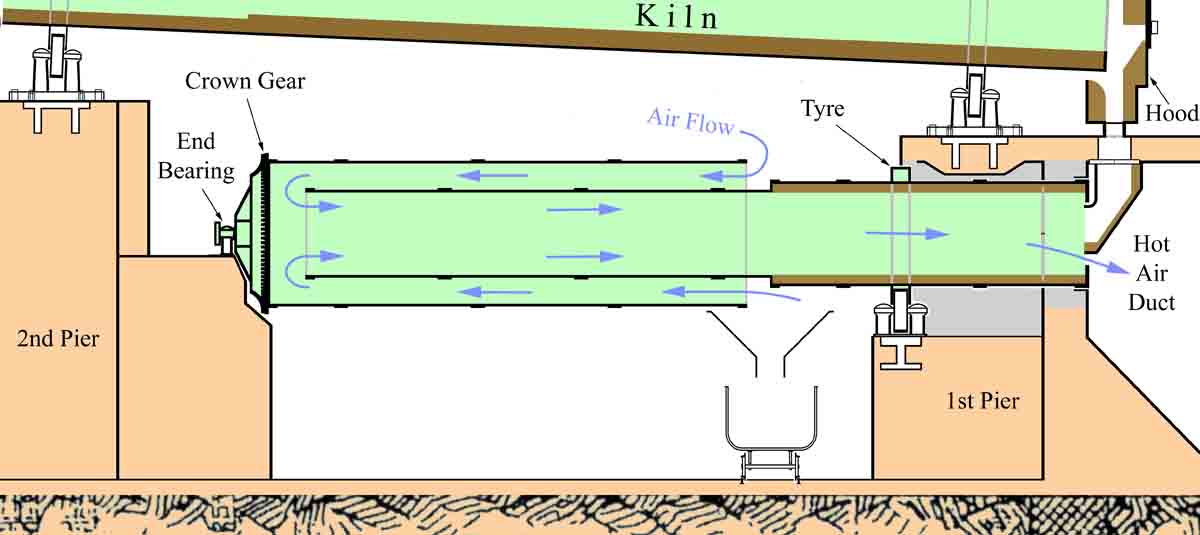 Concentric rotary cooler layout based on those at Johnsons.
A tentative list of the concentric cooler installations is as follows:
From 1923, rotary coolers started to lose ground to planetary coolers, and from 1937 to grate coolers. The number of installations declined, although this to some extent reflects reduction in kiln installations, while size of coolers increased. The largest installed (90'×9'0¾") were among the last, on Kent A1 and A2 and Shoreham C1 and C2 in 1949-1950. The last installed was on the anachronistic Kirton Lindsey A5 in 1968.
| Date | Installed |
| --- | --- |
| 1900-1909 | 93 |
| 1910-1919 | 39 |
| 1920-1929 | 37 |
| 1930-1939 | 14 |
| 1940-1949 | 1 |
| 1950-1959 | 7 |
| 1960-1969 | 3 |