Location:
Grid reference: SP93697007
x=493690
y=270070
52°19'15"N; 0°37'31"W
Civil Parish: Irthlingborough, Northamptonshire
Clinker manufacture operational: 1898-5/1928 (stopped 1913-1915)
Approximate total clinker production: 250,000 tonnes
Raw materials:
Great Oolite (Blisworth Limestone Formation: 165-166 Ma) Limestone, from quarry at (SP)493400,270400
Upper Lias Clay (Whitby Mudstone Formation: 176-180 Ma) from quarry at (SP)493600,269800: the ironstone overburden was sold to the local ore mine. It would appear that the use of clay later ceased, the limestone being sufficiently low-grade to use on its own.
Ownership:
1898-1907 Dunmore Ltd
1907-1911 Premier Portland Cement Co. Ltd
1911-5/1928 BPCM (Blue Circle)
Also called Irthlingborough Works. The plant is shown only as a "brick and tile works" on the 1901 county maps, with minimal buildings. If Francis is correct in stating that cement was made from 1898, and if Davis' plant capacity of 450 T/week refers to the rotary plant then under construction, the production 1898-1908 was probably a single bottle kiln of 30 t/week. The plant was mentioned as a competitor by Kaye's (Southam) in 1903 .
The plant was updated in 1907 with a rotary kiln, which operated from 1908 to 1913 and 1915 to 1928. An article in The Engineer describes the plant as installed in some detail. Read the article. Limestone and clay were processed separately: first dried in co-current 11.125×1.350 m rotary driers heated by kiln exhaust gas, then ball-milled to a coarse powder. The components were finally combined (14-16% clay) in a tube mill. The kiln was similar to those at Johnsons (A1-A3) and Newhaven (A2), slightly modified for dry operation. By 1927, the raw material was described as "natural", and the addition of clay had presumably ceased, due to the need to raise lime content, and to simplify the operation.
The plant was connected to the Northampton & Peterborough branch of the L&NW railway by a 1.5 km spur which was used for shipping product, although undoubtedly the majority of product was transported locally by road. The plant finally closed because it was too small to operate cheaply, and because the raw materials, hemmed in by the much more substantial mines and quarries of the iron industry, could not be expanded sufficiently to justify an up-rate. No doubt this decision was also influenced by the luke-warm enthusiasm for dry process in the late 1920s. After a protracted period of dilapidation, the closed plant was cleared in the 1960s, and the site is now under a small housing development.
Rawmills
Two FLS Kominor ball mills and one tube mill - estimated power drawn 30, 20 and 70 kW: they were driven by the central plant steam engine.
One rotary kiln was installed:
Kiln A1
Supplier: FLS
Operated: 1?/1908 -5/1928
Process: "Long" dry
Location: hot end 493721,270057: cold end 493702,270080: totally enclosed.
Dimensions: metric 30.14 × 2.100
Rotation (viewed from firing end): clockwise
Slope: 1/25 (2.292°)
Speed: 0.5-1.0 rpm
Drive: from steam-driven lay shaft - it probably drew 20-30 kW
Kiln profile : 0×2100: 29690×2100: 29840×1500: 30140×1500: tyres at 1475, 12010, 25970: turning gear at 12905.
Cooler: concentric rotary metric 9.50 × 1.050 / 1.650 beneath kiln.
Cooler profile: 0×1200: 3640×1200: 3640×1050: 3920×1050: 3920×1650: 9500×1650: Tyre at 2150 with trunnion end bearing: Turning gear at tail end.
Fuel: Coal
Coal Mill: indirect: ball mill
Exhaust: via raw material driers and dry drop-out chamber to stack.
Typical Output: 60 t/d
Typical Heat Consumption: 7.0 MJ/kg
Sources: Francis, pp 211-213: Jackson, pp 232, 283, 292: "Cement works at Irthlingborough", The Engineer, CVI, 10 July 1908, pp 30-32: Jenny Ballinger, Northamptonshire Extensive Urban Survey: Irthlingborough, Northamptonshire County Council, 2000.
Read the Engineer article.
© Dylan Moore 2011: last edit 13/08/15.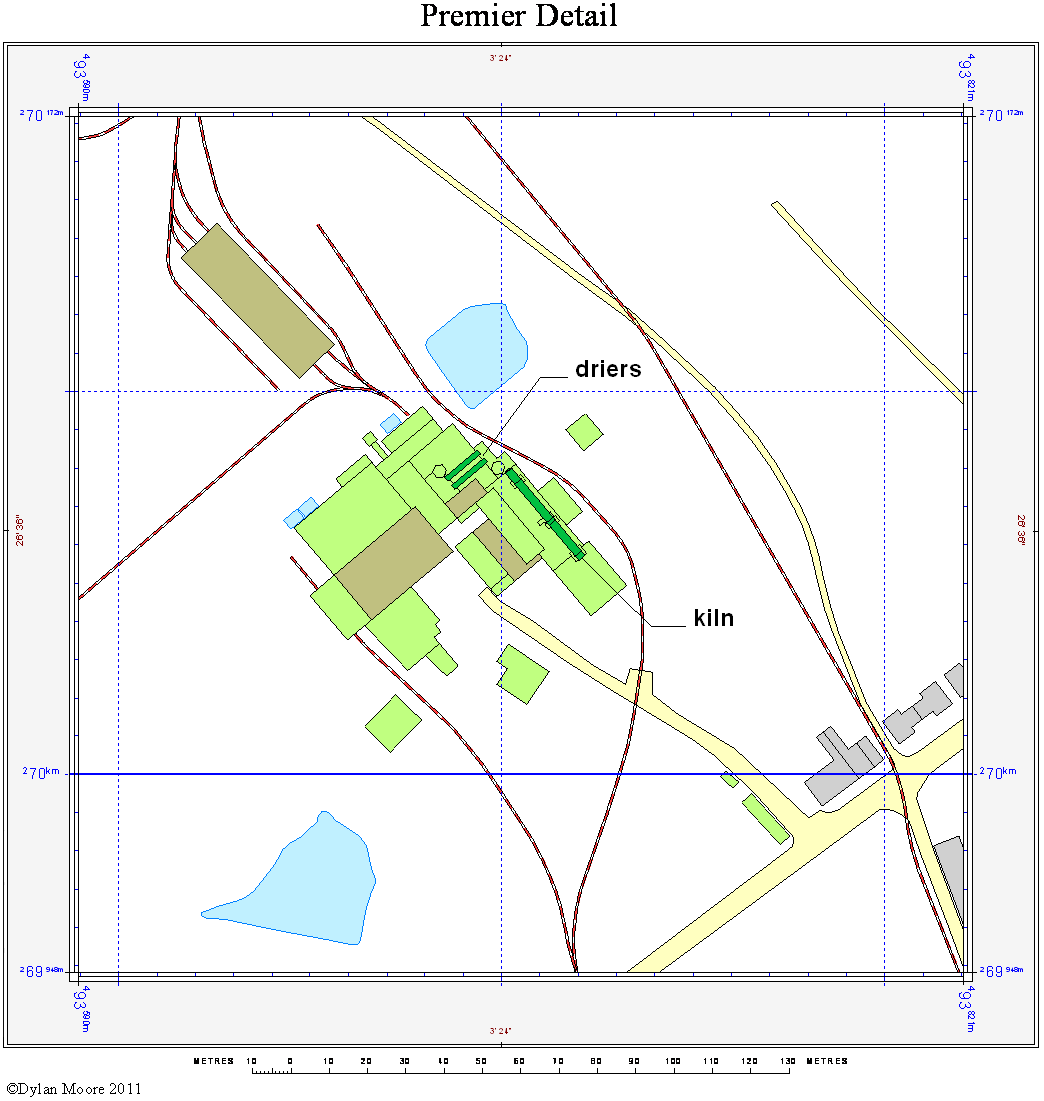 Approximate capacity: tonnes per year