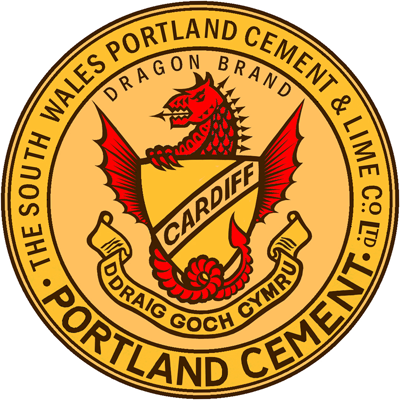 South Wales Portland Cement & Lime Dragon Brand. The Dragon brand remained in use well into the 1970s.
Location:
Grid reference: ST18246943
x=318240
y=169430
51°25'5"N; 3°10'32"W
Civil Parish: Lavernock, Glamorgan
Clinker manufacture operational: 1888-1969
Approximate total clinker production: 5.0 million tonnes
Raw materials:
Blue Lias limestone and clay (St Mary's Well Bay Member: 197-200 Ma) from the quarry adjacent to the plant (ST)317700,169300, extending into the parish of Cogan: Rhaetic Limestone from the base of the pit was also occasionally used.
Carboniferous Limestone from Ruthin (mainly Cornelly Oolite Formation: 335-345 Ma) (SS)297400,179400 – parishes of Llanilid and St Mary Hill, Glamorgan
Ownership:
1886-1892 W. Ll. Morcom
1892-1911 South Wales Portland Cement and Lime Co. Ltd
1911-1969 BPCM (Blue Circle)
The site was empty when in 1880, according to Francis, an abortive attempt to manufacture Portland cement was made at Penarth (but perhaps not here). The site had seven open kilns for lime manufacture and was developed in 1886 with two small dry process bottle kilns, and commenced operation in 1888. A wet process with eight large chamber kilns was commenced in 1892, making 240 t/week. Around this date, two of the second-generation Ransome rotary kilns were installed. Like the others, they initially failed to operate successfully. Another lime kilns were added around 1895, and in 1896 a Hoffman ring was added for cement. The latter seems not to have lasted long. In 1899, one more chamber kiln was added, along with a set of four Schneider kilns (280 t/week) burning surplus dried slurry. The rotary kilns were converted to coal firing in 1901, and produced around 8 t/d each. In around 1905, a further four Schneider kilns (280 t/week) were installed, operating on dry processed briquettes, bringing the total capacity to 270 t/week chamber, 560 t/week Schneider and 70 t/week rotary, corresponding to Davis' 1907 capacity of 900 t/week . A re-build followed the BPCM takeover, the rotary kilns being removed in 1912 and a new rotary kiln commencing in 1914. The plant operated throughout WWI. The chamber kilns shut down in 1922, and the Schneider kilns continued operation until 1927, evidently using dry process.
Initially the Blue Lias alone was used, removing the clay by rumbling. As higher C3S clinker became necessary, Ruthin quarry supplied limestone (CaCO3 92-96%) from 1939 to sweeten the mix. In 1947 Aberthaw and Blue Circle purchased the quarry as a joint venture.
The plant stopped towards the end of WWII because of lack of manpower. The plant was finally shut down to clear the market for the up-graded Aberthaw. The "Dragon" brand of the South Wales company continued in use throughout the life of the plant, and beyond: Aberthaw packed part of their output for distribution by Blue Circle in "Dragon" bags well into the 1970s. Blue Lias lime manufacture continued until WWII. From 1954 to 1965, the plant produced white lime using Ruthin stone from 5 new shaft kilns. The plant used rail for transport throughout, although its localized market gradually moved to road distribution. The site is now totally vanished under housing development. The quarries are partially flooded and used for recreational purposes.
Three rotary kilns were installed:
Kiln A1
Supplier: Ransome
Operated: installed 1/1889 – did not produce commercially until 1901 when coal firing commenced: ceased operation 1912
Process: Wet
Location: ?
Dimensions: 25'0"× 5'0" (metric 7.62 × 1.524)
Rotation (viewed from firing end): ?
Slope: ?
Speed: ?
Drive: ?
Kiln profile: ?0×1524, 7620×1524: rollers at 1905, 5715: turning gear at 3810
Cooler: none
Fuel: Initially producer gas: Coal was used from 1901
Coal Mill: ?
Typical Output: 6 t/d
Typical Heat Consumption: 13 MJ/kg
Kiln A2
Installed 1892?
Location: ?
Identical in all other respects to A1.
Kiln B1
Supplier: FLS
Operated: 1/1914-1944: 1946-1969
Process: Wet
Location: hot end 318180,169414: cold end 318239,169449: entirely enclosed.
Dimensions:
1914-7/1935 Metric 70.10 × 3.000B / 2.700CD
7/1935-1969 227'11¼"× 10'0"B / 8'10¼"C / 11'10¼"D (metric 69.48 × 3.048 / 2.700 / 3.613)
Rotation (viewed from firing end): ?
Slope: 1/25 (2.292°)
Speed: ?
Drive: ?
Kiln profile:
1914-1935 0×2700: 2000×2700: 2000×3000: 12000×3000: 14650×2700: 70100×2700: tyres at 1220, 15430, 29806, 46627, 63487: turning gear at 28600?
1935-1969 0×2269: 3124×3048: 12141×3048: 14383×2700: 57588×2700: 58909×3613: 67037×3613: 67799×2700: 69475×2700: Tyres at 1378, 15589, 29966, 46787, 63646: turning gear at 28759?
Cooler: concentric rotary beneath kiln: replacement ex Bevans? 1933: 61'10"× 8'4?" (metric 18.85 × 2.562)
Cooler profile:
Original ? concentric
From 1933: 0×2562: 18847×2562: Tyres at 4724, 15037
Fuel: Coal
Coal Mill: ?
Exhaust: direct to stack: ID fan followed by cyclones fitted 1935.
Typical Output: 1914-1922 161 t/d: 1922-1935 211 t/d: 1935-1949 307 t/d: 1949-1961 298 t/d: 1961-1969 254 t/d
Typical Heat Consumption: 1914-1935 7.62 MJ/kg: 1935-1949 7.18 MJ/kg: 1949-1961 8.02 MJ/kg: 1961-1969 7.83 MJ/kg
Sources: Francis, pp 216-217, 234: Jackson, pp 249, 291: Pugh, p 269: Barry Dock News, 13/9/1889, p 4
© Dylan Moore 2011: commenced 24/01/2011: last edit 14/07/2017.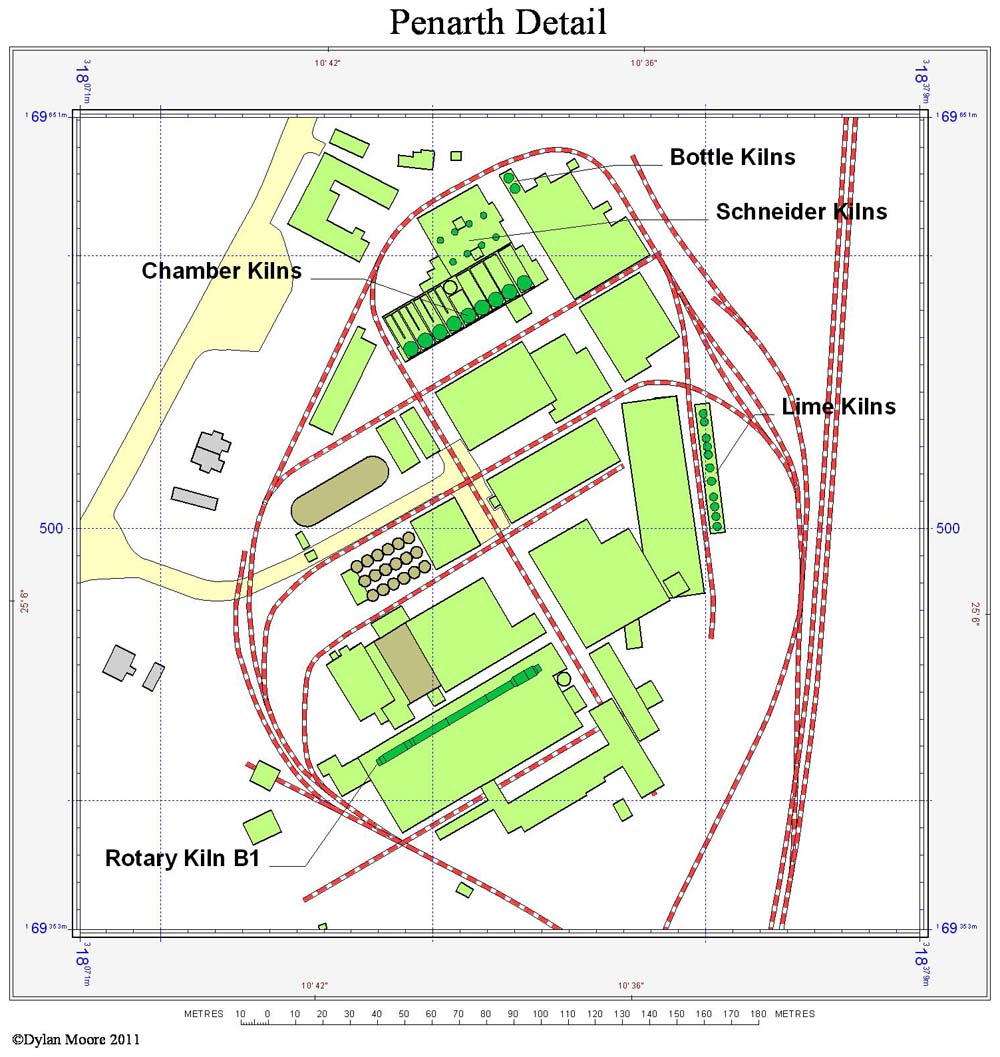 This is a composite map containing details from different eras that may not have co-existed.

Approximate capacity: tonnes per year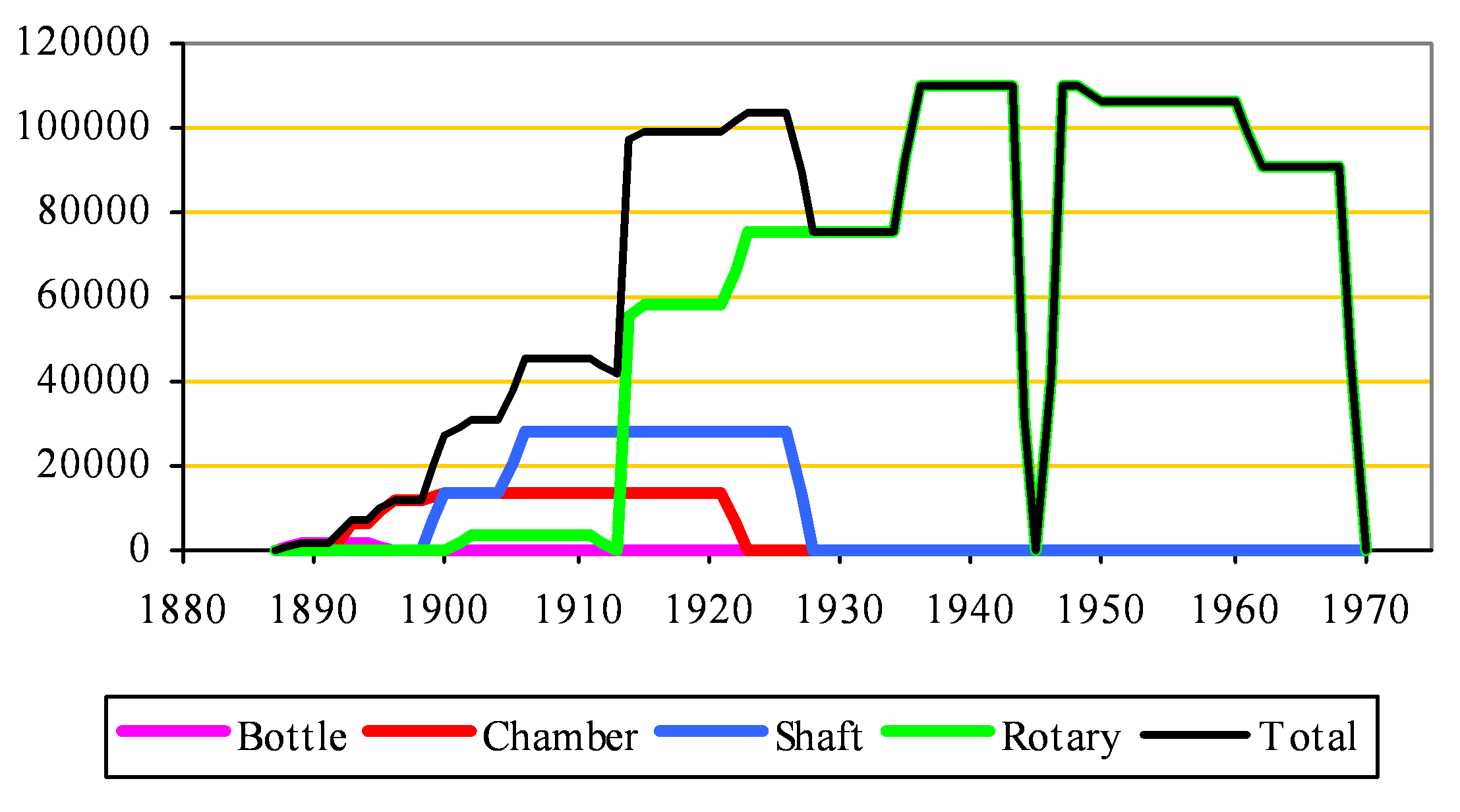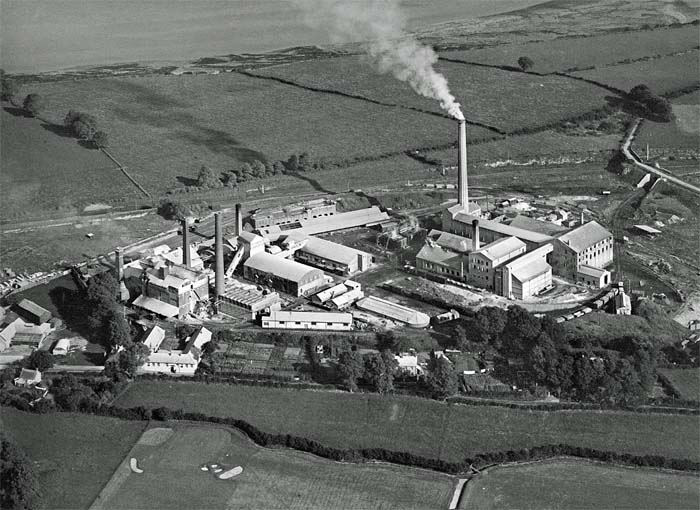 Picture: ©English Heritage - NMR Aerofilms Collection. Catalogue number 16937. A high-definition version can be obtained from English Heritage. This was taken in 1926, looking southeastward, and shows the plant in its most developed form. On the left, just to the right of the trees, one of the original cement bottle kilns is still visible, in front of the power plant stack. To the right of these is the block of Schneider kilns, still clearly operating. Behind and to the right of this is the long bank of chamber kilns with two stacks. The original finish mill house is fed by an inclined conveyor, and the two large rectangular sheds in the middle of the image contain cement bins and packers, with rail sidings adjacent. Behind these, on the eastern edge of the plant, the old lime kilns can be seen. The compact group of buildings to the right is the FLS-designed new plant built just before WWI: to the right is the coal drying and milling building; in front are the new clinker store, finish mills and power house, with cooling towers to the left. Raw material entered the plant by rail from the right. The Bristol channel is in the background.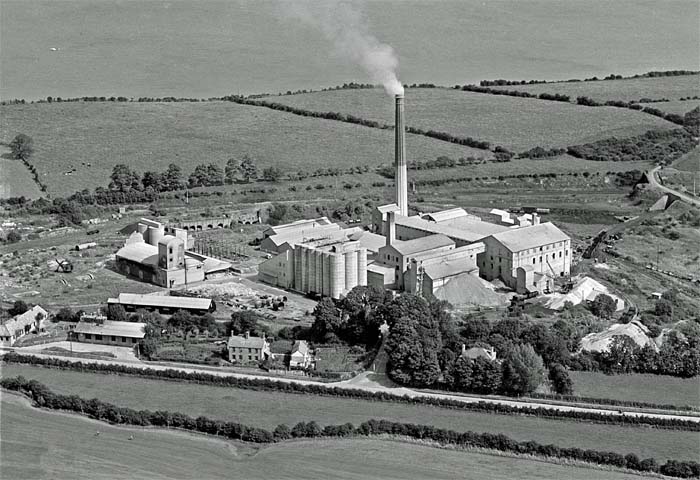 Picture: ©English Heritage - NMR Aerofilms Collection. Catalogue number R7524. A high-definition version can be obtained from English Heritage. This was taken in 1946, looking southeastward, and shows the plant after the earlier static kilns had been cleared, although the old lime kilns still remain in ruinous state. New cement silos have been built close to the mill house. The power house has been abandoned and an electric substation has appeared.