Location:
Grid reference: SO65901851
x=365897
y=218506
51°51'51"N; 2°29'42"W
Civil Parish: Mitcheldean, Gloucestershire
Clinker manufacture operational: 1894-1915
Approximate total clinker production: 136,000 tonnes
Raw materials:
Carboniferous Limestone (Avon Group: 352-355 Ma) from 365950,218280 (Stenders Quarry). This is the "Lower Limestone Shale" at the base of the Carboniferous, and consists of limestone interbedded with shale. It was probably processed as with the lias by selectively screening out the shale to obtain the required composition.
Gully Oolite Formation: 343-348 Ma, from 365830,218700 (Scully Grove Quarry) - a relatively pure limestone.
Ownership:
1885-8/1906 Wilderness Portland Cement Co.
8/1906-1909 O. A. Brown Ltd
1909-1911 Severn Portland Cement Co Ltd
1911-1915 BPCM (Blue Circle)
Sometimes called Wilderness Works or Severn Works. The Wilderness company was founded by M. W. Colchester-Wemyss, using a deposit previously extensively used for lime. The plant had 4 bottle kilns, output 120 t/week. The plant had what was probably the prototype Ransome rotary kiln, "the first rotary kiln to be put to work in this country", which may have dated from the start of the plant. There is no suggestion that this ever produced commercially, and, as Ransome's prototype, designed on the false premise that ready-ground cement could be produced, it had no chance of working. Apart from this very brief abortive trial, cement manufacture was not attempted until 1894, using the existing bottle kilns. Oliphant Arthur Brown, who had connections with South Wales Portland Cement at Penarth, took over in August 1906 and installed the new rotary kiln. Davis' capacity of 350 t/week was perhaps projected. Progress with the new plant was slow, and the plant stopped in bankruptcy in 1911. Under BPCM, it reopened in 1912 but closed in 1915. The kiln might have been re-started, but the site finally closed in early 1919. The product was evidently hauled (2 km) to Drybrook station by steam wagon, this being the only effective method of shipping. The plant site is now largely covered by a small industrial estate, although the stack remained in place until quite recently.
Rawmills
The slurry was prepared in a tube mill: further equipment unknown.
Two rotary kilns were installed:
Kiln A1
Supplier: Ransome
Operated: installed 1885, removed 1907 – never produced commercially
Process: "Long" Dry
Location: not known, but Newell removed it when installing B1, so it presumably occupied the same site.
Dimensions: 15'1"× 3'6" (metric 4.60 × 1.067)
Rotation (viewed from firing end): ?
Slope: 1/17 (3.372°)
Speed: ?
Drive: worm drive: power not known but probably around 600 W
Kiln profile: 0×1067: 4597×1067: rollers at 895, 3639: turning gear at 2299.
Cooler: none of any recognisable form. The kiln product, which was intended to be of cement fineness, discharged into a pit. Any air cooling would have re-entrained this powder into the kiln.
Fuel: Producer gas
Typical Output: 2 t/d (calculated: did not produce)
Typical Heat Consumption: 13.2 MJ/kg (calculated)
Kiln B1
Supplier: Ernest Newell
Operated: 1908-1911, 1912-1915
Process: Wet
Location: hot end 365894,218488: cold end 365901,218524: unenclosed.
Dimensions: 120'0" × 7'4½" (metric 36.58 × 2.248)
Rotation (viewed from firing end): clockwise?
Slope: ?
Speed: ?
Drive: ?
Kiln profile: 0×2248: 36576×2248: Tyres at 2134, 8230, 15850, 24232, 32614.
Cooler: rotary beneath kiln 50'0" × 3'5" (metric 15.24 × 1.041)
Fuel: Coal
Coal Mill: ?
Typical Output: 61 t/d
Typical Heat Consumption: 7.9 MJ/kg
Sources: Cook, p 43: Francis, p 265: Jackson, pp 242, 287: Pugh, p 51
© Dylan Moore 2011: last edit 17/07/2015.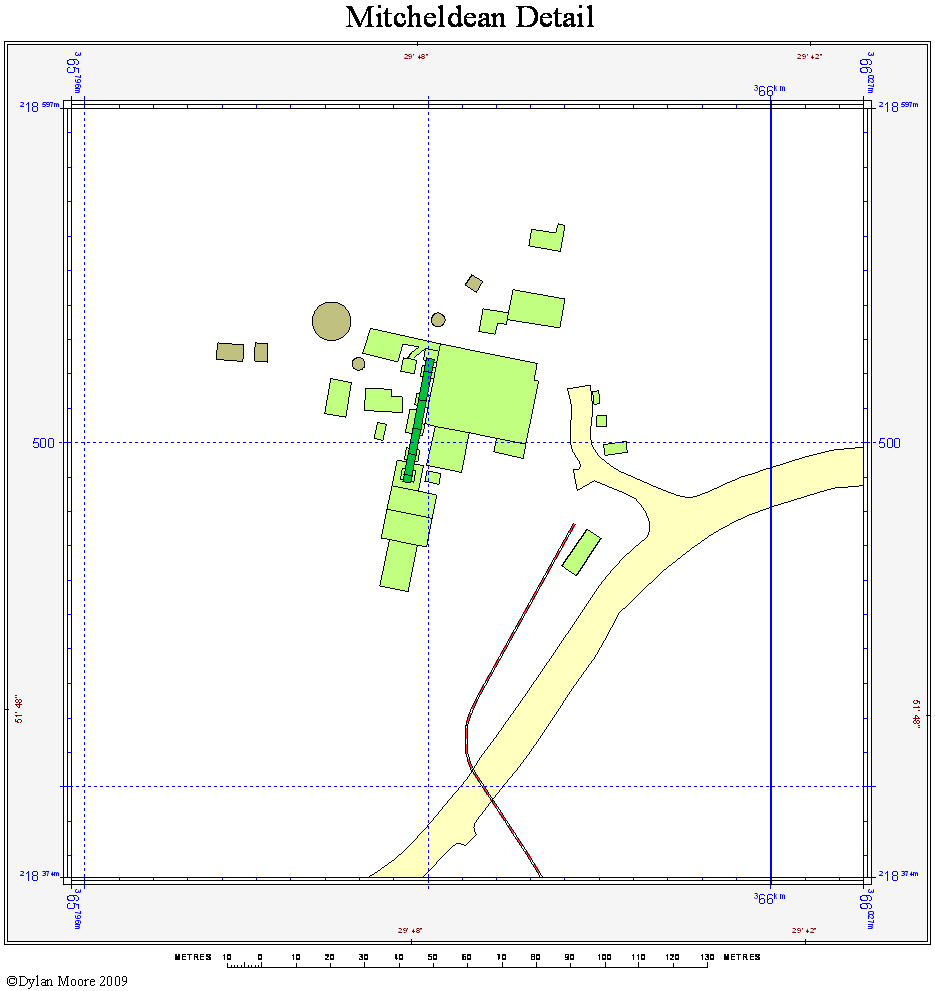 Approximate capacity: tonnes per year