Location:
Grid reference: TQ04868985
x=504860
y=189850
51°35'52"N; 0°29'10"W
Civil Parish: Harefield, Middlesex
Clinker manufacture operational: 1880-7/1929
Approximate total clinker production: 790,000 tonnes
Raw materials:
Upper Chalk (Seaford Chalk Formation: 85-88 Ma) from pits at

505050,189750
504950,189950
504850,190000
504650,190150

Overlying London Clay (London Clay Formation: 48-55 Ma) and Colne Valley Alluvium
Ownership:
Sometimes called Coles Shadbolt Works. The site was originally developed for brickworks. Coles Shadbolt made Roman Cement on the Regent's Canal in Islington, and a dock on the Grand Union Canal was constructed at Harefield to ship bricks to Islington. In charge of this, Percy Shadbolt, who had previously worked at Waldringfield, recognised the suitability of the site for Portland cement. Francis says the plant was completed with twelve chamber kilns in 1880. However, the kilns were clearly installed piecemeal, and the 1883 map shows only two bottle kilns. The likely development was as follows: two bottle kilns (50 t/week) were installed in 1880. Three chamber kilns (80 t/week) were added in 1883 and two (55 t/week) in 1886, at which point the bottle kilns were removed. Four more chamber kilns (31 t/week each) were installed over the next four years, a tenth (29 t/week) in 1891 and two more (56 t/week) in 1893. A further two chamber kilns (56 t/week) were added in 1901, raising total output to 400 t/week, which was the output quoted by Davis for 1907. A rotary kiln was installed before the BPCM takeover: evidently two kilns were planned, but only one was ordered, and there was no chance of further expansion in view of the lack of raw material reserves and the suburbanization of the area. Five chamber kilns were removed to make way for the rotary kiln: the remaining nine (265 t/week) continued in place until the late 1920s, but were not used after 1914. As with other plants, trials with slurry sprays were mandated in the late 1920s, and at the Blue Circle annual production conference, the plant manager gave a plaintive description of the resulting dust complaints from the well-heeled residents of the village. The plant's closure corresponded with major new kilns coming on line at Swanscombe. The plant never had a rail link, and used the canal for heavy freight. The site was completely cleared and is no longer visible: even the canal spur has disappeared. The site and quarry remain waste ground.
Rawmills
The chalk and clay were ground together in a washmill followed by a ?Trix separator.
One rotary kiln was installed:
Kiln A1
Supplier: FLS
Operated: 05/1909 -7/1929
Process: Wet
Location: hot end 504838,189872: cold end 504869,189842: entirely enclosed.
Dimensions: metric 43.00 × 2.400B / 2.100CD
Rotation (viewed from firing end): anticlockwise
Slope: 1/25 (2.292°)
Speed: ?
Drive: ?
Kiln profile: 0×1725: 700×1725: 700×2100: 2100×2100: 2100×2400: 9450×2400: 11475×2100: 43000×2100: Tyres at 1300, 12350, 25100, 36850
Cooler: concentric rotary, metric 9.50 × 1.050 / 1.650 beneath kiln
Cooler profile: 0×1200: 3640×1200: 3640×1050: 3920×1050: 3920×1650: 9500×1650: Tyre at 2150 with trunnion end bearing: Turning gear at tail end.
Fuel: Coal
Coal Mill: ?presumably indirect: tube mill
Typical Output: 1909-1918 69 t/d: 1919-1929 80 t/d
Typical Heat Consumption: 1909-1918 9.18 MJ/kg: 1919-1929 9.02 MJ/kg
Sources: Francis, p 174: Jackson, pp 277, 281
© Dylan Moore 2011: commenced 24/01/2011: last edit 14/07/2017.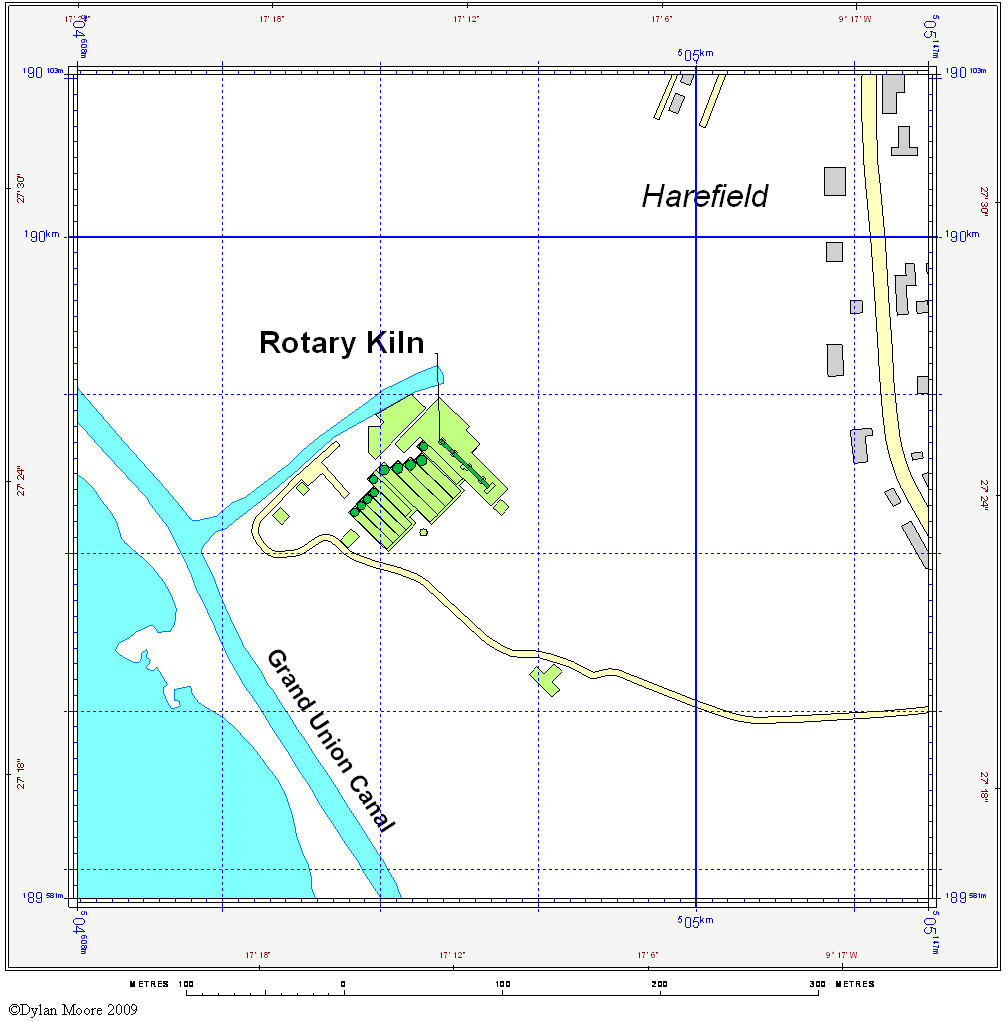 Approximate capacity: tonnes per year