Formation of Septaria
The coast of the Isle of Sheppey is the classic location. The London Clay is soft and wet, forming the base of gently undulating vales inland. Where a coast intersects it, a rapidly-eroding cliff results. The cliff erodes both by undermining by tidal action and by down-wash. In contrast to the soft clay, the septaria are quite hard, and when washed out of the surrounding clay, persist in the beach for a long time. Before large-scale harvesting of the beach nodules began in the nineteenth century, they lay in deep drifts along the more productive beaches. Since their use ceased towards the end of the nineteenth century, reefs of nodules have once again started to form along the Sheppey coast.
The formation of septarian nodules in clay appears to take place at an early stage in the deposition of the clay. The decay of organic material in the slowly consolidating mud releases carbon dioxide, which reacts with calcium in solution and calcium carbonate precipitates in the pore solution between incipient clay grains. In favourable circumstances this results in a fairly uniform fine-grained matrix with the required 60-70% calcium carbonate, with most grains in the 1-20 μm range. However, there is a tendency for the various minerals to grow into larger clumps here and there. The pore solution commonly contains significant amounts of magnesium, manganese and iron, and these replace some of the calcium in the carbonate phase.
The nodules become septarian at the point where the sediment become sufficiently deeply buried that the calcified nodule comes under vertical pressure and develops tensile cracks. These fill with pore solution and carbonates (and sometimes pyrite or phosphate) crystallize in the void formed. Oriented growth of crystals in the gap then causes the crack to widen and propagate through the nodule, producing the characteristic pattern of cross-linked veins throughout the nodule.
The nodules of Sheppey are typically slightly flattened spheroids of 10-50 cm diameter. Their moisture content is typically only 2-3%, indicating the efficiency with which the pore-space of the clay is replaced with carbonate. This also explains the considerable hardness of the nodules - more characteristic of hard limestones.
The matrix part of a nodule similar to that shown here had analysis:
| SiO2 | Al2O3 | Fe2O3 | CaO | MgO | SO3 | LoI950 | Na2O | K2O | SrO | TiO2 | P2O5 | Mn2O3 | Cl |
| --- | --- | --- | --- | --- | --- | --- | --- | --- | --- | --- | --- | --- | --- |
| 15.89 | 7.78 | 6.90 | 34.55 | 1.40 | 0.56 | 29.28 | 0.28 | 0.42 | 0.22 | 0.60 | 1.13 | 1.00 | 0.05 |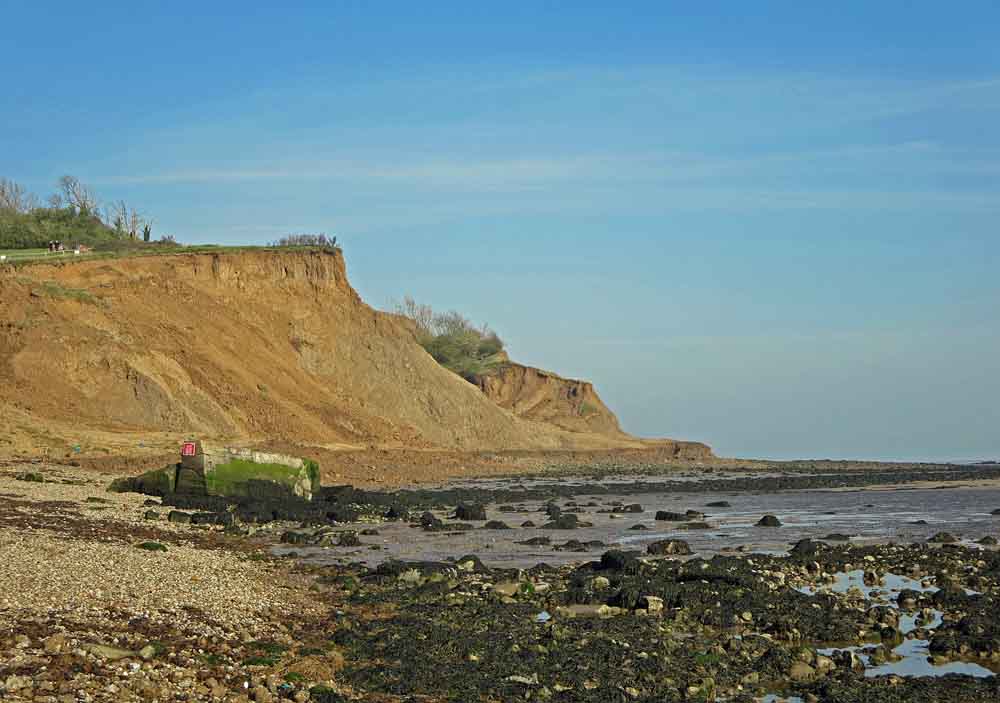 Warden Point: Isle of Sheppey
A 45 m cliff of eroding London Clay. Reefs of septarian nodules have accumulated on the foreshore.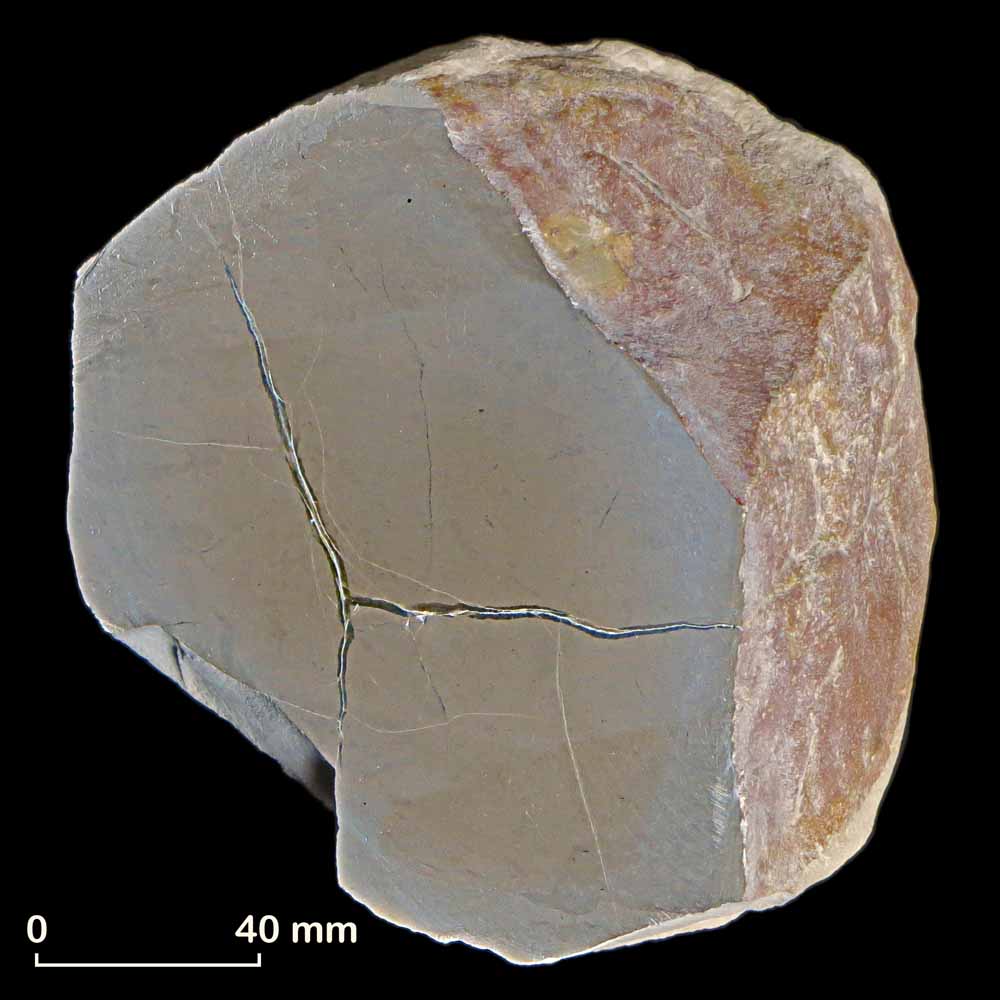 A nodule from Warden beach, sawn and ground flat. The main veins are macrocrystalline calcite, and are widest at the centre, narrowing towards the edge. In addition, there is a web of fine veins containing calcite or pyrite. The matrix is fine and fairly uniform, with most grains below 20 μm.