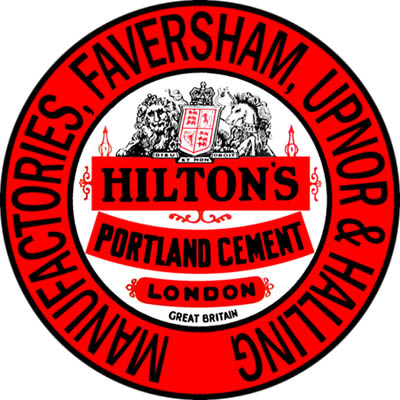 Pre-1900 Hilton Brand.
Location:
Grid reference: TQ76267131
x=576260
y=171310
51°24'48"N; 0°32'5"E
Civil Parish: Hoo St. Werbergh, Kent
Clinker manufacture operational: 1858-1902
Approximate total clinker production: 410,000 tonnes
Raw materials:
Upper Chalk (Seaford Chalk Formation: 85-88 Ma) from Halling Manor
Originally Medway alluvium, then London Clay (London Clay Formation 48-55 Ma) from 576550,171400
Ownership:
1858-1864 Hilton and Co.
1864-1893 Hilton, Anderson and Co.
1893-1900 Hilton Anderson Brooks and Co. Ltd
1900-1902 APCM (Blue Circle)
The plant was primarily for Roman Cement manufacture and appears to have been opened to provide supplementary supplies of septaria. There were five kilns in 1870 and 18 in 1895 of which perhaps 15 wet process bottle kilns (360 t/week) were for Portland cement. The plant had no rail and used water transport exclusively. After closure, the plant was entirely cleared and is now a boat yard.
No rotary kilns were installed.
Sources: Eve, p 27: Francis, p 198: Jackson, p 301: Preston, p 73
© Dylan Moore 2011: commenced 14/02/2011: last edit 02/09/16.
Approximate capacity: tonnes per year