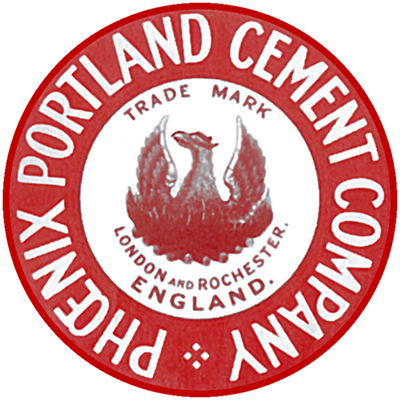 Phoenix Brand.
Location:
Grid reference: TQ74756935
x=574750
y=169350
51°23'47"N; 0°30'43"E
Civil Parish: Frindsbury Extra, Kent
Clinker manufacture operational: 1877-1907
Approximate total clinker production: 330,000 tonnes
Raw materials:
Ownership:
See also a general history of the Frindsbury cement plants. The site was occupied by the Frindsbury Lime Works, with ten lime kilns, at the time Johnson set up the nearby Crown plant. Johnson's collaborator George Burge sold the latter plant to William Tingey in 1868 and set up on the now-vacant lime works site. There were initially six bottle kilns. Two chamber kilns were installed in 1883, eight more in 1887, and one more in 1890, by which time the bottle kilns were no longer used, giving a final capacity of 338 t/week. The site was absorbed into the Crown and Quarry site and remained derelict until sold for redevelopment after WWII. It is now under light industry.
No rotary kilns were installed.
Sources: Eve, p 24: Francis, p 190: Preston, pp 82, 172
© Dylan Moore 2011: commenced 28/01/2011: last edit 02/09/16.
Approximate capacity: tonnes per year