Location:
Grid reference: TA01092345
x=501090
y=423450
53°41'52"N; 0°28'8"W
Civil Parish: Barton upon Humber, Lindsey
Clinker manufacture operational: 1897-1927
Approximate total clinker production: 800,000 tonnes
Raw materials:
Middle Chalk (Welton Chalk Formation: 90-94 Ma, with Ferriby Chalk Formation at base) from New Cliff Quarry, 500660,422350
Alluvial Clay from pit at 501100,423150
Ownership:
1897-1911 Skelsey's Adamant Cement Co. Ltd
1911-1927 BPCM G & T Earles division (Blue Circle)
Also called Skelsey's Works (but not to be confused with Adamant) and Port Adamant. The site being previously the source of its raw materials, the plant was built to replace the Adamant plant. There were eleven chamber kilns originally, with output 330 t/week. These were supplemented by four shaft kilns using surplus dried slurry around 1901, capacity 320 t/week, making up Davis' 1907 capacity of 650 t/week . The latter seem to have been decommissioned as soon as the rotary kiln was running in 1912, and the chamber kilns shut down in August 1913: although they were maintained as standby capacity they seem not to have been used again. There was essentially no landward communication, and all transportation was by water. The plant, which could not be readily up-rated, closed with the development by Earles of the Humber and Hope plants. The site was left largely intact, and the skeleton of its structure is still visible on what is now part of a nature reserve. The quarry is overgrown.
One rotary kiln was installed:
Kiln A1
Supplier: Edgar Allen
Operated: 12/1911-12?/1927
Process: Wet
Location: hot end 501112,423440: cold end 501072,423440: unenclosed.
Dimensions: 140'0"× 8'0"B / 7'0"CD (metric 42.67 × 2.438 / 2.134)
Rotation (viewed from firing end): anticlockwise
Slope: ?
Speed: ?
Drive: ?
Kiln profile: 0×2134: 2134×2134: 3658×2438: 8153×2438: 11201×2134: 42672×2134: Tyres at 1524, 9677, 25298, 38100: Turning gear at 26518.
Cooler: rotary 61'4"× 4'6" (metric 18.69 × 1.372) beneath kiln
Cooler profile: 0×1372: 18694×1372: Tyres at 2997, 15646
Fuel: Coal
Coal mill: Indirect: rotary drier followed by combination tube mill
Exhaust: direct to stack.
Typical Output: 97 t/d
Typical Heat Consumption: 8.4 MJ/kg
Sources: Francis, p 225: Jackson, pp 271, 298: The Pelican, January 1951, p 2
See Barton Website.

© Dylan Moore 2011: commenced 19/01/2011: last edit 26/02/2017.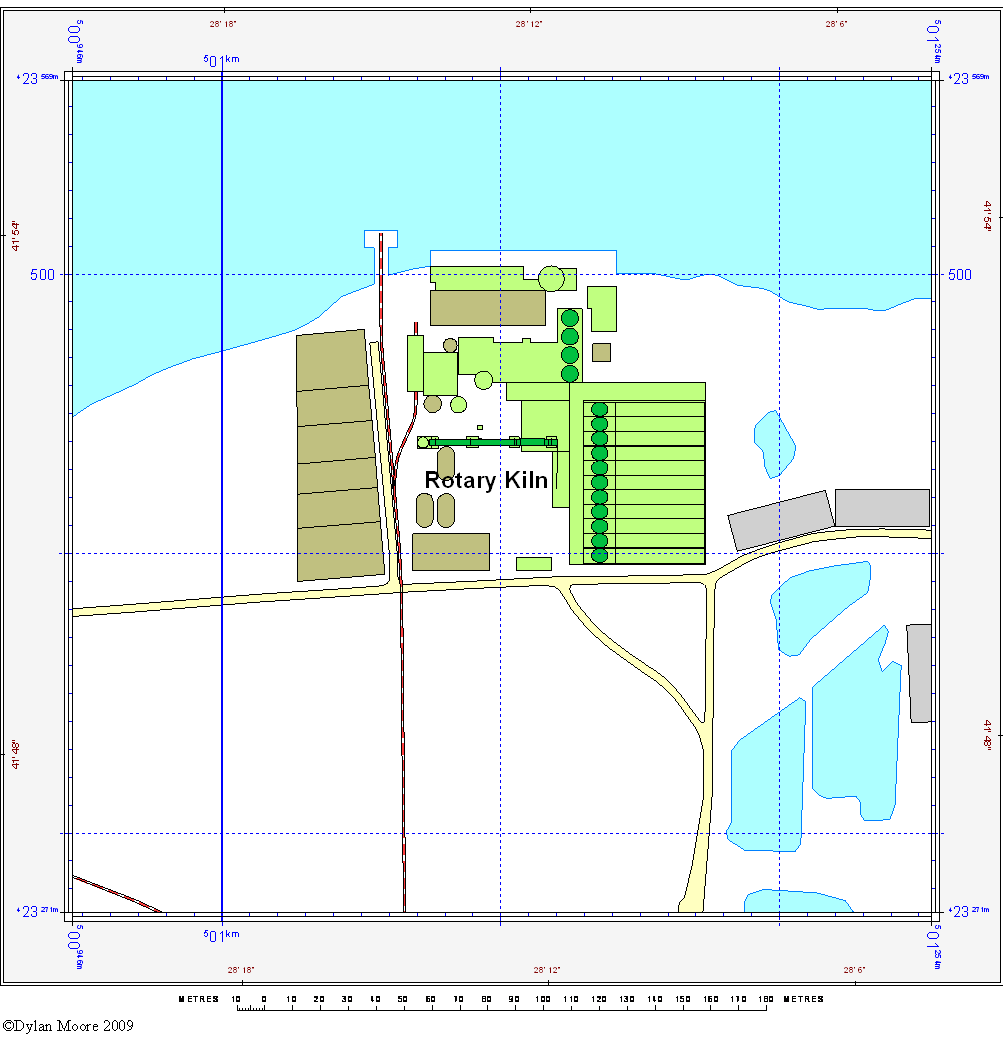 Approximate capacity: tonnes per year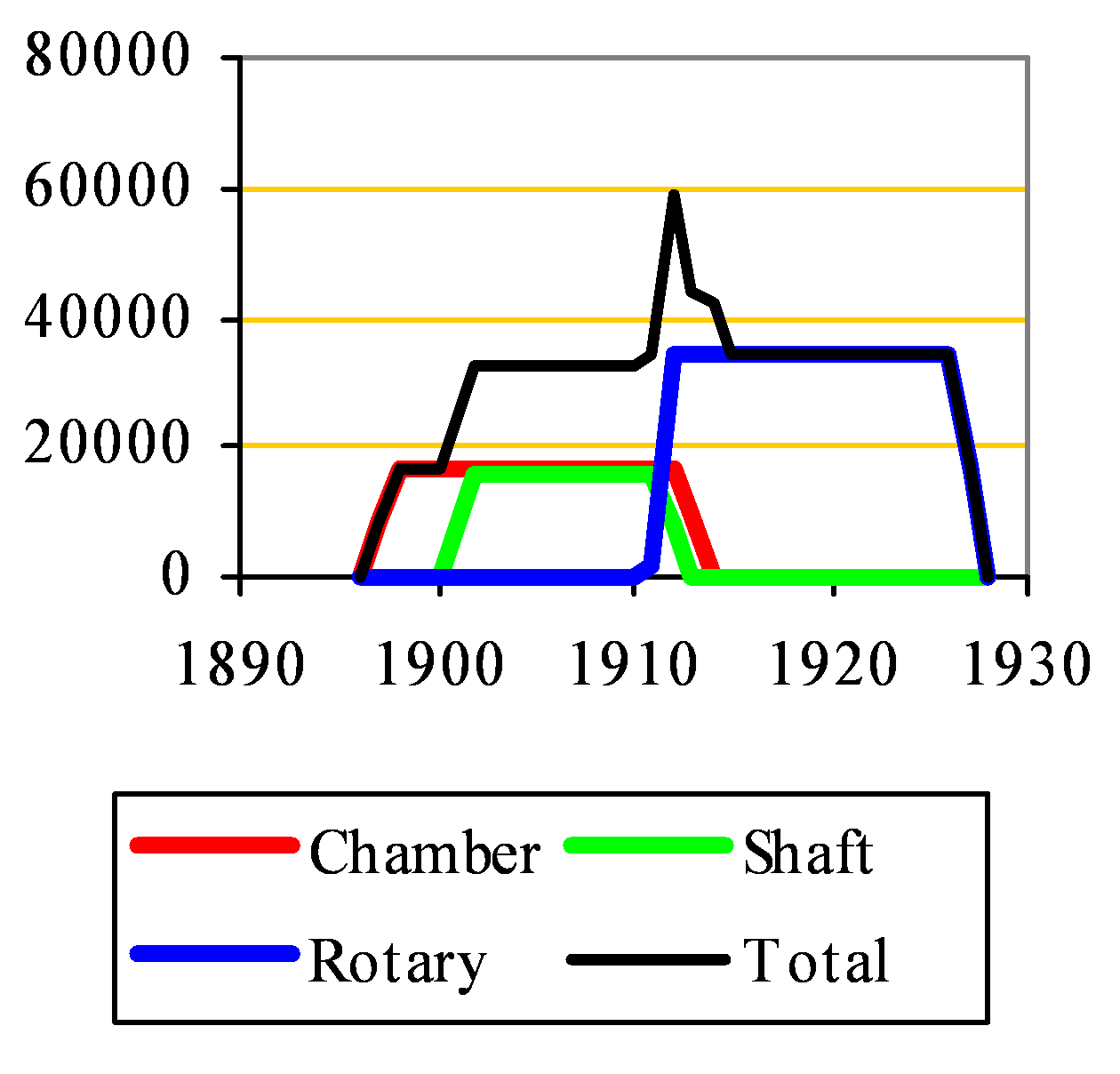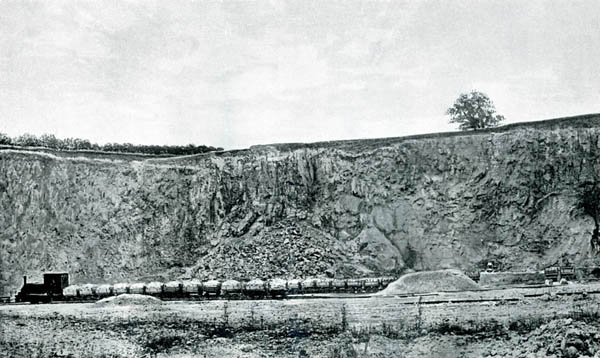 New Cliff Quarry, around 1921. Middle Chalk was quarried by hand and taken to the plant by tramway.