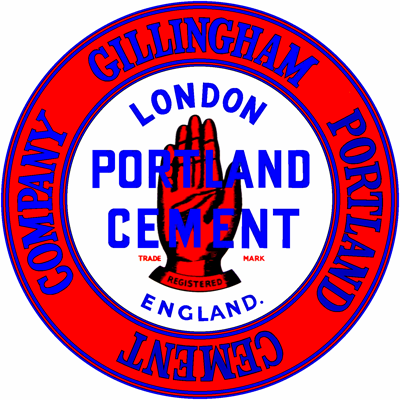 Gillingham Red Hand Brand.
Location:
Grid reference: TQ79166905
x=579160
y=169050
51°23'32"N; 0°34'31"E
Civil Parish: Gillingham, Kent
Clinker manufacture operational: 1874-1911 and 1920-1939
Approximate total clinker production: 1.39 million tonnes
Raw materials:
Upper Chalk (Seaford Chalk Formation: 85-88 Ma) from quarry at 578700,168400, initially by tramway: from the 1920s pumped as slurry to the plant.
Medway Alluvial Clay
Ownership:
The Gillingham company, which eventually ran four plants, was started by George Burge Jr, who had been introduced to Portland cement manufacture by Isaac Johnson at Crown. The plant began with four small chamber kilns (55 t/week). By 1882, a block of five (85 t/week) and a block of ten (170 t/week) had been added. Around 1889 a block of eight (200 t/week) was added, giving a total capacity of 510 t/week. Around 1898, the original block was abandoned (it seems to have collapsed) and blocks of two (60 t/week) and four (100 t/week) were added. APCM operated the plant until the BPCM acquisition, when it was closed, but was left intact. Leslie Cook explained the subsequent history: the plant "was started by an ex-manager of one of the BPCM works. He was under a ten-year bond not to put in a rotary kiln and began with chamber kilns; as soon as the ten years had passed a 200 ft. Edgar Allen rotary kiln was installed". The list of equipment and costing of the later rotary plant can be seen here. The plant on re-opening was uprated with a further block of twelve chamber kilns (360 t/week), giving a total capacity of 975 t/week. The plant had at one time a 1 km tramway running to the quarry which was adjacent to the London/Dover railway, but it never had a rail link, and used mostly water transportation. The Depression following upon the installation of A1 put the plant in permanent debt, and Rugby bought it cheaply. The upgraded plant at Rochester being in place, and the raw material reserves being limited, it was immediately closed. The kiln was moved to Rugby as part of kiln A4. The site was redeveloped: the old plant is an industrial site, while the rotary kiln area is under housing. The quarry is a park. The Gillingham Portland Cement Company was kept alive by Rugby as a holding company for various purposes, and continues today as a subsidiary of CEMEX.
Rawmills
The plant used a washmill on the wharf, combining chalk brought by tramway with clay as it was unloaded. In 1929 three washmills were installed at the quarry and a second on the wharf. Chalk slurry was pumped to the plant by a 770 m pipeline and combined with clay in the mills on the wharf.
One rotary kiln was installed:
Kiln A1
Supplier: Edgar Allen
Operated: 3/1930-1/1939
Process: Wet
Location: hot end 578945,169030: cold end 578885,169045: unenclosed.
Dimensions: 200'0"× 10'0"B / 9'0"CD (metric 60.96 × 3.048 /2.743)
Rotation (viewed from firing end): anticlockwise
Slope: 1/24 (2.388°)
Speed: 0.4-0.8 rpm
Drive: 37 kW motor
Kiln profile: 0×2743: 2845×2743: 4877×3048: 16256×3048: 18288×2743: 60960×2743: tyres at 1829, 21717, 37490, 56921: turning gear at 34747.
Cooler: rotary beneath firing floor: 58'0" × 6'0" (metric 17.68 × 1.829)
Cooler profile: 0×1829: 17678×1829: tyres at 3962, 14630
Fuel: Coal
Coal Mill: Direct: rotary drier followed by two Clarke Chapman CR5 Turbo Pulverisers
Exhaust: direct to stack: an ID fan was installed in the late 1930s.
Typical Output: 1930-1935 160 t/d: 1936-1939 230 t/d
Typical Heat Consumption: 1930-1935 8.0 MJ/kg: 1936-1939 7.9 MJ/kg
Sources: Cook, pp 66, 100, 104-105: Eve, p 16: Francis, p 191: Jackson, p 280: Preston, pp 82, 173, 201-202: Rotary plant list, Rugby Archive RC/11/3/3.
© Dylan Moore 2011: last edit 20/07/2016.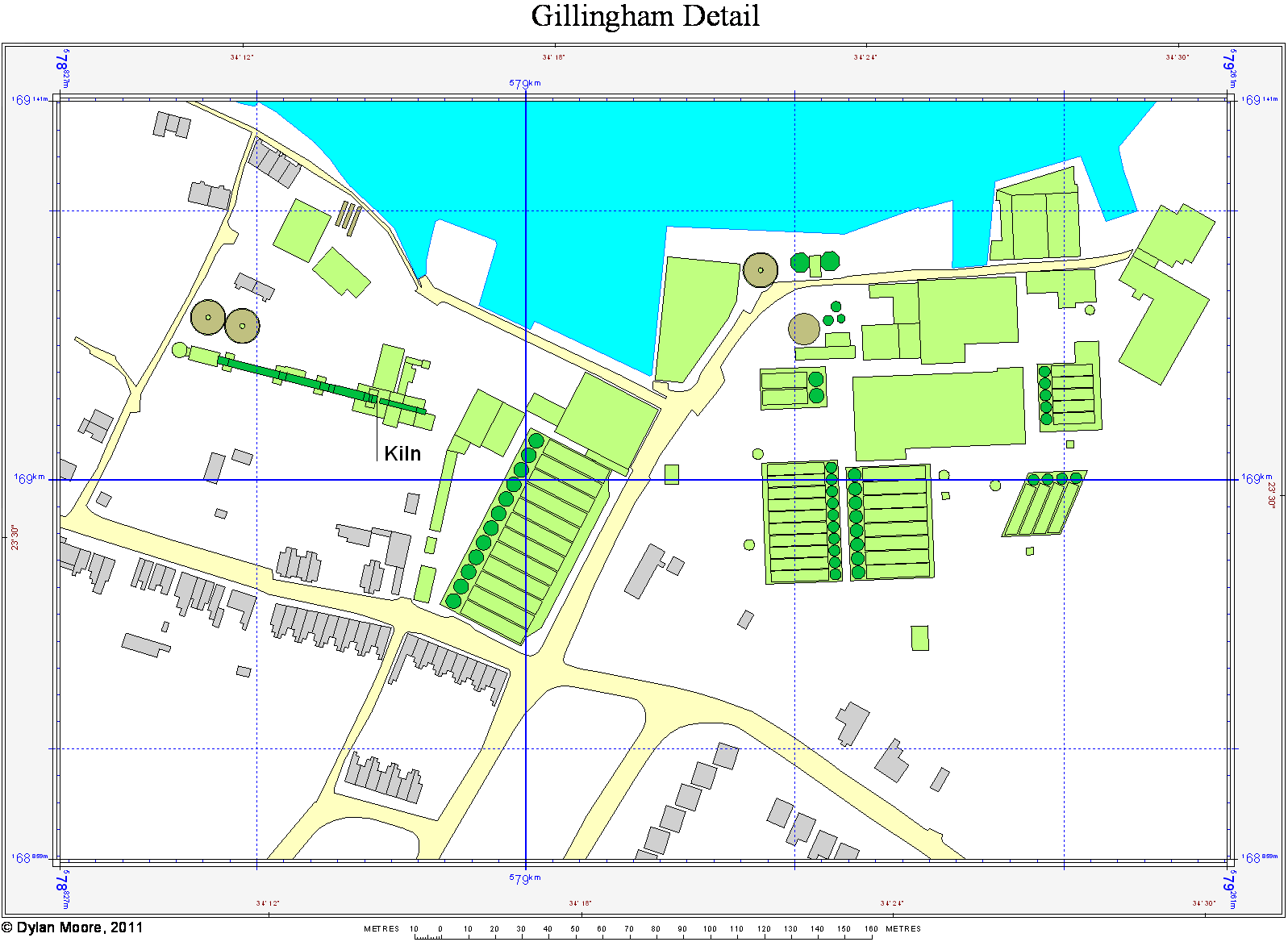 This is a composite map containing details from different eras that may not have co-existed.

Approximate capacity: tonnes per year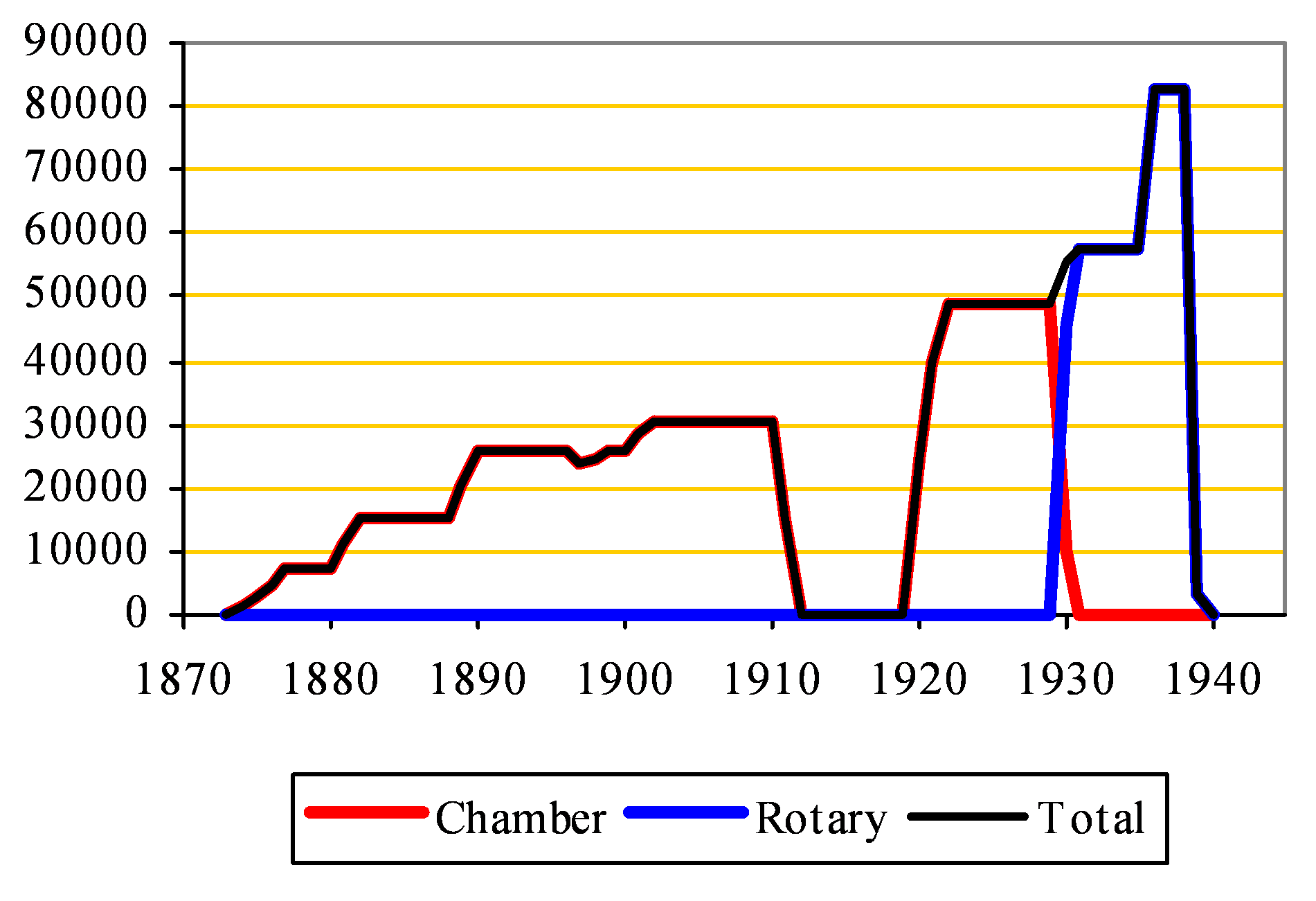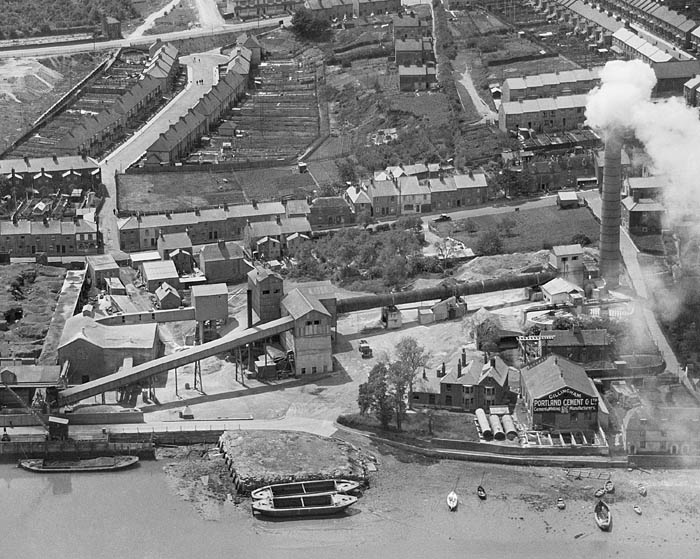 Picture: ©English Heritage - NMR Aerofilms Collection. Catalogue number 47589. A high-definition version can be obtained from English Heritage. This was taken in June 1935, viewed from the north. The sloping conveyor bottom-left brings coal from the quay to the coal-dryer house. The dried coal is stored in a hopper in the high building above the firing floor. The cooler - unfortunately obscured by the coal conveyor - is under the sloping roof to the left, and discharges into a pair of elevators, and a short conveyor transports the clinker to the finish mill. The only clinker storage is in the open, on top of the abandoned set of chamber kilns on the left edge. These were the last chamber kilns installed, and some of them have collapsed under the weight of clinker, exposing the masonry structures underneath. The barge at bottom-left presumably contains coal, and is being unloaded by the dockside travelling crane. Clay was unloaded at the washmills, which were in the old plant, beyond the bottom-left corner.