Location:
Grid reference: SP49321997
x=449323
y=219974
51°52'34"N; 1°17'6"W
Civil Parish: Kirtlington, Oxfordshire
Clinker manufacture operational: ?10/1907 to ?1/1929
Approximate total clinker production: 250,000 tonnes
Raw materials: quarry at 449450,219900 supplying (top to bottom):
Cornbrash Limestone (Cornbrash Formation: ~166 Ma)
"Forest Marble" clays and limestones (Forest Marble Formation: ~166.5 Ma)
Great Oolite Limestone (White Limestone Formation: ~167 Ma)
Ownership: Oxford Portland Cement Co. Ltd
Sometimes called Washford Works. The quarry, like that of Oxford, was complex, and was probably operated in the same way. The plant seems to have been broadly similar to the well-documented Premier plant, with dry grinding of the raw materials. Davis' 1907 projected capacity of 350 t/week was perhaps an over-estimate based upon his own experience of dry process. The plant's running times were generally below 80%, and were much lower in the early years. There was no rawmix blending at all. It was the last of the "old generation" dry process kilns to operate, and its demise in 1929 (Premier closed the previous year) left the British industry almost entirely wet process (with the exception of the slag-burning kilns in Scotland). The plant was replaced, with change of company name, by the Oxford plant 3 km away at Shipton on Cherwell. Although the Oxford and Birmingham railway was nearby, the plant never had a rail link: however it was on the Oxford Canal, and moved cement using a 10 barge fleet to Bletchington station 3km away. Minor structures are still visible. The site, including the quarry, is now a Local Nature Reserve and SSSI: it is of global importance for Jurassic mammalian fossils.
I received valuable information on this plant from Mr Eric F Freeman, who was the initial discoverer of the mammalian fossils in the quarry.
Rawmills
One 6 × 1.8 m Krupp tube mill ground materials previously dried in a rotary drier heated by power house furnace exhaust gas.
Dodsworth does not mention the drier, and implies that the heat was supplied to the mill. This was not possible with the technology of the time.
One rotary kiln was installed:
Kiln A1
Supplier: Ernest Newell
Operated: ?10/1907-?1/1929
Process: "Long" Dry: rawmix fed to the kiln via a wetting screw.
Location: hot end 449311,219974: cold end 449336,219975: enclosed.
Dimensions: 82'6" × 7'0" (metric 25.15 × 2.134)
Rotation (viewed from firing end): ?
Slope: ?
Speed: ?
Drive: ?
Kiln profile: 0×2134: 25146×2134: tyres at 2477, 12764, 21908: turning gear at 11621
Cooler: Rotary beneath kiln: 30'0" × 3'0" (metric 9.14 × 0.914)
Cooler profile: 0×1067: 8230×1067: tyres at 102, 6629: turning gear at 5969
Fuel: Coal
Coal Mill: Indirect ?Krupp ball mill
Exhaust: direct to stack.
Typical Output:1907-1913 41 t/d: 1913-1918 47 t/d: 1918-1929 49 t/d
Typical Heat Consumption: 9.5 MJ/kg
Sources: Cook, pp 72-73: Francis, p 265: Jackson, p 284: Pugh, p 51: Charles Dodsworth, "The Early Years of the Oxford Cement Industry" in Industrial Archaeology, 9, 1972, pp 285-295: Vanadia S. Humphries, Kirtlington: An Oxfordshire Village, Biddles Ltd, 1986 ISBN 0-85033-584-1, Chapter 15.
© Dylan Moore 2011: commenced 07/08/2011: last edit 11/07/2017.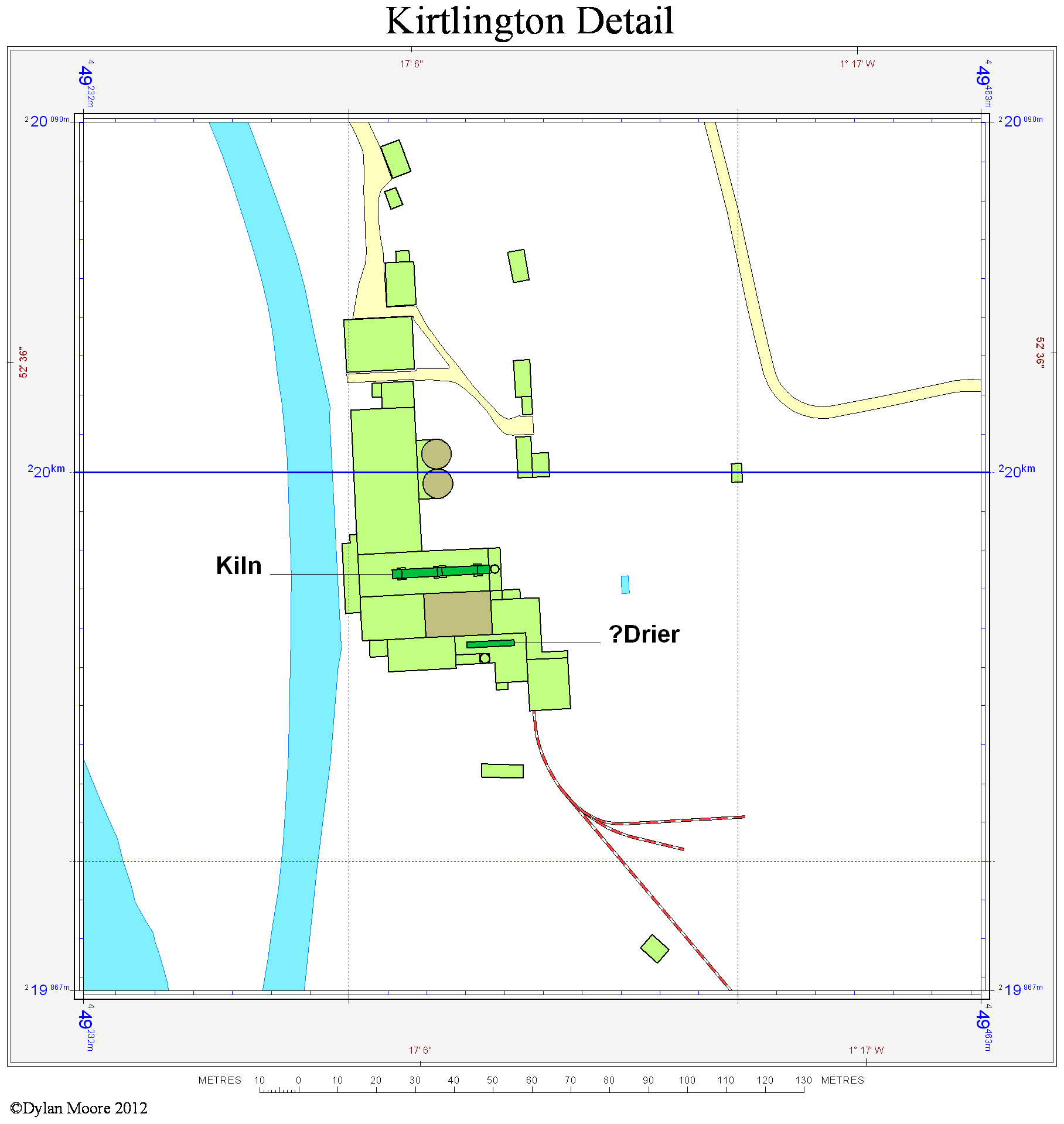 Approximate capacity: tonnes per year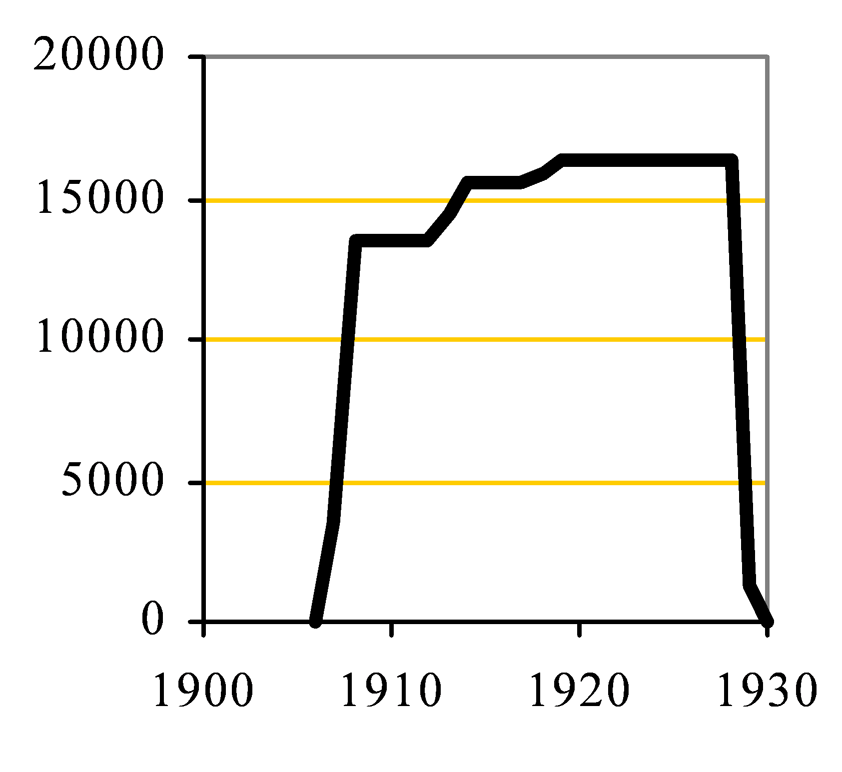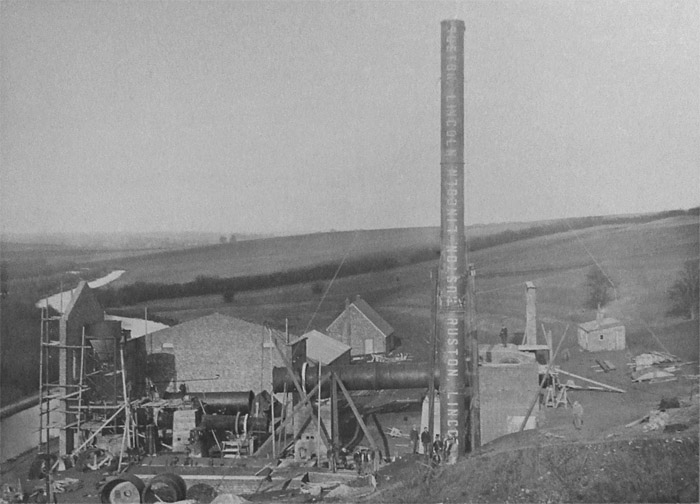 Picture: Oxford Works collection. This shows the plant under construction in 1906 or 1907. The kiln is partially constructed, and the cooler is in place.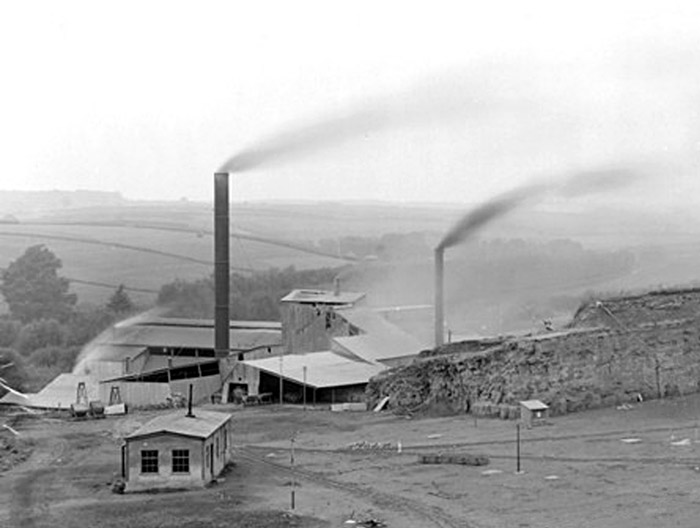 Picture: Oxford Works collection. This shows the plant in operation in 1925. The left hand stack is that of the power house, and the other is that of the kiln.