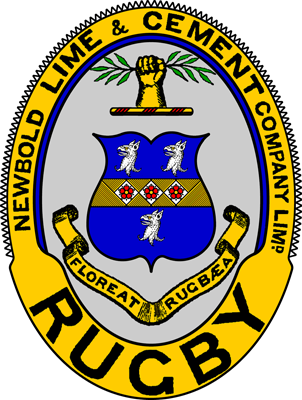 Newbold Lime & Cement logo circa 1881. The prominent use of the word "RUGBY" on the logo, and later in the company name, irritated Rugby Portland Cement Co., who brought a case against them for infringement of Trade Mark in 1891.
Location:
Grid reference: SP49577681
x=449570
y=276810
52°23'14"N; 1°16'18"W
Civil Parish: Newbold on Avon, Warwickshire
Clinker manufacture operational: 1877-1910, 1920-1923
Approximate total clinker production: 200,000 tonnes
Raw materials: Blue Lias Limestone (Rugby Limestone Member: 195-200 Ma) from quarry at 449400,277000
Ownership:
Blue Lias lime was made here from the 1850s, the site being owned by the Walkers of Rugby. There were six bottle kilns in 1870, presumably making lime, although Henry Reid may have experimented with Portland cement in 1871. In 1877, following financial difficulties for the Walkers, the two sites were launched as separate companies, and Portland cement manufacture commenced at Newbold. Later owned in common with the nearby Rugby plant, it is not always possible to say how much of each product was produced at each plant, but both were marked as "Portland Cement Works" on the maps. Several of the Newbold kilns – or all of them – were used for lime. The plant was almost completely reconstructed around 1890, and it may be that "genuine" Portland cement production dates only from then. There is a description of the 1892 plant. It would appear that only one was used for Portland cement initially, using dry process, but in 1893 there were ten small kilns (100 t/week) and three large kilns (90 t/week) specifically for cement, in addition to six lime kilns, one of which (possibly the only one used) was a continuous flare kiln. The production of Portland cement at the plant was suspended with the installation of the rotary kilns at Rugby in 1910. Production re-started in the 1920 boom, but flooding of the quarry stopped operations in 1923 – it is quite likely that the market downturn would have shut it anyway at that date. Formal closure took place at the end of 1927 and the plant was dismantled. The plant had a quay on the Grand Junction Canal, and a loading point on the Midland Railway, both connected to the plant by tramway. The quarry remains flooded, and the whole site is now mainly wooded park land, with a few slight remains visible.
No rotary kilns were installed.
Sources: Francis, p 213: Jackson, p 256.
© Dylan Moore 2011: last edit 13/01/2017.
Approximate capacity: tonnes per year