Location:
Grid reference:

ITM 627902,821602
old style H2798421615

54°8'34"N; 7°34'17"W
Townland: Gortmullan, Derrylin, County Fermanagh
Clinker manufacture operational: 1989 to ?
Approximate clinker production to 2009: 4.4 million tonnes
Raw materials: Carboniferous Limestone (Dartry Limestone Formation: 338-345 Ma) and shale (Meenymore Formation: 329-336 Ma) from the same quarries as used by Ballyconnell at 627200, 821300, Mucklagh townland, County Cavan, only 0.75 km from the plant.
Ownership: Quinn Group. Quinn Group was reconstituted as the Aventas Group in November 2013, and was acquired by Quinn Industrial Holdings Ltd in December 2014.
The plant clings close to the border with the Republic, and was conceived as a trans-border operation, sourcing its raw materials from the south, and probably having its main market there. It was supplemented by the Ballyconnell plant. An asphalt plant operates at the site. Regarding transport, see Ballyconnell.
Note: technical information on currently operational plants is ✄withheld in the public version of the site at present.
Rawmills
FCB: details✄
One rotary kiln was installed:
Kiln A1
Supplier: FCB
Operated: 1989 to ?
Process: air-through precalciner: details✄
Location: hot end (cooler ports) 627892,821634: cold end 627912,821569: unenclosed
Dimensions: ✄
Rotation (viewed from firing end): clockwise
Slope: ?
Speed: ?
Drive: ?
Kiln profile: ✄
Cooler: planetary: details✄
Fuel: ✄
Coal mill: FCB: details✄
Exhaust: ✄
Typical Output: ✄
Typical Heat Consumption: ✄
Sources: Jackson, pp 222, 277: Global Cement Report 2005, p 165: Quinn Building Products website
© Dylan Moore 2011: last edit 27/05/15.
Approximate capacity: tonnes per year: ✄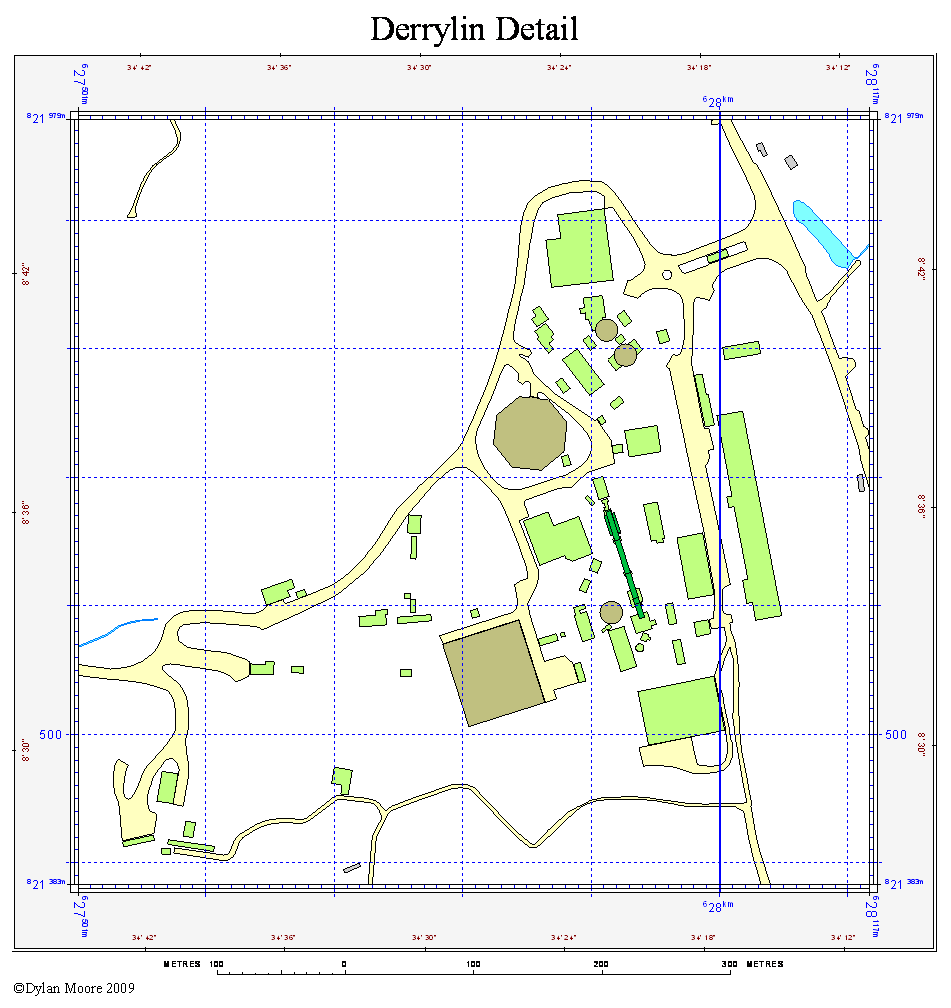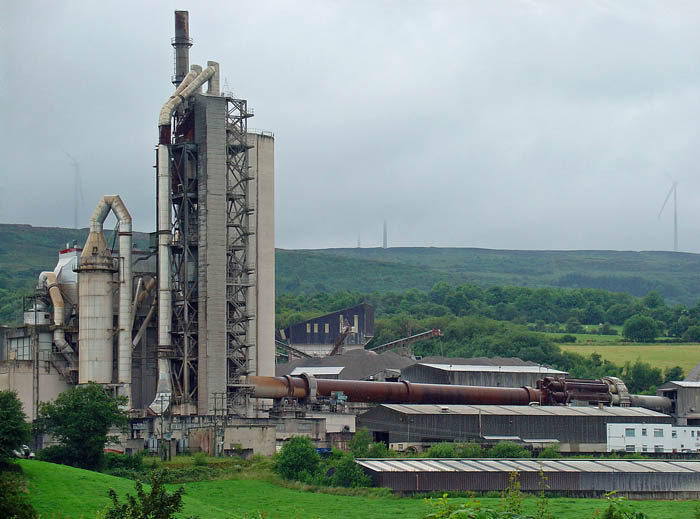 Picture: ©Dylan Moore 2009, and licensed for reuse under this Creative Commons Licence. This shows the Derrylin kiln viewed from the east on 2/7/2009. The vertical cylindrical vessel to the left is the conditioning tower used to cool the exhaust gas when the rawmill is not operating. Behind it is the rawmill building, with the kiln/mill dust plant on top. Showing behind the preheater tower is the kiln feed silo. At the rear of the plant behind the kiln is the roadstone/asphalt plant. The windfarm on the hill is also owned by Quinn Group and provides part of the power for the plant.