Dry process kilns with no external preheater are conventionally termed "long" dry kilns, kilns with preheaters being typically much shorter. However, the early kilns in this category were quite short, and a better term might be "simple dry kilns". However the term "long dry kiln" is universally used.
Among the early rotary kilns, some were dry process, including the original Ransome design, which was only 25 feet long. The number of kilns in this category is sufficiently small that they can be listed, and the timeline exemplifies the waxing and waning of interest in the process.
The kilns of Norman, Kirtlington, Southam, Premier and Ellesmere Port all had a common design: they consisted of relatively short kilns (L/D inside brickwork of 9-19) without any sort of internal heat exchanger, from which the hot dusty exhaust gases were ducted through a rotary raw material drier. All except Norman had hard raw materials suitable for processing by dry grinding. Around the time of WWI, the Norman kilns were shut down, and the Southam and Ellesmere Port kilns were converted to wet process. The Premier kiln was shut down in 1928, and Kirtlington in 1929, to be immediately replaced by the wet process Oxford plant. Dissatisfaction with the process centred around the difficulty of making a homogenous rawmix in powder form using the primitive equipment of the period.
The Coltness kilns were a special case, in that the main rawmix component was blast furnace slag, which, because of its reactivity with water, can't be conveniently stored as a slurry, so that a dry process was mandatory. Furthermore, variability of the blend in the slag/limestone rawmix had a comparatively small effect upon the operation of the kiln, so the larger Coltness kiln remained in operation until the 1950s. Drying of raw materials was in this case independent of the kilns, and the kiln exhaust gas was discarded to atmosphere.
From the late 1920s onwards, several new plants were established (beginning with Hope and Ketton in 1929) in hard rock areas where dry process was a technical possibility. However, such was the reputation of dry process that all these were designed to use the wet process.
During the long period of hiatus, more efficient means of blending powder rawmix were gradually developed in Germany and the USA, so that by the time dry process once again began to be used in Britain, in the 1950s, blending systems offering - at least in theory - acceptable degrees of rawmix uniformity were available.
The new generation of long dry kilns were all supplied by FLS, who, placing reliance on their expertise in wet chain systems, were trying to catch up with the competition in the development of more efficient kilns, without infringing the by-then watertight patents on preheaters. The Padeswood and Pitstone kilns were fitted with chain systems for improved heat exchange. The Padeswood kiln had a water spray in the cold end to suppress dust generation. The others had one- or two-stage preheaters to trap dust and provide some extra heat exchange. The Pitstone and Southam kilns both ducted their exhaust gases through crusher-driers designed to dry and grind wet raw materials - wet marl in the case of Pitstone, and filter cake in the case of Southam. These two kilns suffered considerable operational difficulties, whereas the Padeswood and Platin kilns were both operationally and commercially successful, with long operational lives. The last (Platin A1) shut down in 2008.
No more long dry kilns were installed because, although considerably superior to wet process, such kilns can never be as thermally efficient as preheater kilns.
It is necessary to consider separately the Anhydrite Process kilns, of which three were installed at Billingham, two at Widnes and five at Whitehaven. These were chainless kilns with no preheater, fed with dry powder rawmix, but they are only superficially comparable with normal long dry kilns because of the considerably different thermochemistry involved.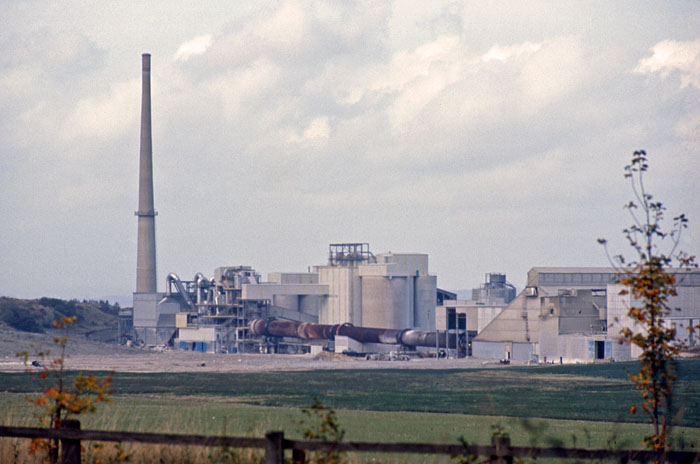 Picture: ©Dylan Moore 2012, and licensed for reuse under this Creative Commons Licence. See this and related images on Geograph. This shows Unit 5 at Pitstone in 1977.