Location:
Grid reference: ST88915267
x=388910
y=152670
51°16'23"N; 2°9'32"W
Civil Parish: Westbury, Wiltshire: the clinker store and second clay field are in Heywood, Wiltshire, third clay field in Bratton, Wiltshire
Clinker manufacture operational: 1962 to 2009
Approximate total clinker production: 25 million tonnes (15th)
Raw materials:
Upper Chalk (Lewes Nodular Chalk Formation: 88-90 Ma), Middle Chalk (New Pit and Holywell Nodular Chalk Formations: 90-94 Ma) and Grey Chalk (Zig-zag Chalk Formation: 94-97 Ma) from quarry at 389250,150550: slurried at quarry and pumped 2.1 km to plant.
Initially Gault Clay (Gault Formation: 100-112 Ma) from pit 1 at 388450,152450: clay was wash-milled with chalk slurry at the plant.
Subsequently Kimmeridge Clay (Kimmeridge Clay Formation: 151-156 Ma) from pit 2 at 388500,152850 then from pit 3 at 388800,153150.
Ownership:
Westbury was part of the Blue Circle "post-war" development plan, the project beginning in September 1945. It was originally conceived as a 150,000 tpy plant with a single wet kiln similar to Shoreham C1/2. After long delays, construction commenced in 1960. Kiln A1 was the first of a new generation of larger wet process kilns, and had the largest capacity of any kiln in the country until overtaken by Weardale A1 in 1965. A2 was a lengthened version of A1. It also was briefly the largest kiln until overtaken by the identical Masons A5 in 1966. With the installation of A2, Westbury became the 6th largest plant. Subsequently, relatively low efficiency and pressure from Northfleet resulted in the plant becoming flexible capacity, with A1 being shut down for long periods during market downturns. Westbury being a railway hub, the plant used rail to distribute throughout the southwest, and also when necessary into the London area. After initial pilot trials at Shoreham, Westbury became in 1977 the first plant to replace a substantial part of its fuel with prepared domestic refuse. Up to 30% replacement was achieved before the source dried up due to withdrawal of local authority participation in 1992.
Kiln A1 was shut down in 2008: it was at that time the oldest kiln operating, succeeded briefly by Barrington A4. Following the closure of the Barrington kiln on 10/11/2008, Westbury A2 became the oldest in the study area, and the last of the wet process kilns. The plant finally closed in April 2009. Demolition of most of the site took place in 2016. The cement silos remain in use as a depot.
Rawmills
Chalk was ground at the quarry in two 260 kW washmills followed by two 63 kW screening mills and a 900 kW re-grind tube mill. The slurry was held in a 1340 m3 mixer tank before feeding to the 2.1 km pipeline to the plant, via a pump-house at the foot of the hill. The chalk slurry was received at the plant in two 1340 m3 mixer tanks.
Clay was ground at the plant with the chalk slurry in a 260 kW washmill followed by two 63 kW screening mills. Slurry was blended in four blending silos and seven 1340 m3 mixer tanks.
Two rotary kilns were installed:
Kiln A1
Supplier:Vickers Armstrong
Operated: 01/09/1962 to 18/09/2008
Process: Wet
Location: hot end 388814,152659: cold end 388949,152682: totally enclosed.
Dimensions: 450'0"× 14'6"B / 13'6"CD (metric 137.16 × 4.420 / 4.115)
Rotation (viewed from firing end): clockwise.
Slope: 1/30 (1.910°)
Speed: 0.35-1.2 rpm
Drive: 2 × 112 kW
Kiln profile: 0×3810: 737×3810: 2743×4420: 33833×4420: 36982×4115: 135636×4115: 136246×3200: 137160×3200: tyres at 3658, 23470, 44196, 64922, 85649, 106985, 127711: turning gear at 67970.
Cooler: Fuller 850H grate
Fuel: Coal. From 1977 to 1992, shredded domestic refuse (mainly paper and textiles) was used as a partial (up to 25%) coal replacement. From the 1990s up to 30% of coal replaced with Petcoke.
Coal Mill: : direct: MPS112 roller mill
Exhaust: ID fan followed by eight parallel APCM "Unit" electrostatic precipitators. These were replaced with a single more efficient precipitator in 1993.
Typical Output: 1962-1970 874 t/d: 1970-1989 948 t/d: 1989-2008 984 t/d.
Typical Heat Consumption: : 1962-1974 6.53 MJ/kg: 1974-2008 5.78 MJ/kg
Kiln A2
Operated: 24/06/1965 to 30/4/2009
Location: hot end 388816,152644: cold end 388967,152669: totally enclosed.
Dimensions: 500'0"× 14'6"B / 13'6"CD (metric 152.40 × 4.420 / 4.115)
Kiln profile: 0×3810: 737×3810: 2743×4420: 33833×4420: 36982×4115: 150876×4115: 151486×3200: 152400×3200: tyres at 3658, 23470, 44196, 64922, 85649, 106985, 127711, 144780: turning gear at 67970.
Typical Output: 1965-1971 941 t/d: 1971-1980 1014 t/d: 1980-1988 962 t/d: 1988-2009 1043 t/d.
Typical Heat Consumption: 1965-1974 6.28 MJ/kg: 1974-1995 5.58 MJ/kg: 1995-2009 5.76 MJ/kg Identical to A1 in all other respects.
Sources: Jackson, pp 265-266, 301: Pugh, pp 144, 150-153: "The New Cement Works at Westbury", Cement and Lime Manufacture, 36, May & July 1963, pp 39-48, 63-71: "Extensions to Westbury Cement Works", Cement and Lime Manufacture, 39,1966, pp 21-31, 39-44: Westbury Works, Blue Circle Publicity Department, 1967.
© Dylan Moore 2011: commenced 31/03/2011: last edit 14/12/2016.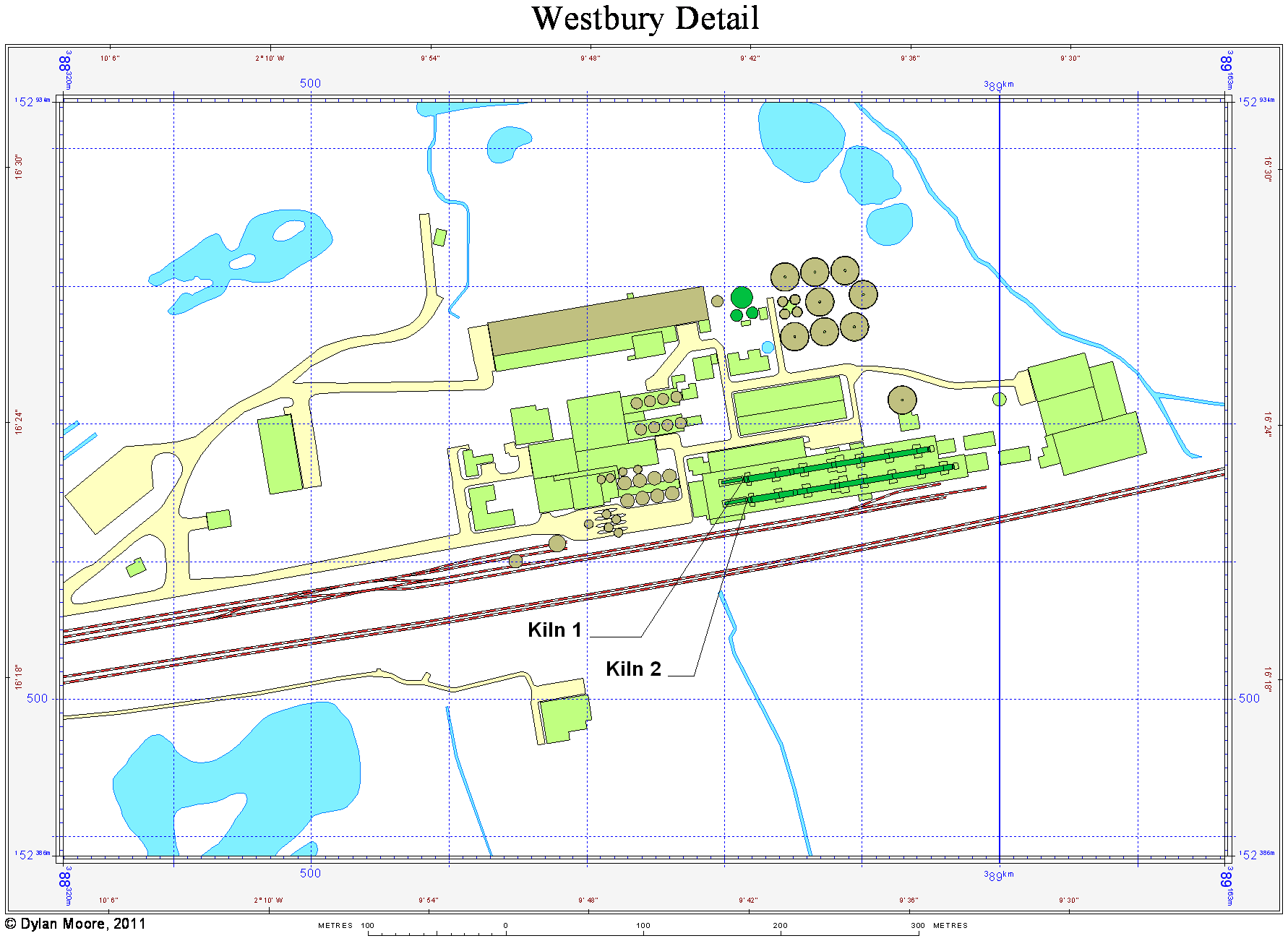 Approximate capacity: tonnes per year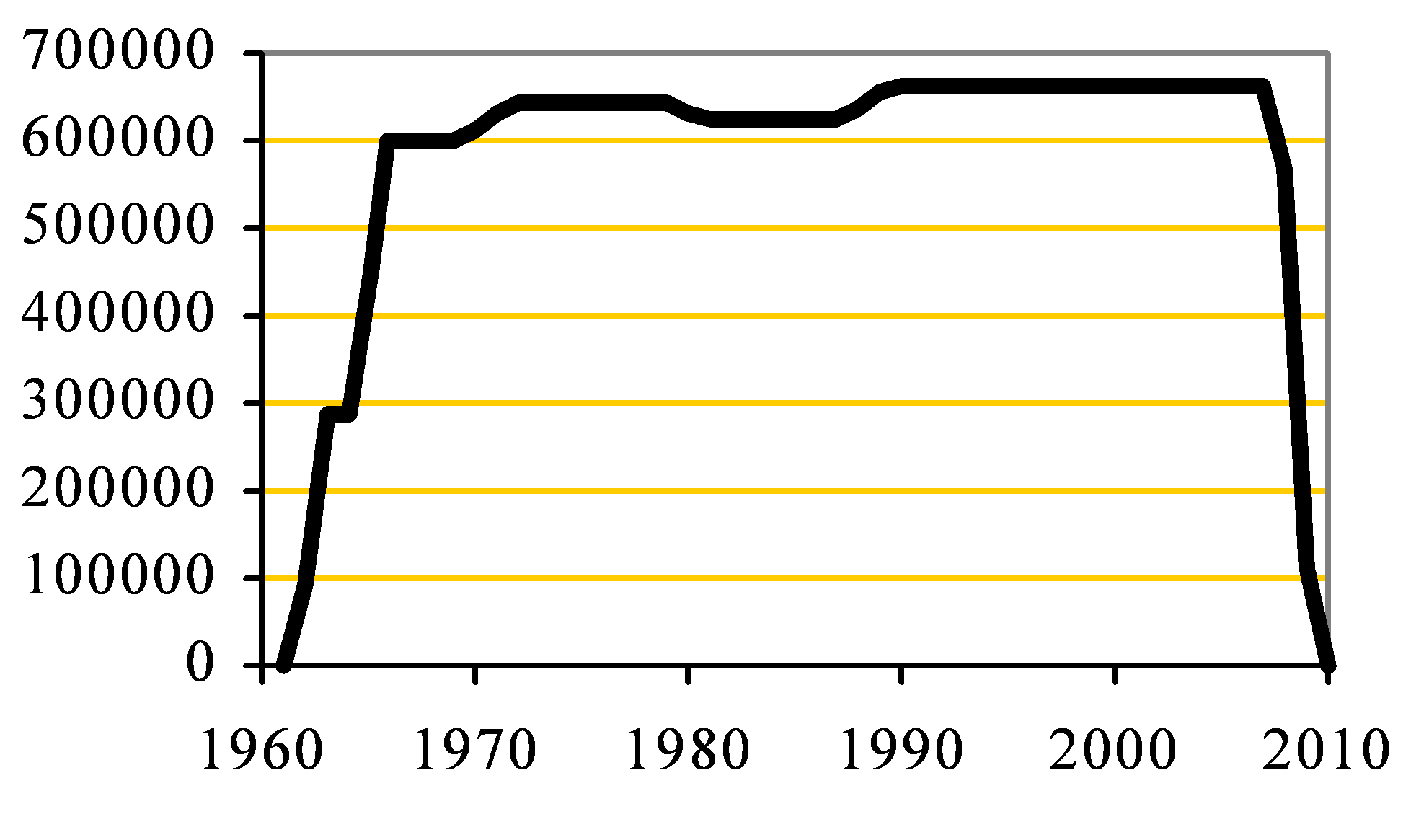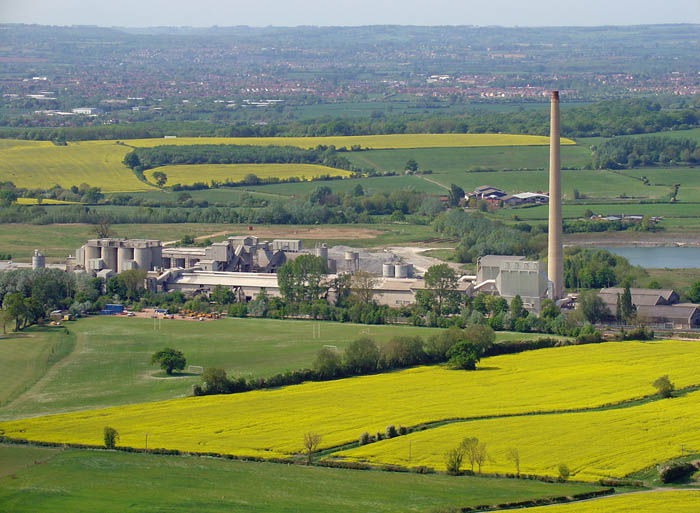 Picture: ©Dylan Moore 2011, and licensed for reuse under this Creative Commons Licence. This is the plant viewed in 2011, after its closure. The kiln house is the long building centre-frame. The Kimmeridge Clay pits are in the background.