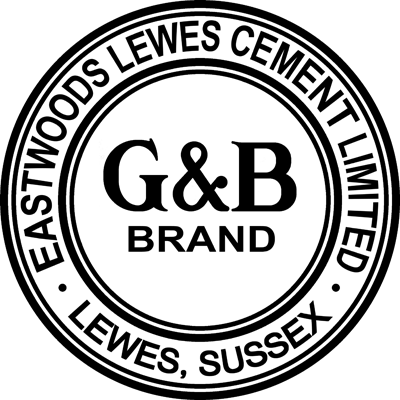 Eastwood's "G&B Brand" logo, which was that of the original Glover and Batchelor plant. The G&B brand remained in use into the 1960s. The real colour scheme is unknown. If you know the correct colours, please contact me.
Location:
Grid reference: TQ42610955
x=542610
y=109550
50°52'4"N; 0°1'36"E
Civil Parish: South Malling, East Sussex
Clinker manufacture operational: 1903-1981
Approximate total clinker production: 3.4 million tonnes
Raw materials:
Grey Chalk (Zig-zag Chalk Formation: 94-97 Ma) and Middle Chalk (Holywell Nodular Chalk Formation: 92-94 Ma) from Machine Bottom Pit at 543200,109100
Initially brought-in alluvial clay from Piddinghoe at 543950,102900: from 1937, Chalk Marl (West Melbury Marly Chalk Formation: 97-100 Ma) and Grey Chalk from Southerham Grey Pit at 542800,109000
Ownership:
1902-1906: Glover & Batchelor
1906-1929: Lewes Portland Cement and Lime Co. Ltd
1929-1962: Eastwoods Ltd
1962-1979: Rugby Portland Cement Co. Ltd
1979-1981: Rugby Group
Sometimes called Southerham Works. The site had produced grey and white lime since the late eighteenth century from two distinct quarries 0.5 km apart: Navigation Pit to the north (542500,109900) and Southerham White Pit to the south. Glover and Batchelor came from management positions on the Medway, and cement manufacture began at the more northerly site in 1903 with a block of four chamber kilns (120 t/week). A further three kilns (80 t/week) were installed in 1907, and another four (95 t/week) in 1912 giving a total 295 t/week. The chamber kilns were abandoned following the installation of the rotary kiln, which was placed in the southerly quarry. The plant was the smallest in the UK from the 1960s onwards. There was a plan to triple the size of the plant in 1968 (although still wet process), but planning permission was denied in this scenic semi-urban location. Final closure in 1981 was ostensibly due to the installation of Rochester A6. The plant used a spur of the LB&SC railway for transport. The site remained a depot for a short time after closure then was cleared and is now an industrial estate. The white quarry is occupied by a recycler and the grey quarry is waste land.
Please contact me with any relevant information or corrections. I am particularly interested in firmer dates and statistics.
Rawmills
? Washmill and screener – total 450 kW
One rotary kiln was installed:
Kiln A1
Supplier: FLS
Operated: ?1/1928-31/07/1981
Process: Wet
Location: hot end 542605,109517: cold end 542614,109592: hot end enclosed.
Dimensions (from cooler ports): Metric:
1928-1935 50.00 × 2.400B / 2.100CD
1936-1981 75.00 × 2.400B / 2.100C / 2.400D
There is some confusion about the Lewes kiln. It is clear from maps and photographs that the kiln was initially much shorter and was extended in the 1930s, but the FLS reference list says it was 75 m as installed.
Rotation (viewed from firing end): ?
Slope: 1/25 (2.292°)
Speed: ?
Drive: ?
Kiln profile:
Cooler: Unax planetary ?11 tubes
Fuel: Coal
Coal Mill: ?
Exhaust: via ID fan direct to stack. After the lengthening of the kiln, cyclones were added before the ID fan. An electrostatic precipitator was added in 1980.
Typical Output: 1928-1935 125 t/d: 1936-1966 180 t/d: 1966-1981 210 t/d
Typical Heat Consumption: 1928-1935 8.23 MJ/kg: 1936-1966 7.57 MJ/kg: 1966-1981 7.13 MJ/kg
Sources: Cook, pp 71, 73, 100: Jackson, pp 238, 285
© Dylan Moore 2011: commenced 07/08/2011: last edit 06/06/2017.
Lack of information on plant layout and modification history has prevented development of a detail plan.

Approximate capacity: tonnes per year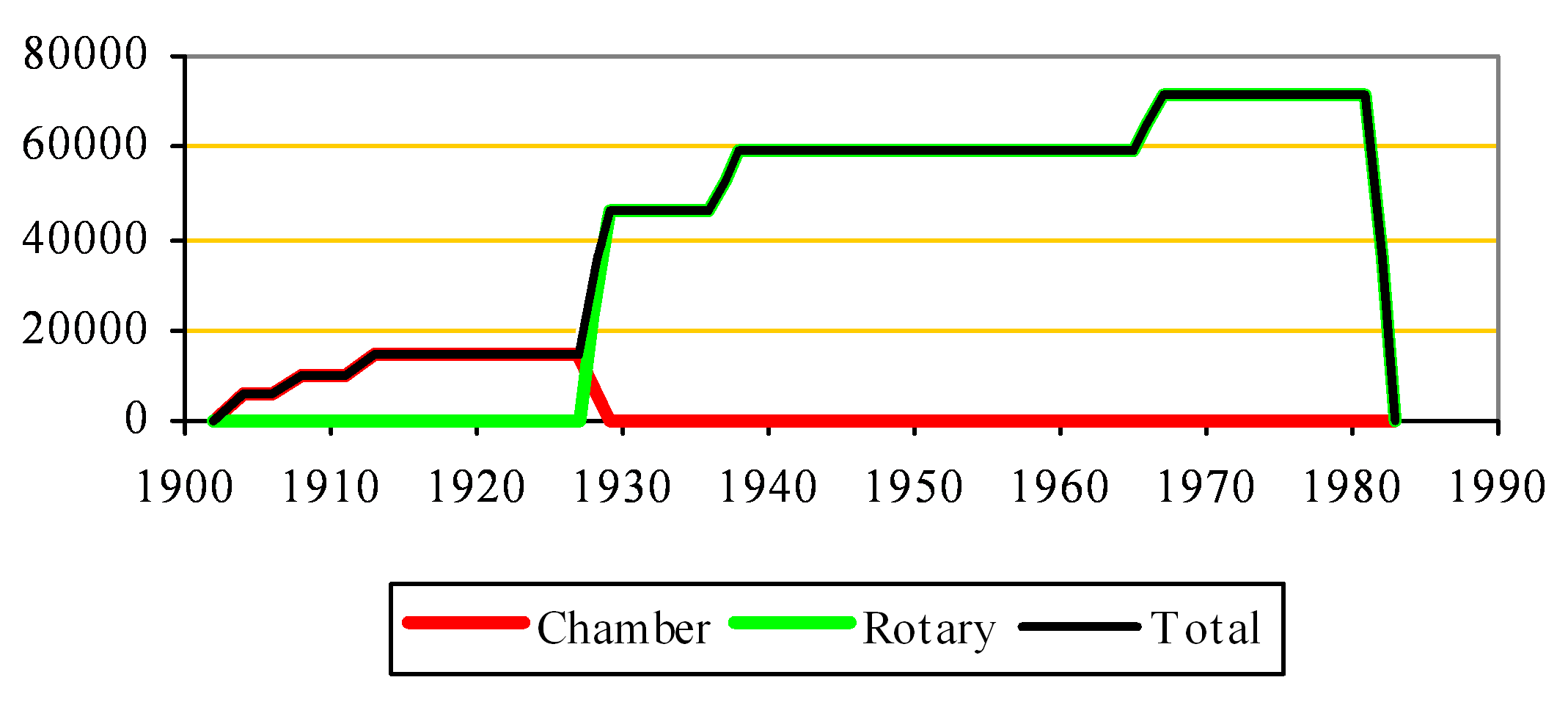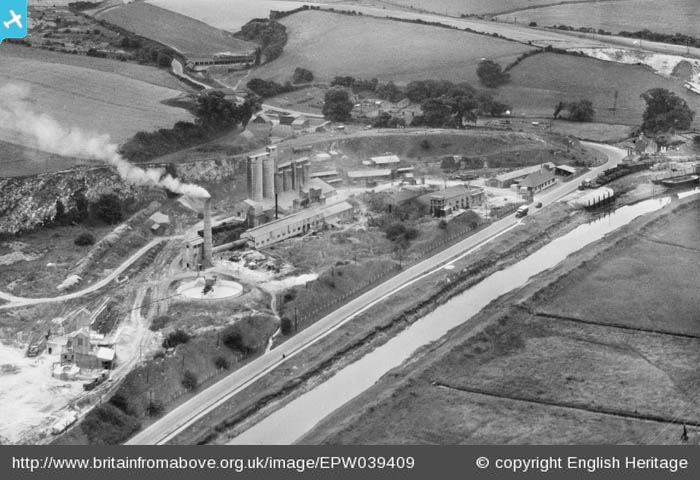 Picture: ©English Heritage - NMR Aerofilms Collection. Britain from Above reference number EPW039409.
Britain from Above features some of the oldest and most valuable images of the Aerofilms Collection, a unique and important archive of aerial photographs. You can download images, share memories, and add information. By the end of the project in 2014, 95,000 images taken between 1919 and 1953 will be available online.
This was taken in August 1932, and shows the plant from the northwest. The kiln was later extended beyond the stack. View in High Definition.