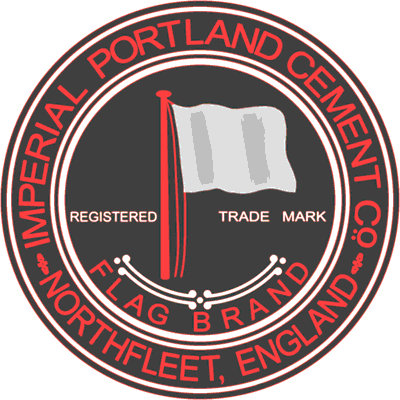 Imperial Flag Brand.
Location:
Grid reference: TQ63047436
x=563040
y=174360
51°26'41"N; 0°20'46"E
Civil Parish: Northfleet, Kent
Clinker manufacture operational: 1898-1914, 1920-1922
Approximate total clinker production: 560,000 tonnes
Raw materials:
Ownership:
1898-1900 Imperial Portland Cement Co. Ltd
1900-1912 APCM (Blue Circle)
1912-1922 BPCM (Blue Circle)
There were initially nine chamber kilns, output 225 t/week. A further ten (250 t/week) were installed in 1900 and sixteen more in 1902 (465 t/week). There was no rail link, and all product was despatched by barge. The plant's operations were amalgamated with those of Red Lion from 1912, and re-assigned to BPCM. The kilns were demolished in 1923-1924, and the site remained derelict for many years before absorption into the Northfleet power station, now also cleared.
No rotary kilns were installed.
Sources: Eve, p 18: Francis, pp 167, 263: Jackson, p 282
© Dylan Moore 2011: commenced 25/01/2011: last edit 01/03/2017.
Approximate capacity: tonnes per year