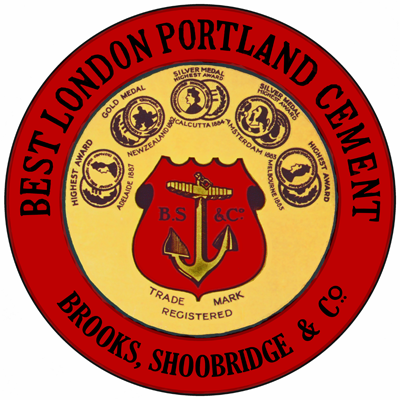 Brooks, Shoobridge Anchor Brand.
Location:
Grid reference: TQ60517765
x=560550
y=177650
51°28'30"N; 0°18'41"E
Civil Parish: Grays Thurrock, Essex
Clinker manufacture operational: 1871-1922
Approximate total clinker production: 1.07 million tonnes
Raw materials:
Ownership:
1871-1893 Brooks, Shoobridge and Co.
1893-1900 Hilton Anderson Brooks and Co. Ltd
1900-1922 APCM (Blue Circle)
Otherwise known as Brooks or Anchor Works. There were initially four small wet process bottle kilns: these expanded to eight (80 t/week) by 1873. In 1880, six small Johnson chamber kilns (86 t/week) were installed. In 1885, these were extended to 17 (245 t/week), and the bottle kilns were decommissioned. After the merger with Hilton Anderson, a large expansion took place, with another 28 chamber kilns (845 t/week) in place by 1895. During 1896-1904, the older small kilns were replaced with 16 Hilton kilns (510 t/week), leaving the final total capacity of 1355 t/week. The site probably ceased operation during WWI, but restarted (probably only the Hilton kilns) during 1919-1922. Although the plant stood beside the main railway to Tilbury, it had no rail link, and despatched all product by barge. The site remained abandoned until after WWII, when it was redeveloped for industry, but is now under housing: the wharf area is a small park.
No rotary kilns were installed.
Sources: Francis, pp 198, 202, 205: F. H. Lewis, The European Cement Industry, Engineering Record, 1899, pp 9-12: Jackson, p 269: Victoria County History of Essex, Vol 2, p 492
© Dylan Moore 2011: commenced 25/01/2011: last edit 02/09/2016.
Approximate capacity: tonnes per year