Location:
Grid reference: TQ29926692
x=529920
y=166920
51°23'11"N; 0°7'58"W
Civil Parish: Beddington, Surrey
Clinker manufacture operational: 9/1905-1933
Approximate total clinker production: 540,000 tonnes
Raw materials:
Upper Chalk (Seaford Chalk Formation: 85-88 Ma) from 530100,159400: Coulsdon, Surrey brought by rail (15 km)
London Clay (London Clay Formation: 48-55 Ma) from 529700,167000
Ownership:
This was a good example of a early private venture entry into the industry using off-the-peg rotary kiln technology. Cook gives an account of its early fortunes in her appendix. Joseph Hall went with Maxted and several others to America in July 1903 to view kiln technology. The plant was only the third in Britain to be designed with exclusively rotary kilns . The kilns were obtained from Polysius with the consultancy of Maxted and Knott, and the project was essentially identical to those launched at Wilmington and Stoneferry at the same time. The plant was built at the Beddington clay field rather than the Coulsdon chalk quarry because the landlord of the latter refused permission. The LB&SC railway passed both the quarry and the plant, and this was used for all transportation. Before its purchase by BPCM, its relatively poor performance and profitability was typical of such new entrants. The plant closed during at least part of WWI, and re-opened in ?March 1919. From 1929 to 1933, white clinker was made, this function continuing at Swanscombe after closure. The site remained active for the production of cement-based paints until the 1980s. The quarry has been filled with light industry.
Two rotary kilns were installed:
Kiln A1
Supplier: Polysius
Operated: 9/1905 to 1933
Process: Wet
Location: hot end 529901,166936: cold end 529900,166966: entirely enclosed.
Dimensions: metric 30.00 × 2.000
Rotation (viewed from firing end): ?
Slope: ?
Speed: ?
Drive: ?
Kiln profile: 0×1700: 720×2000: 30000×2000: tyres at 4510, 15520, 28380
Cooler: rotary: metric 10.00 × 1.000 beneath kiln: common quencher installed for white clinker manufacture in 1929.
Cooler profile: 0×1000: 10000×1000: Tyres at 1845, 8425
Fuel: 1905-1929 Coal: 1929-1933 Oil
Coal Mill: ?
Typical Output: 1905-1912 40 t/d: 1914-1918 50 t/d: 1919-1929 56 t/d: 1929-1933 35 t/d (white)
Typical Heat Consumption: 1905-1912 10.0 MJ/kg: 1914-1918 10.7 MJ/kg: 1919-1929 9.02 MJ/kg: 1929-1933 11.39 MJ/kg (white)
Kiln A2
Location: hot end 529907,166936: cold end 529906,166966: entirely enclosed.
Identical in all other respects to A1



Sources: Cook, pp 42-43, 126-130: Francis, p 265: Jackson, pp 214, 272: Pugh, p 51: A Century and a Quarter, C. G. Dobson, Hall and Co. Ltd, 1951: A New Industry in Surrey, Hall and Co. Ltd, October 1905




© Dylan Moore 2011: commenced 07/08/2011: last edit 23/02/2017.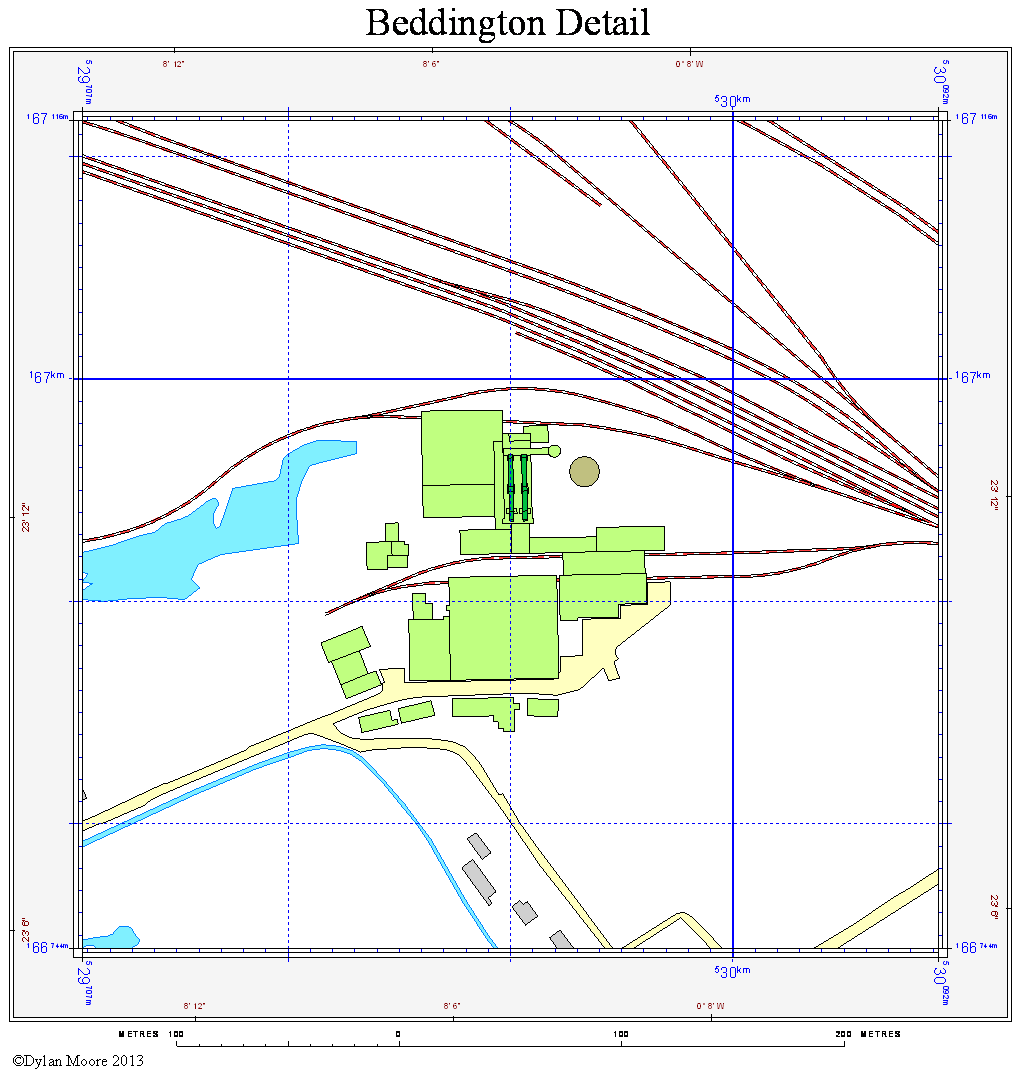 Approximate capacity: tonnes per year