Location:
Grid reference: TQ39167905
x=539170
y=179110
51°29'38"N; 0°0'17"E
Civil Parish:Greenwich, London
Clinker manufacture operational: 1870-1926
Approximate total clinker production: 450,000 tonnes
Raw materials:
Not known. Upper Chalk (Seaford Chalk Formation: 85-88 Ma) was quarried for ballast nearby, notably at Charlton (TQ)541400,178400, but Ashby's and Hollick's probably sourced "spot market" chalk from no particular source. A barge-load a day would have kept them going.
Possibly Medway Alluvial Clay
Ownership:
1852-1856 Henry Reid
1856-1870 ?
1870-1926 William Ashby and Son Ltd
William Ashby and Son started in the pre-Portland era, making "Roman Cement". Francis says that in 1870, the son, George Crowley Ashby, established works "for making Portland cement" on the East Greenwich peninsula, that it produced 7,500 t/y in the early 1880s, and was uprated in 1892. Davis puts the 1907 capacity at 400 T/week. The plant was just north of Hollick's Works, on a cramped plot of 1.01 Ha with 33 metres of waterfront: Primrose Wharf. Maps show multiple stages of development. The plant may in fact have made Portland cement under the management of Henry Reid as early as 1852, but this is uncertain, and it probably reverted to lime or Roman Cement manufacture after he left. Ashby's may have been the owners during 1856-1870. Reid remained at the plant at least until 1861, and probably until 1865, when he moved to Elmley. From 1852 to 1856, Reid was in partnership with John Winkfield of Hollicks. The initial Portland cement plant was wet process, with one sixth of the site area taken up with slurry backs. There were about 1000 m2 of drying flats heated by coke ovens, and five small bottle kilns of total capacity 50 t/week (presumably originally for Roman cement), and a bank of five larger kilns (140 t/week) which was probably added in 1870. Up-rate of the plant using bottle kilns was impossible because of lack of space for slurry backs, but conversion to the much more compact chamber kiln operation began – presumably in 1892 – with the installation of three Batchelor kilns (80 t/week). This bank was expanded by two (40 t/week), then perhaps around 1900 a set of three (90 t/week) was built over part of the drying flats, indicating abandonment of the bottle kilns. In the period up to 1907, blocks of three (90 t/week) and four (110 t/week) were added. With a total chamber kiln capacity of 410 t/week, a prime location, and a captive market through the firm's builders' merchants, the plant was able to struggle on against price-cutting by the more efficient competitors, but finally shut in 1926, perhaps with the General Strike – the plant had no storage space at all, and cessation of supplies of coke and chalk would have stopped it instantly. There was no rail link, all product being despatched by barge. The site continued in use by Ashby's for movement of building materials until WWII, then was absorbed into the Molassine Meal plant to the north, later acquired by Tate and Lyle, and currently the Amylum sugar refinery.
No rotary kilns were installed.
Sources: Francis, p 173: Jackson, p 269
© Dylan Moore 2011: commenced 08/01/2011: last edit 26/02/2017.
Approximate capacity: tonnes per year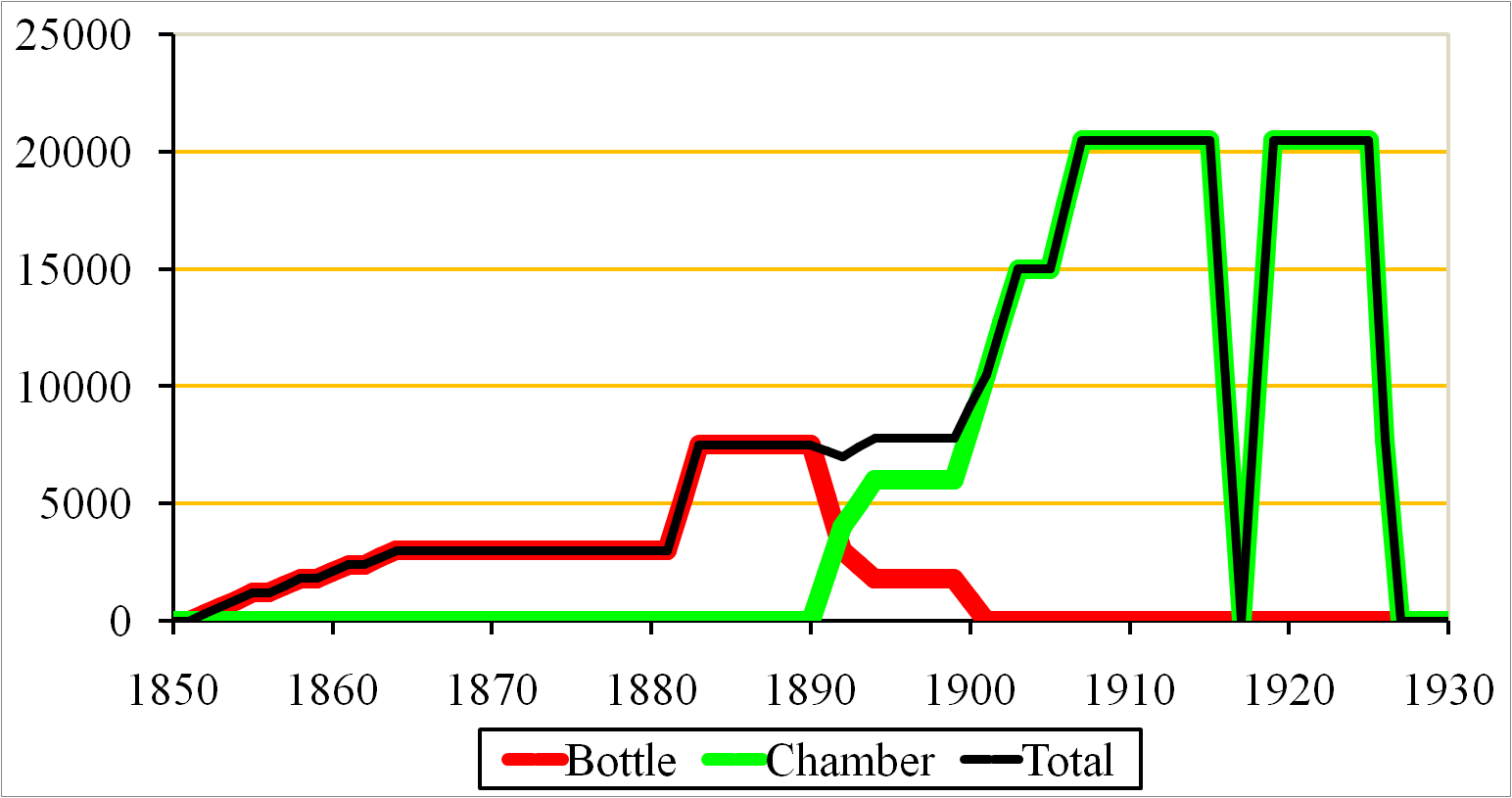 Land lots at East Greenwich in the 1890s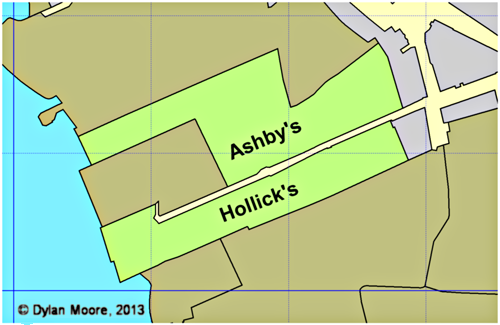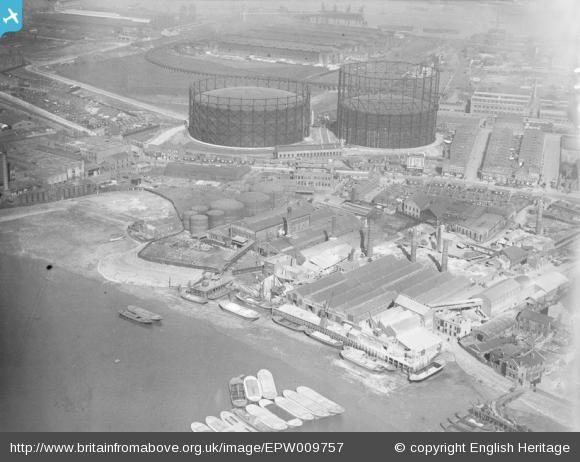 Britain from Above features some of the oldest and most valuable images of the Aerofilms Collection, a unique and important archive of aerial photographs. You can download images, share memories, and add information. By the end of the project in 2014, 95,000 images taken between 1919 and 1953 will be available online.
This was taken on 14 March 1924 and shows the plant from the southwest. The East Greenwich peninsula was crowded with industrial sites, and the Ashby plant was crammed into an irregular area around the rear of the square Bowater warehouse on Morden Wharf. The plant had only 30 m of river frontage at the north end of the wharf. The Hollick's plant, now functioning as a Blue Circle barge depot, occupies the strip in front of the Bowater building. View in High Definition.