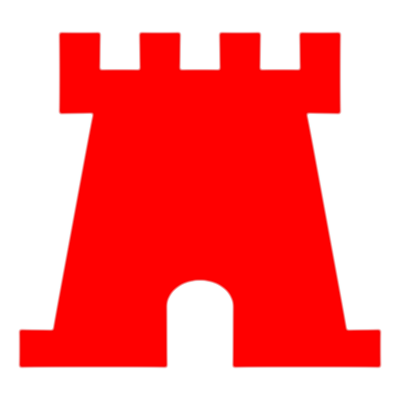 Castle Logo
The entity that became for a short time Castle Cement Ltd has its origins in the acquisition in 1911 of the then very minor Tunnel Portland Cement Company Ltd. with its plant at West Thurrock, by the Danish plant equipment company F. L. Smidth. The plant was one of the few in the Thames/Medway area that had not been acquired by the incipient Blue Circle Group, and the acquisition was seen as an aggressive challenge by FLS to the monopoly of "the Combine".
The West Thurrock plant was re-built as a show-piece for the latest FLS equipment, and grew rapidly until by 1934 it became Britain's biggest plant, and remained so until 1970.
FLS began to extend its involvement in cement manufacture with the construction of Ketton in 1929. Ketton was wholly owned by T. W. Ward of Sheffield, but FLS had technical management control. Tunnel formed the Clyde Portland Cement Company Ltd. as a wholly owned subsidiary in 1933 and set up a grinding plant at Clydebank, grinding clinker from West Thurrock and later from Drogheda. There followed a 50:50 joint venture by Tunnel and Ward's to construct Ribblesdale in 1937. There emerged a web of cross-ownership, with FLS, through its local holding company Cumberland Holdings, keeping majority control of Tunnel, and taking a minority interest in Ward's, while Ward's acquired a minority holding in Tunnel, with technical management of all companies firmly in the hands of FLS. In 1937, Pitstone was built as Tunnel's second plant. After WWII, the Fforde Committee identified the Tunnel, Ketton and Ribblesdale companies as a distinct industrial grouping, working in concert.
In 1949, Tunnel's third plant was constructed at Padeswood. In 1967, William Baird's Gartsherrie plant was acquired, and the grinding plant activities of Clydebank were transferred there. Thus the informal grouping had five full plants in the UK, and one grinding plant. The three UK companies also maintained a distinct "dotted line" relationship with Irish Cement, and there was a frequent interchange of management personnel between the English and Irish plants and Denmark.
In 1973, FLS astutely sold its holding in UK cement manufacturing to Ward's - the companies were now referred to by the UK Price Commission as the "Ward Group". However, Ward's still did not have full control of Tunnel. In 1976, the "jewel in the crown" of the group - the West Thurrock plant - was shut down. In 1981, Ward's made an unsuccessful hostile bid for control of Tunnel. Rio Tinto Zinc (RTZ) had had small holdings both in Ward's and in Tunnel, and now stepped in to take control, finally establishing a new regime in 1982.
In November 1986, the Tunnel, Ketton, Ribblesdale and Clyde brand names were abolished, and all cement was sold under the "Castle" brand - a symbol representing Clitheroe Castle having previously been the logo of Ribblesdale - and the group was organised as Castle Cement Ltd. Having thus rationalized the group, RTZ sold it in 1989 to a 50:50 consortium of Aker Norcem (Norway) and Euroc (Sweden) known together as Scancem. The Pitstone plant was shut down in 1991. In 1999 the company was acquired by HeidelbergCement of Germany.
In 2005 it completed its "all dry process" policy with the shutdown of Ribblesdale kilns 5 and 6. In 2009 it was re-named Hanson Cement UK. See the Hanson website.